We're in the early innings of DeFi. At best. 
As far as order of operations: the infrastructure needs to be baked first. Once that is built, then the applications will come. 
One missing piece of DeFi infrastructure has been a protocol to insure loans against default. This piece is needed in order to enable DeFi participants to offer loans and debt products with more confidence and risk protection. Enter Carapace.
Now a bit more on why NFX led Carapace's $2.5M seed round:
1. A Protocol Enabling Safer Lending
Debt can be scary. By definition, debt is an inherently risky business to be in. 
To reduce risk, many DeFi protocols require over-collateralization for loans – borrowers put up other, less liquid/convenient assets worth more than the loan itself (e.g., Maker's collateralized debt position protocol). But over-collateralization is not always capital-efficient for borrowers.
Carapace creates a two-sided marketplace where traders can swap their default risk. Protection buyers pay a premium for the right to claim protection when an underlying loan defaults; in turn, protection sellers provide pooled capital for cover (in exchange for a premium). When a default event occurs, a payout is made to protection buyers.

The protocol is constantly adjusting based on supply and demand in a system where protection sellers provide capital for risk protection in exchange for a premium. If a default event occurs, a payout is made to protection buyers.
With more than $5B in crypto loans last year, a number that's expected to explode to $44B by 2030, there's an enormous need for this type of product – credit risk protection is critical for mass adoption and a requirement for institutions.
2. An Embeddable Piece Of DeFi Infrastructure
At NFX, we've outlined embedding as one of the 4 types of defensibilities of the modern age.  
That's what Carapace has done, by creating a protocol that has the potential to embed into countless other DeFi platforms, exchanges, and products. Carapace is an and (vs. an or) to many DeFi protocols. 
As one example, Carapace has already partnered with Goldfinch, a leading DeFi credit protocol with nearly $100 million in active loans, to test their protocol – and have interest from others.  
Carapace is launching a testnet next month to further validate and prepare the protocol for public launch in early 2023.
3. The Right Founding Team
Carapace was founded by Rohit Sabnis and Taisuke Mino who met in the South Park Commons program, an incubator and community of builders based in San Francisco.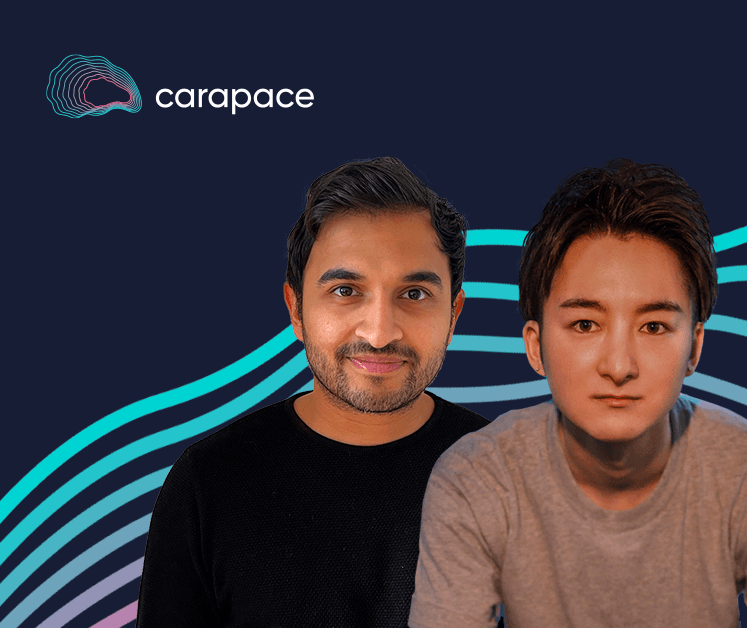 Carapace Founders, Rohit Sabnis and Taisuke Mino
Tai has been a crypto hacker since 2013, and he has built various projects in DeFi including an options aggregator and Asia's first mobile DeFi wallet. He created the prototype of Carapace in late 2021 at the ETHGlobal Hackathon as a proof of concept in response to the emergence and growth of under-collateralized lending protocols. 
Rohit comes from a TradFi background with stints at ANZ bank and Uber where he got a chance to work on complex, global deals. In recent years, he has developed a strong interest for DeFi and is passionate about leveraging crypto technology to make financial systems more efficient. 
To learn more about Carapace and use their testnet, visit: www.carapace.finance