For many LatAm Founders, starting a company is their way to impact the region's future. Beyond the opportunity to transform industries and bring their own ideas to life, for many, it's a new form of public service that's motivated by a sense of responsibility.
Many of the Founders we've backed from the very beginning – at La Haus, Nuvocargo, Zubale, Melonn, and Latitud – have this shared vision: they care beyond their own businesses and they care about building the region. They see the tech boom as a way to change the socio-economic landscape.
A shared vision is often necessary for a new ecosystem to emerge, and that's what we're seeing in Latin America. But we're also seeing a confluence of growth trajectories across markets, mindsets, and networks.
As NFX continues to invest in the region, we want to share our sense of the market, what's changing, the opportunities that lie ahead, and what Founders need to keep in mind.
3 Factors Contributing To LatAm's Rise
Our first investment in LatAm was in La Haus. It was also one of our first investments overall at NFX, only six months after we started the firm. The high caliber of the La Haus Founders themselves is initially what pulled us into the market. But after working with their team, visiting LatAm, and spending time there, we saw the opportunity and started investing more.
It's now becoming clear to other investors, Founders, and operators why we've been so active in the region. There are a few key factors that really separate the opportunities in LatAm.
1. The Power of Compounding Talent
It used to be that the majority of Latin American Founders would leave the region in order to headquarter in the U.S. when they were ready to start a company. But in the last 5 to 10 years, we've started to see a growing number of "Boomerang" Founders. They tend to go to the U.S. for grad school or for early tech experience at Amazon, Google, and the like, but then they come back to Latin America to build Latin American-focused businesses.
LatAm is not only attracting local talent back home; the region has also proven to be attractive and very welcoming to foreign talent. For example, Nubank is in Brazil but was founded by Colombian David Vélez, Brazilian Cristina Junqueira, and American Edward Wible. Another example is U.S.-born Zach Oschin who is the Co-Founder and CEO at Elenas. An NFX-funded example is Zubale, co-founded by a U.S. citizen and a LatAm native with a management team from all over the world.
Importantly, we're also seeing a new set of Founders who spin directly out of local unicorns, leveraging their LatAm operating experience without ever having left the area. The biggest companies in the region, Mercado Libre, Nubank and Rappi, are leading the way in creating homegrown talent ecosystems in their own right. The recent Nubank IPO and upcoming Rappi IPO – along with several other IPO hopefuls and a good number of "soonicorns" on the rise – are going to generate and magnetize more talent in LatAm. We're starting to see Rappi, Nubank, and other tech "mafias" doing for LatAm what the PayPal mafia did for Silicon Valley, where employees spin out to start companies of their own, and executives help other startups in the ecosystem.
Looking forward, we're at a watershed moment for Latin America, where world-class talent begins to compound. Talent is generative, and when combined with a noble shared vision, the flywheel becomes unstoppable.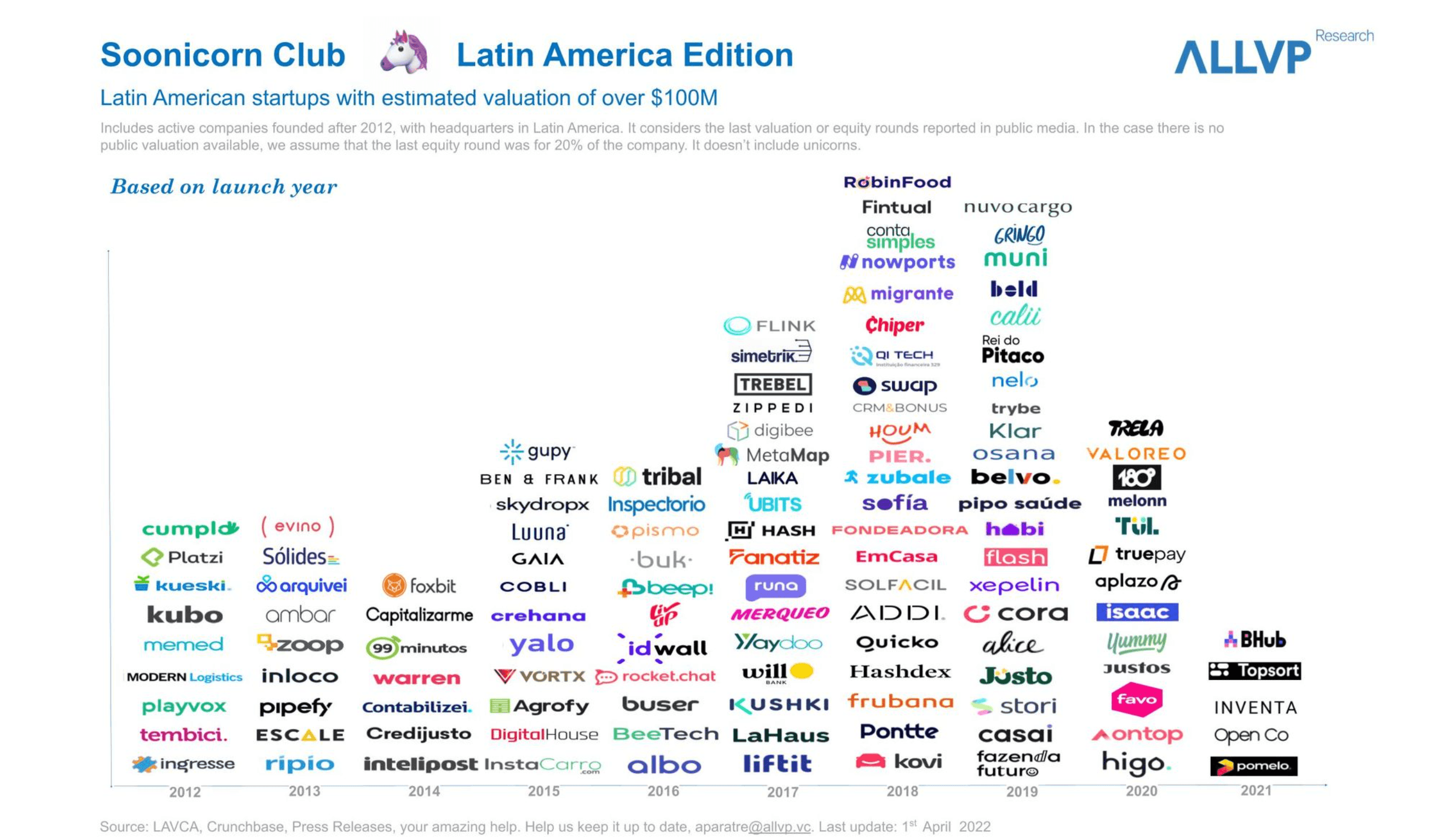 2. Massive Underserved Market
Another reason NFX has been investing in LatAm for the last 5 years is the size of the market and opportunity gaps within it.
Brazil and Mexico are on track to overtake the largest economies in Europe in terms of GDP over the next decade. They're also poised to break into the top five (Brazil is currently #9) and top ten (Mexico is currently #15) economies worldwide by GDP.
However, Latin American consumers are mostly left with entrenched incumbents and lower-quality product experiences. While mobile penetration in LatAm has been incredibly far-reaching, there still aren't many at-scale tech companies in the region. That's quite different from China, India, and Europe, where you'll find countless competing products and services.
From a Founder's perspective, the competitive environment in LatAm presents incredible opportunities to create 10X better solutions. Lack of capital and lack of investment in infrastructure in areas such as financial systems have created an environment where consumers are able to adopt superior services at a rapid rate.
Web3 and cryptocurrencies could provide a massive improvement in the financial infrastructure for citizens in these countries. That's just one example of critical infrastructure that could experience a 10X improvement. LatAm offers countless opportunities to build meaningful products in a fast-growing market with a favorable competitive landscape.
3. The Advantages of Homogeneity
We often contrast Latin America to Europe, where the patchwork of different countries, languages, and cultures is enormous. There are differences across Latin America, but there are generally more similarities than we see across European countries. There are two main languages, Spanish and Portuguese, with some consistencies in the cultures across the region.
This relative homogeneity is a huge advantage for LatAm companies because it's much easier to navigate regulations, acquire customers, and scale operations, as proven by many of the unicorns in the region. Large homogenous markets are where we see the most $B+ companies, most notably in the U.S., China, and India. When you're trying to grow a company, it's critical to have high levels of certainty in your market and operating environment.
Our interest in LatAm is multifaceted, but these three factors are fundamentally underlying the opportunity. As with any sector, there will inevitably be ups and downs. But we're thinking on the scale of decades — which is how we've been thinking about LatAm since we first started NFX.
Startups & Technology Are Going Mainstream
Startup formation has been rapid in Latin America. It's gone from a niche activity to mainstream in a few short years, just as we've seen in other parts of the world.
Venture capital has also arrived in a big way. The money is now here to really help fuel the ecosystem. All of the necessary ingredients are coming together: a growing market, talent, and capital.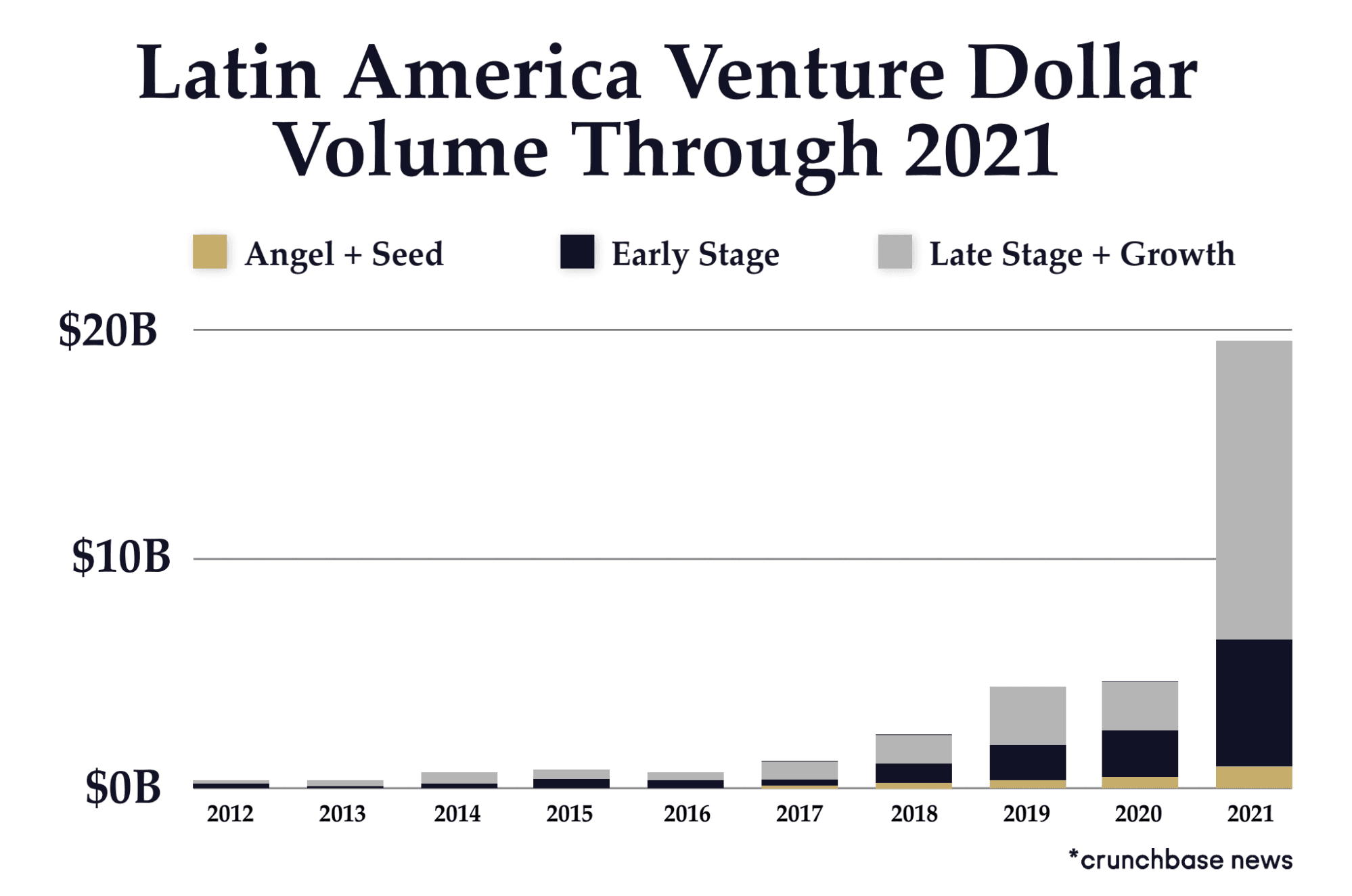 Culture Driving Technology Adoption
Some cultures are more adoptive of technology than others and you can often measure differences in adoption rates with e-commerce penetration. This could be about infrastructure payment and logistics but we suspect the cultural engagement around new things is also different.
Until a few years ago, LatAm was considered a late adopter of e-commerce. But Latin America experienced the fastest e-commerce growth of any region during the pandemic with a total e-commerce market now estimated at more than $80B, expected to double by 2025.
We can also see this cultural trend by looking at social network penetration (dataset sources: DataReportal, Hootsuite, WeAreSocial), which is especially strong in Colombia and Brazil. When given the opportunity, we find that many parts of Latin America are predisposed to adopt new technology. As a Founder, you're preaching to an audience, both B2B and B2C, that skew closer to the early adopter cohort than the laggards. If you can get to product-market fit in this market, you'll have the opportunity for the culture to act as a massive growth accelerant.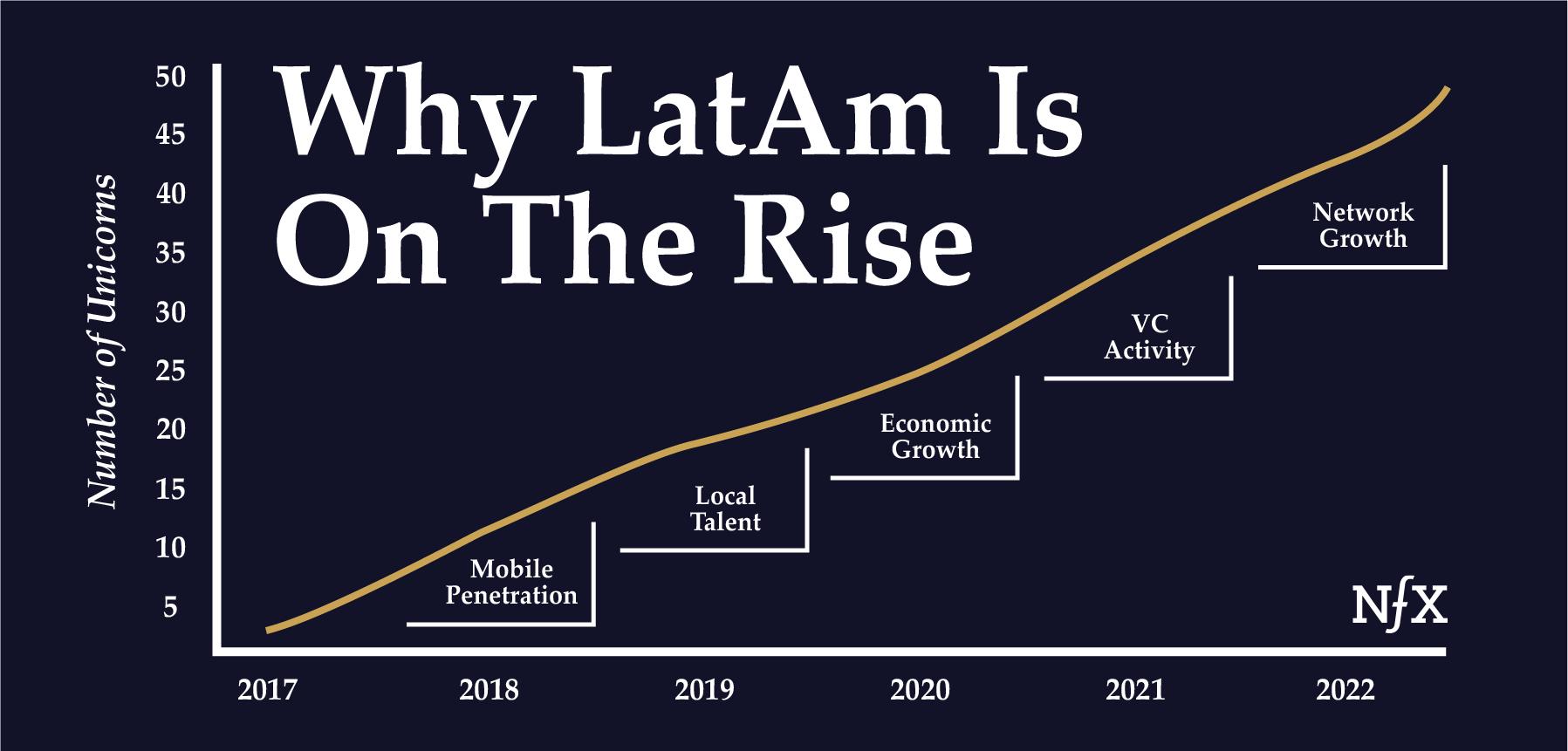 6 Traits We Look For In LatAm Startups
These are the traits we specifically look for in the startups that NFX backs:
1. They understand what's "best-in-class." We've seen some incredible Founders who have worked at top early-stage companies, such as Rappi. They have seen firsthand what best-in-class looks like because they've lived it. We've seen other Founders spend time studying or working in the U.S. or participating in Y Combinator or fellowships like Latitud. Another interesting trend is happening with remote work. Talent has gotten more delocalized and we're seeing more U.S. startups hire engineers in Latin America. As a result, a whole new generation of Latin Americans is being trained remotely, which dramatically increases access to "best-in-class" training that was previously reserved for a select few.
Leadership Frameworks For Startup CEOs
The first step in developing your leadership skills is to understand that as a startup CEO, you have two different tasks that may seem like one but are actually different – being a manager and being a leader. And you must excel at both to succeed.
THE CEO AS MANAGER
For years now, as I've served as a CEO in multiple companies, I kept asking myself what the simplest way to understand the CEO's role is. I've come to the conclusion that, at the end of the day, the CEO role as manager can be represented by a cycle with five stages:
Get The Leadership Frameworks For Startup CEOs (PDF)
2. We look for companies that are fundamentally more compelling in that particular region than in a U.S. equivalent. For example, there are particular regulatory, cultural, or competitive environments where they're able to capture more of the economic pie in that region than they could in the U.S. As an example, the middle-class labor pool in Latin America is large and underserved. Therefore, a company leveraging this market insight is fundamentally more compelling than its U.S. counterpart.
3. They need to exhibit an understanding of how to navigate local regulations. For example, there are particular payment rails, customs, and rules that the local companies are perhaps more adept at navigating than a global company.
4. We often see that the market, across many industries in LatAm, is massively fragmented. Take retail as an example, it's way more fragmented in Latin America than it is in the U.S. But that creates an opportunity for startups that may not be possible elsewhere. As an investor in marketplaces, fragmentation is one trait that we know drives significant value. It's a huge asset.
5. We look for local network effect-based defensibilities. We've seen that hyperlocal marketplaces and platforms can dominate a region, they can provide enough scale and utility to bootstrap network effects. Once the local network is past critical mass, it's nearly impenetrable for a U.S. or global competitor, especially as they add more hyperlocal networks. This focus on local network effects also means that we don't look for digital businesses that operate globally, such as developer tools or SAAS companies.
6. We really like to see the ability for businesses to move into multiple geographies. Not only is that important because the total opportunity is bigger, but it also helps us navigate some of the currency and geopolitical risks that may exist in the region.
Network Formation Creates Major Advantages
We are seeing LatAm Founders work closely together and network with each other. Everyone is clearly operating with a shared mission. Founders, operators, and investors are all playing a role in building out this vibrant ecosystem.
Networks are starting to form, ideas are colliding, and early experiments are starting to return positive results. Clusters of talented people are coming together to create this wonderful spark.
The moment is now for creating massive businesses in LatAm.