Today we're launching a product for the startup ecosystem: BriefLink. It's as easy as Notion, and more informative than DocSend. BriefLink simplifies the fundraising process for very busy, high-end founders.
Our beta version quietly helped Founders raise over $4.3B from investors in just 2 years. More than 15,000 Founders used it.
BriefLink is the upgraded version of the beta, including the original Brief builder along with new video, stats, and a deck-only mode. It's also integrated with the Signal investing network of 11,000 top investors, VCs, Scouts, and Angels.
For Founders, this is a powerful new weapon in your fundraising arsenal.
VCs like it too, based on how much time they spend viewing a Brief, and how much money they invest in these companies. Investors give 2X as much time reviewing a Brief compared to a DocSend (7:30 minutes on BriefLink vs 3:42 minutes on decks sent with DocSend) (1).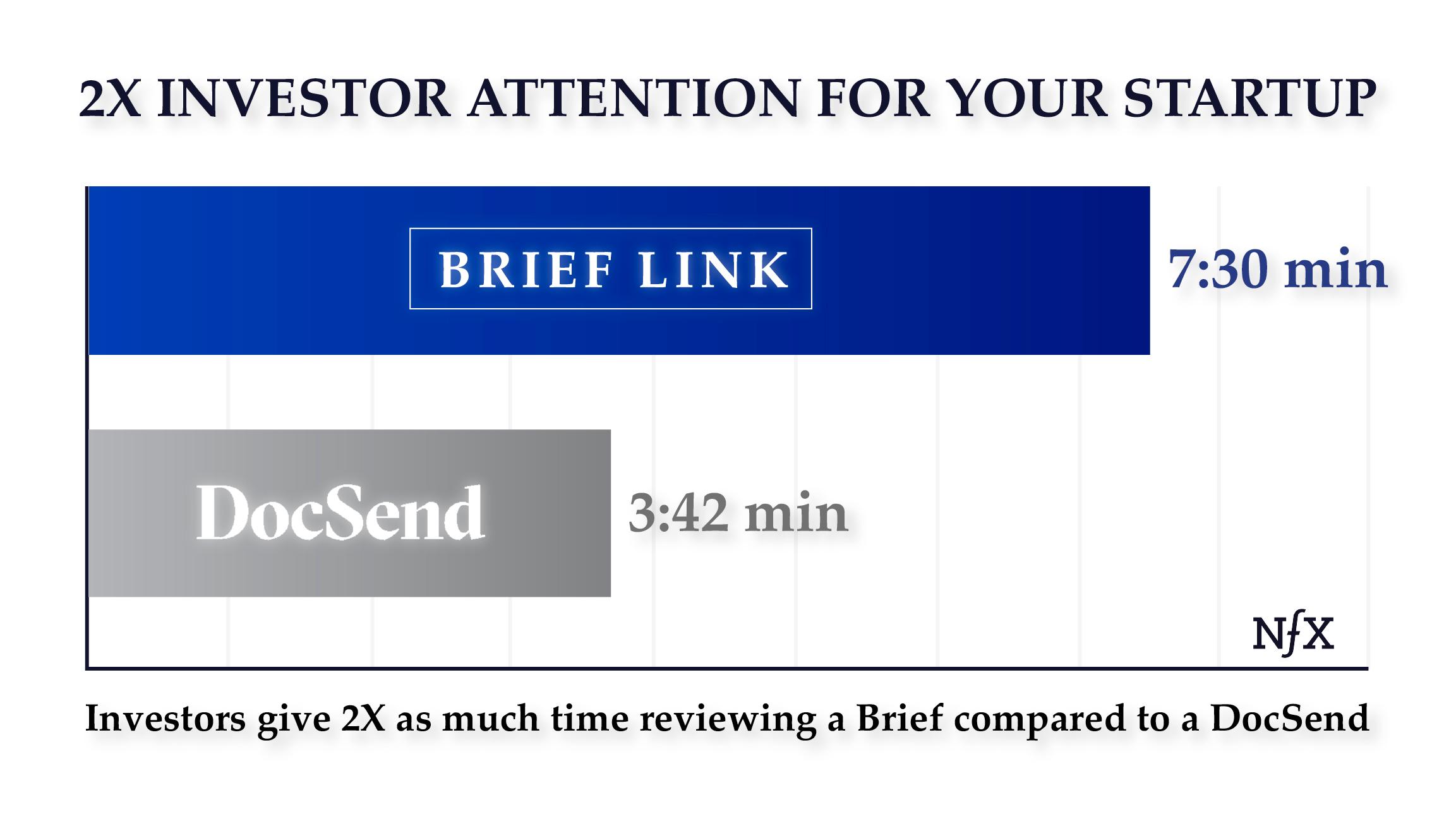 Digital Fundraising Is The Thing Now & We Need Software For It
Accelerated by the pandemic, and also accelerated by the increased number of startups and VC's, investors are evaluating companies without ever meeting in person. This places even more priority on leveraging new tools for an online fundraising process.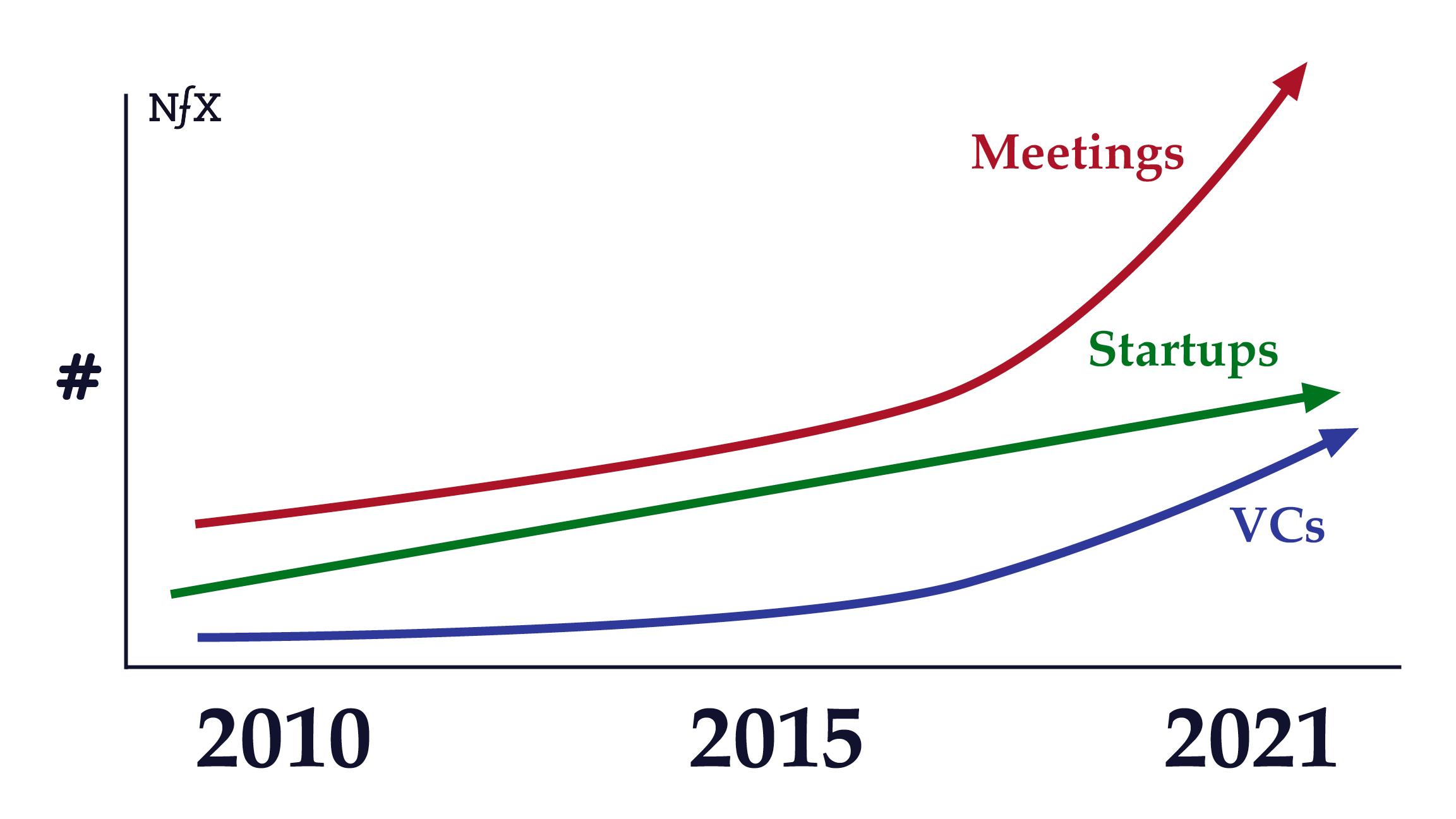 What we've found is that the Founders who excel in digital fundraising will have an edge on those who don't adapt as quickly.
Many Founders miss the fact that your company's equity IS a product, and for the customer (investor) to buy (invest in) it, you need to be as prepared as possible. As a Founder selling a product, you wouldn't go to market with a sloppy website or bad first-time user experience — why do that with fundraising?
Software is needed. Our marketplace isn't so different from others.
We see one example of this playing out in the hack that some Founders are using: sharing their pitches just as Notion docs. This cuts a lot of important corners — at a time when it's even more important to signal through the noise. That's where BriefLink comes in.

BriefLink Ups Your Game
DocSend ($10/mo/user) is a general document-sharing platform for many types of users, mostly salespeople.
BriefLink is purpose-built just for startup Founders who are fundraising, arguably one of the most critical events in a startup's life.
On BriefLink, the language is different, the features are different, the network is different. The result is that investors spend 2X the time looking at your BriefLink vs. a deck shared with DocSend.
What's different?
How you look: Using BriefLink shows investors you're an insider Founder who knows the right tools to use and is worthy of attention.
Video: The video attachment simulates a first meeting.
Recommendations: increase social proof from your advisors and existing investors. Bring your network to amplify.
Stats: track investor activity better
Open Network of 11,000 investors: You can get a ranked list of top VCs you should be pitching out of 11,000 profiles in the Signal investing network — so you don't miss the best ones for your company.
Investor Profiles: You automatically see the profiles of the VCs you are communicating with.
Video Coaching: A library of video-recorded insights about successfully pitching to the top firms from investors at Sequoia, Greylock, First Round Capital, Benchmark.
What we observed during the beta period is that with BriefLink, Founders give VCs the key information ahead of time, so they can basically have the second meeting with them on their first meeting. This saves time and makes it more likely they'll get funded — and much more likely they'll get something valuable out of the meeting regardless.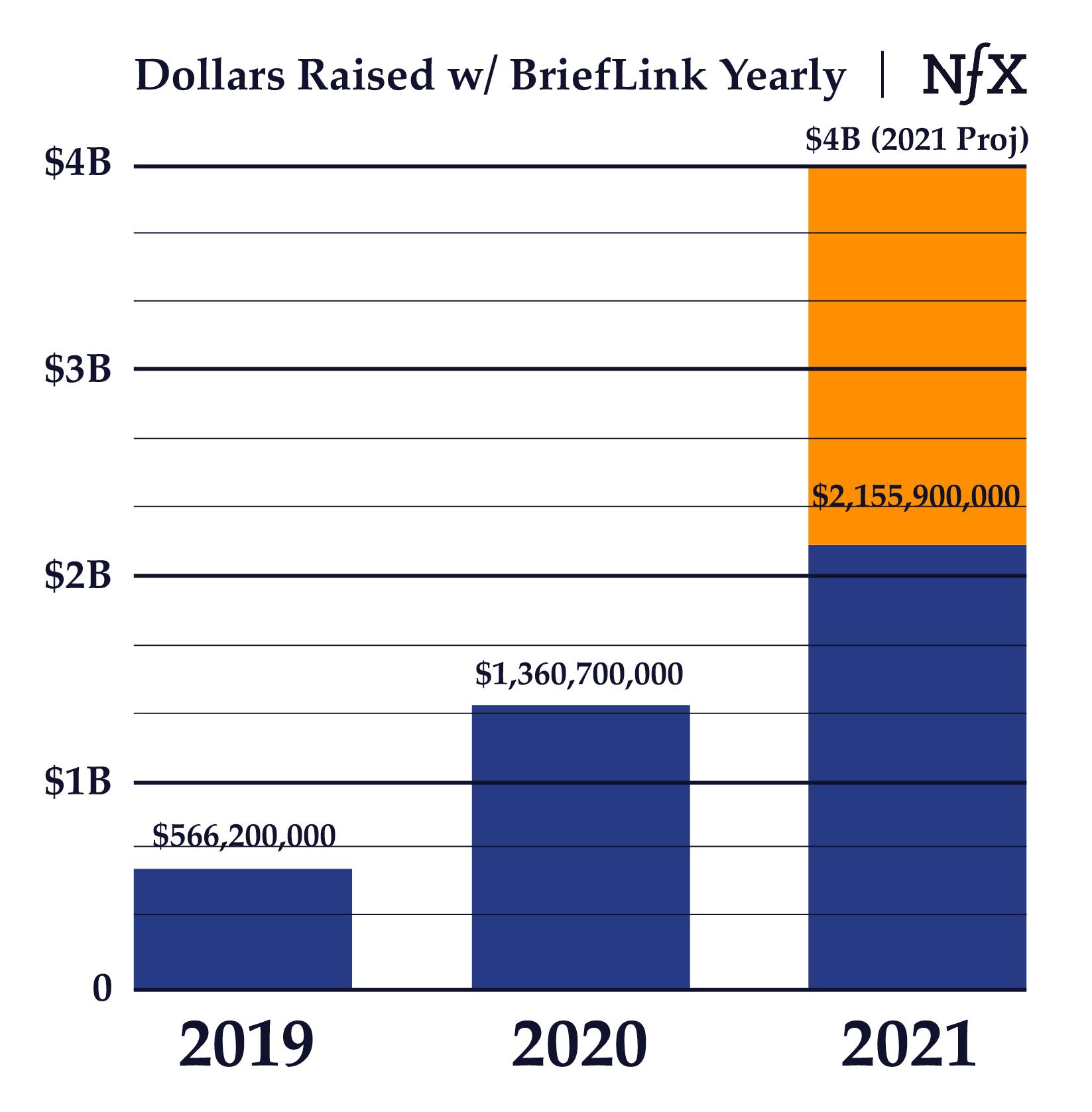 Private & Secure
Just as with Google Docs or DocSend, nothing is public on BriefLink. It's private to you, and to have investors see it, you need to send your private link out. You can then track when they open it and get notified when they do.
When we need to measure BriefLink platform usage and how well it's working for Founders, the system measures aggregated data algorithmically.
6 Patterns of Success from 15k+ Pitch Decks
Here are some of the patterns we see working in Founders' favor as they go to raise capital.
1. Know The 12 Elements Of A Great Deck (& Get Inside A VC's Head)
We've written before that a typical VC might get introduced to 1,000 companies per year, meet with 200, and invest in 4. That means 80% of the time they will decide not to meet with a company when introduced.
How do they decide to take a meeting or not? Every investor is different, and most VCs don't have a formula. Most do it by gut instinct.
But there are 12 things that most VCs are interested to know upfront in order to decide whether to take a meeting.
All 12 of these fundamental pitch deck elements are built into BriefLink when you choose to build a deck there.
2. Video Gets Your Deck 17% More Views
Including a 60 second video in your deck used to be the "above and beyond" extra effort that only some Founders put in. But today it has become table stakes. Including a video helps introduce investors to you (and helps them remember you) when evaluating your company.
Based on decks sent with BriefLink, we see that including a video increases the time investors spend on your deck — and increases the number of views your deck gets by 17%.
3. The Best Founders Make A LOT Of Briefs
There is a correlation between the number of versions of a Brief a Founder makes and how much money they raise, and that makes sense to us.
When we were Founders fundraising, we would have different decks for every single pitch we made to each individual investor. At the end of the fundraising process, one company would have 60 decks for 30 different investors we were pitching.
It's important to tweak the language in your pitch for each VC depending on what they value. Your deck should capture the opportunity to show them how what you're doing fits in with the things they already know well and can have good judgment on.
This is especially important because when you're pitching a VC, you have to arm them with the language to convince the other partners in the firm. The partner you connect with may get as little as 30 seconds at the weekly partner meeting to explain to the other partners why they should even discuss your company rather than other companies or pressing topics.
Use custom language for each VC that will arm the partner you're pitching to persuade everyone else at their firm.
4. Connect to Signal & Get 85% More Views Of Your Deck
Connecting your fundraising graph via Signal leads to 85% more Brief views. Signal is a free tool for Founders to find the right investors – and the strongest intro to those investors.
We've seen that when BriefLink and Signal are connected, your deck gets 85% more views from your target Investors than if you were operating without Signal.
5. Social Proof Is A Key Element In Building Interest
Adding recommendations to your BriefLink adds more social proof to your pitch. Think LinkedIn endorsements, but specifically focused on telling potential investors what makes you and your management team standout amongst other teams they see. The BriefLink system lets you do this easily and look good while you do it.
6. Don't Think Of It As A "Pitch Meeting"
Top-performing Founders know that when you do get in the room or on a Zoom with a VC, don't just fixate on getting their money — learn from them.
That's why "Pitch" meetings are badly named. They are better seen as strategy meetings. As a Founder, your #1 job in building your startup is to learn fast. VC meetings are no exception.
For any given meeting with a VC, the chance it will result in funding is between 1% and 10%. That means you have a 90+% probability that you will not raise money from this specific person. So if that is your only goal for that meeting, you are wasting 90%+ of your meetings, plus your time, plus their time.
It's better to view the meeting as an opportunity for you to build your company and improve your fundraising skills using the information you get from the VC, not just the money you might get. This will give you a higher return on your time and increase your chances of eventually fundraising.
_____________________________________________________________
More NFX Resources On Fundraising
The Non-Obvious Guide to Fundraising: The fundraising playbooks we share with our portfolio Founders — in the NFX Guild.
The Ladder of Proof: Uncovering How VCs See Your Startup: Every investor has a mental framework that lets them judge a startup based on a core group of predictors for risk and success that we call the "Ladder of Proof."
The Fundraising Checklist: 13 Proof Points for Series A: To give Founders every chance at success, we made public our Series A checklist. While it's focused on raising a top Series A, it's applicable to all early-stage fundraising.
How VCs Decide to Take a First Meeting – 12 Reasons: Every investor is different, and most VCs don't have a formula. But there are twelve pieces of information that VCs are typically interested to know right upfront in order to decide whether to take a meeting.
The Winning Psychology of Top Founders in Fundraising Meetings: Top-performing Founders know something that others do not: when you meet with VCs, don't just fixate on getting their money — learn from them.
16 Non-Obvious Fundraising Lessons On Pitching: Some of the non-obvious lessons that NFX General Partner, James Currier, learned from many years of being a 4-time founder/CEO and an investor in over 100 companies.
How VCs Think: The Psychology That Drives Investing Decisions: Over the years, we learned the hard truth: for a startup, understanding VCs' mindsets is often as important as understanding the mindsets of your customers.
How VCs Negotiate: 8 Skills Top Founders Master for Startup Fundraising: What's rarely discussed is this nuance in the Founder/VC dynamic: ‍Fundraising is a learned skill – and VCs almost always have the upper hand because they deal with it all day, every day.
How VCs Judge Your Startup (on Zoom): 15+ Tactics Behind Successful Fundraises: We asked top VCs what successful tactics they've seen Founders use, as well as how they've altered their own investment processes on Zoom.
35+ Videos From Top VCs including Reid Hoffman, Charles Hudson, Sarah Tavel & more: Top VCs share insights on the most important elements of fundraising pitches.
NFX Products For Fundraising
BriefLink: Like DocSend, But Just For Fundraising. Send Your BriefLink to NFX.
Signal: The Investing Network for Founders, Investors, VCs, Scouts, and Angels.