We believe students are ready to build real companies right now. That's why, each year, we select a talented group of students from top universities who are ready to become the next generation of Founders and investors.
The NFX MBA Fellows Program gives select student entrepreneurs access to our internal playbooks for investing in and building great companies. Then, they take that learning out into their own networks. Our Fellows are representatives of NFX on-campus and become ideation partners, co-founders, and guides, for their classmates.
Our 2023 cohort is made up of students from Stanford, Harvard, and MIT who have demonstrated a passion for entrepreneurship and the tenacity to build an on-campus startup ecosystem. Each cohort of NFX MBA Fellows brings something special to the network, and we think this years' cohort is a proven group of builders who know what it takes to go from zero to one. Our GPs, Principals, and several founders in the Guild are alumni of these networks – we look forward to expanding to more campuses soon.
2023 NFX Stanford Fellows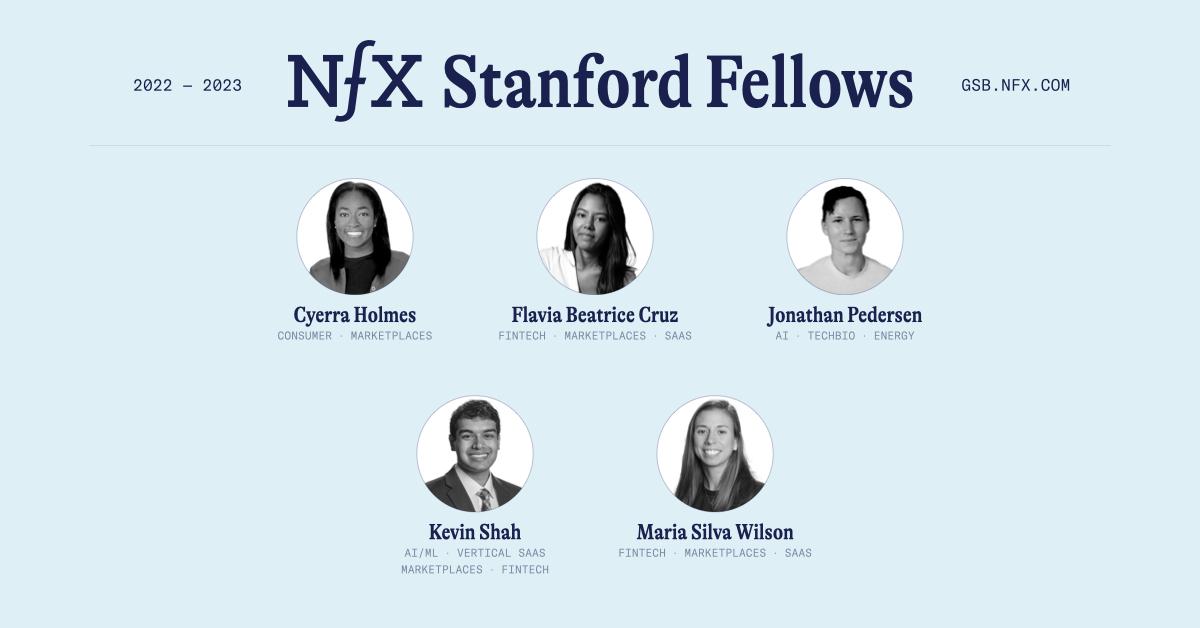 Maria Silva Wilson (GSB Campus Lead)
Maria is a second year MBA student at the Stanford GSB. Maria began her career at Goldman Sachs, and worked across Sales & Trading and Investment Banking, both in NY and London. She transitioned into VC and joined Picus Capital where they invested in Clara (Fintech startup in Mexico). She later joined Clara as Product Manager to lead their payments platform. Maria grew up in Caracas, Venezuela and earned her Bachelor's degree in Industrial Engineering from Georgia Tech.
Contact: mariasw@nfx.com
Kevin Shah
Kevin is a second year MBA student at the Stanford GSB. Prior to the GSB, Kevin was a Product Manager at Meta where he helped launch Facebook Shops and new advertising products. Kevin graduated from the University of Michigan in 2017 with a degree in computer science engineering.
Contact: kshah1@nfx.com
Flavia Beatrice Cruz
Flavia is a first year MBA student at the Stanford GSB. Prior to GSB, she held several different positions in the credit card and insurance business units at Nubank and was an Associate in the LatAm Corporate Banking Team at J.P. Morgan. Flavia was born and raised in Brazil and graduated from FGV university with a business administration degree. She's deeply interested in the product and growth areas, and in what is still to be built in crypto, fintech, healthcare, marketplaces and SaaS.
Contact: flaviabc@nfx.com
Jon Pedersen
Jon is a first year MBA student at Stanford's GSB. Always a car, bike, and engineering-at-large nut, he pivoted from his mechanical engineering degree to work in optimization at Waymo. Through the next four years, he wrote software for trip optimization, simulation, and city exploration before joining the ML team full time to build the driving model. Before the GSB, he joined Planted Solar as its first experienced software engineer, where he built their stack from zero code. He's interested in AI workflows, data companies, medical tech, and energy grid solutions. In the future, he'd like to teach.
Contact: jonpeder@nfx.com
Cyerra Holmes
Cyerra is a second year MBA student at the Stanford GSB Prior to the GSB, Cyerra spent three years at Goldman Sachs in the asset management division where she created investment strategies for high net worth individuals and helped to launch the firm's robo advisor platform. Outside of the office, Cyerra co-founded a clothing brand catering to young women entering the workforce. This experience piqued her interest in fashion/e-commerce and she left Goldman after three years to pursue a career at Farfetch, developing e-commerce strategies for luxury fashion brands. Cyerra graduated from Stanford University in 2016.
Contact: crholmes@nfx.com
2023 NFX Harvard Fellows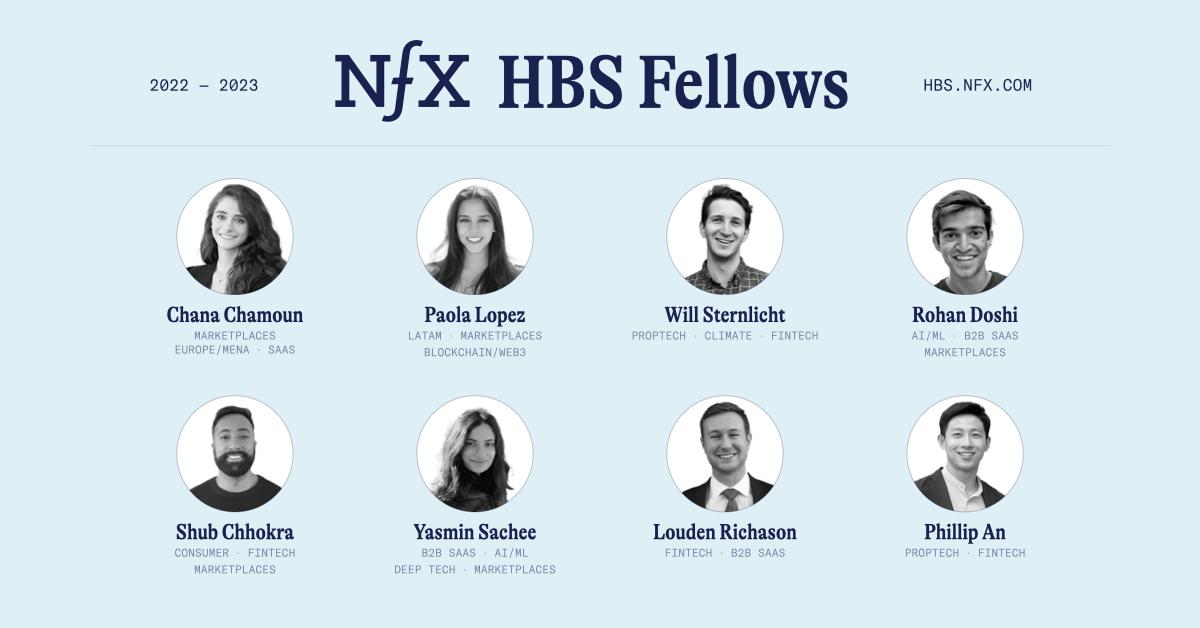 Chana Chamoun (Boston/HBS Campus Lead)
Chana is a 2nd year MBA student at Harvard Business School. Chana worked as a growth stage investor in Europe, LatAm, and the Middle East, looking into SaaS companies and marketplaces. Prior to that, Chana was an Engagement Manager at McKinsey New York where she supported start-ups across their growth journeys.
Contact: cchamoun@nfx.com
Shub Chhokra
Shub is currently a first year MBA student at HBS. Before starting HBS, he was a venture investor at Manhattan West, focusing on seed to growth investments in consumer tech, marketplaces and web3/fintech. He also served as Chief of Staff and currently advises at a portfolio company Ghost (B2B marketplace for excess retail inventory), after they raised their Series A. Prior to that, he was an associate at the global macro hedge fund Bridgewater Associates, with roles across the Investment Engine and firm strategy. He graduated from Harvard College in 2018.
Contact: schhokra@nfx.com
Yasmin Sachee
Yasmin is a first year MBA student at HBS and is passionate about the transformation of decision-making across multiple sectors as a result of AI. Most recently, she was Chief of Staff at Writer – an AI writing platform for teams – where she did go-to-market strategy and operations. Prior to that, she was a consultant in McKinsey's software and media practice in New York. Yasmin graduated from Harvard College in 2018.
Contact: ysachee@nfx.com
Louden Richason
Louden is currently a first year student at HBS. Prior to HBS, he was an investor on PEAK6's Strategic Capital team. Before that, he led the sales and marketing teams at Zogo, a gamified financial education startup that helps financial institutions engage and retain younger customers. He also currently serves on the board of the Kenan Institute for Ethics and the nonprofit Tools for Change. Louden graduated from Duke University in 2019 with a degree in Economics.
Contact: lrichason@nfx.com
Phillip An
Phillip is a current HBS/Harvard engineering joint degree student who co-founded a Series A real estate financing business providing an alternative to residential consumer financing through a rent-to-own model in Southeast Asia. Prior to this, he spent some time in professional services (IBD @ GS, Consulting @McKinsey) and tech (PM and VC).
Contact: pan@nfx.com
Paola Lopez
Paola is an MBA candidate at Harvard Business School. Prior to HBS, she was an Engagement Manager at McKinsey & Company where she worked with mostly Consumer and TMT clients across the US, Spain, Colombia, and Mexico. Prior to joining McKinsey, she worked at Microsoft in its Devices, working cross-functionally to manufacture and distribute Surface laptops and XBOX consoles. Paola was born and raised in Colombia and moved to the US to pursue a B.S. in Industrial Engineering at Georgia Tech. She is excited about the LatAm entrepreneurship ecosystem.
Contact: plopez@nfx.com
Rohan Doshi
Rohan is a MBA/MS joint degree student at Harvard Business School and the Harvard School of Engineering. He is the founder and CEO of Sherlok, a Y Combinator startup developing an enterprise B2B SaaS tool for data teams. Prior to this, he led machine learning research efforts at Waymo, building the AI brain of the autonomous vehicle, and at Google, developing novel generative speech technologies. Rohan studied computer science and management at Princeton University.
Contact: rdoshi@nfx.com
Will Sternlicht
Will is an MPP/MBA at HKS/HBS graduating this May. He's passionate about using innovation to solve problems in the Built World (prop tech, climate tech, deep tech, fintech, gov tech). His career has spanned operations (Pulley, Pallet Shelter, co-founding a sustainable hospitality business), early stage investing (NFX, Social Capital), and local government (Miami-Dade Public Housing Development) in pursuit of building solutions to society level issues. He graduated from Stanford University in 2017 with a self-designed major combining computer science and product design.
Contact: wsternlicht@nfx.com
2023 NFX MIT Fellows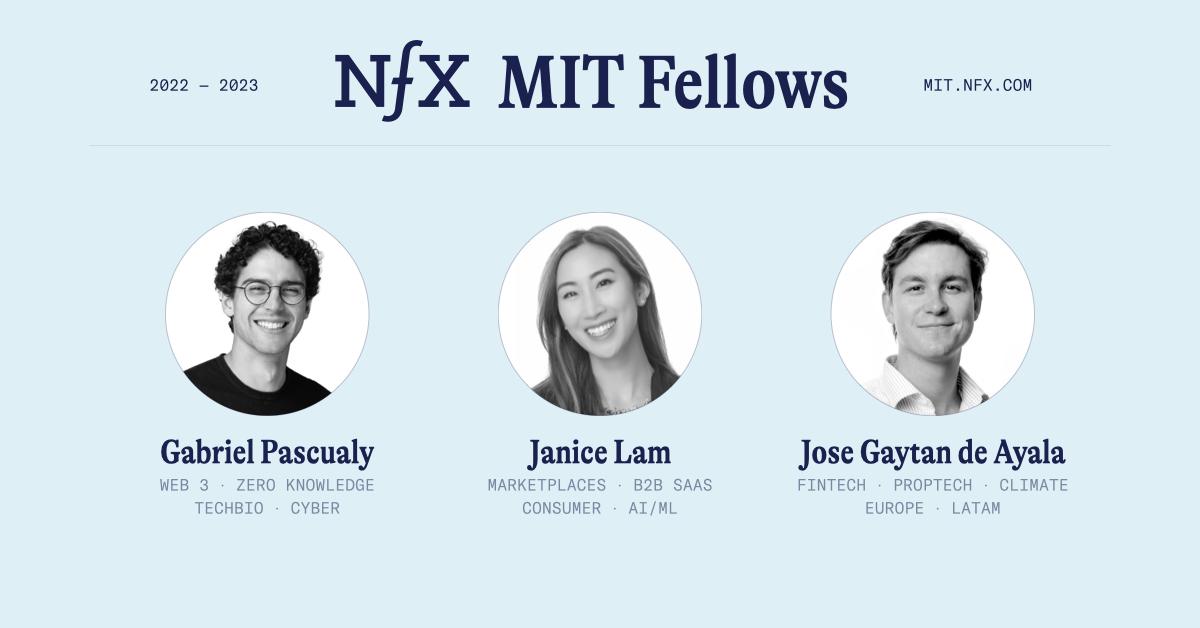 Jose Gaytan de Ayala (MIT Campus Lead)
Jose is currently a second-year student at MIT Sloan. He is passionate about supporting entrepreneurs reimagining large and complex industries such as Fintech, Proptech and Climate Tech. This summer, Jose worked at Fifth Wall Ventures' European team where he focused on Real Estate Tech companies. Prior to Sloan, Jose was an investor at Kibo Ventures, a European early-stage VC, and worked in Investment Banking at Credit Suisse in London. At Sloan, Jose is the Fintech Practice Head for the Martin Trust Center, in charge of organizing the MIT Fintech Community.
Contact: jgaytan@nfx.com
Gabriel Pascualy
Gabriel is a second-year in the MIT Leaders for Global Operations (LGO) program getting a MSc in Electrical Engineering and Computer Science, and an MBA. Gabriel spent his LGO Internship developing a natural language processing tool to enable advanced plant analytics for Amgen Inc. Prior to MIT, Gabriel managed a portfolio of cyber security innovation projects at the MITRE Corporation and proposed and directed his own research on an emerging embedded systems security threat.
Contact: pascualy@nfx.com
Janice Lam
Janice is a second-year MBA student at MIT Sloan. She enjoys supporting founders in their entrepreneurial endeavors and is passionate about building strong communities. Janice is the President of the MIT Sloan Entrepreneurship Club where she drives initiatives and collaborations to enhance the founder, joiner, and investor ecosystem. Janice was a consultant prior to Sloan, where she led multi-disciplinary teams to build predictive analytics solutions for clients. Internally, she focused on scaling the consulting practice team size by 10X.
Contact: janicelk@nfx.com
Stay in the loop
Three things you can do right now if you are an entrepreneur on one of these campuses.
1. Sign up for our campus newsletters (run by our fellows). That's where you'll hear about all of our campus initiatives, like ideation workshops, pitch feedback sessions, and events with NFX GPs and Principals. Join the newsletters here:
These workshops and sessions aren't just practice. These events culminate in our flagship Pre-Seed & Seed funding competition: NFX FAST.
2. The next NFX FAST is coming soon: Apply to win $100K – $250K for your startup. FAST is a rapid fire opportunity for student & alumni Founders to submit their ideas to NFX, and receive an investment decision within 9 days. Up to 12 teams will win between $100,000 and $250,000 in pre-seed or seed funding.
Learn more about FAST on your campus here:
3. Raising now? We believe students are ready to build real companies right now. If you can't wait for FAST and are ready to raise a Seed round, we want to hear from you. Email your Brieflink to anna@nfx.com.