Today, withco is announcing more than $30M in funding to empower small business owners to become commercial property owners.
NFX first partnered with withco in 2019 when it raised its first round after we were introduced to Kevin from another portfolio company – and we've been working with the team ever since.
NFX doubled-down as a co-lead in the company's second round in 2021 alongside Canaan Partners, Founders Fund and Initialized Capital. The round also included notable investor-Founders & CEOs of Affirm, Carta, DoorDash, Faire, Hippo, Invitation Homes, Lennar, Opendoor, Plaid, Ramp,and others. withco is also backed by a long list of all-stars including Danny Meyer, Kevin Durant, Venus Williams, Will Smith, Julian Castro, and more.
Here's what's exciting about withco and what we at NFX saw, early on, that guided our decision to invest.
This is part of an ongoing "Why NFX Invested" series of posts where, for the benefit of the Founder community, we share what we saw early-on in several of the companies we've invested in.
1. A Category-Creating Company
withco is the first commercial property ownership platform for small businesses.
Traditionally, small business owners can qualify for a lease, but very few of them are able to secure a large enough down payment to qualify for a mortgage. withco's platform programmatically purchases commercial properties in partnership with small business owners and works to transition them to full ownership over the course of a standard lease term.
This innovative technology and approach helps small business owners benefit from the value they create in their neighborhoods by purchasing commercial property. In short, they can turn one of their largest expenses – rent – into meaningful wealth.
The small business commercial real estate market sees over $90B in deal flow annually, but lacks a buyer who can efficiently price and purchase long-tail transactions. In a world without withco, a seller and their broker have to spend months trying to sell a small business property. Now, the market has a sophisticated buyer willing to accurately price and purchase the inventory that no one can or is willing to understand
Broadly speaking, there are two types of startups I meet with as a VC: those reinventing an existing market and those, like withco, who are creating a new one. Often, the bigger long-term opportunity is in creating entirely new markets, which makes withco very exciting to us at NFX.
2. Strong Founder-Market-Fit
withco's Founder, Kevin Song, has a personal backstory driving the company's mission. His family had a grocery store in Brooklyn and ran it successfully – only to have their landlord indiscriminately raise their rent and displace them.
Now, Kevin is building withco to not only ensure other families avoid the same fate, but also to make the dream of property ownership – and the accompanying control, generational wealth, and legacy – a reality for local business owners everywhere.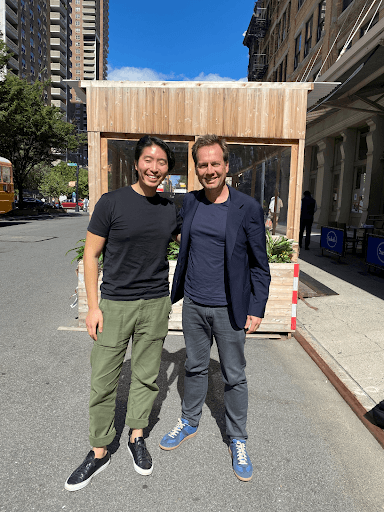 Kevin and Pete on a sunny afternoon in NYC in fall 2021
At NFX, we seek out companies and founders that exhibit strong Founder-Market-Fit like this.
Benefits of Founder-Market-Fit:
You have a higher chance of getting a critical insight.
It keeps you 100% focused on the problem with an obsessive commitment because it resonates so deeply.
You'll resonate with other people in the sector you're in, and the more people you have on your side, both in the company and in related companies, the greater your chance of success
You will actually be able to pull off nuances in the product experience and product language that make your product best-in-class.
Customers care a lot more about who the company Founder is than most Founders realize. The Founder has to fit with the market, i.e. the customer, and vice versa. Customers have to identify with the Founder's story and believe that there's a compelling "why" inside the Founder — that there's a human behind the company.
For many of us, the pandemic has helped us appreciate the importance of our small businesses. When we needed essentials during lockdowns or when we wanted to avoid crowds, rediscovering our small businesses became a lifeline, and they continue to be an essential fabric of our neighborhoods and communities.
Our national economy and our local communities thrive when small businesses are operating successfully. withco empowers successful small business owners to gain control over their destinies and build generational wealth through commercial property ownership. More money in the hands of more small business owners will lead to better experiences and better stewardship of our neighborhoods.
withco is a genuinely mission-driven team focused on not only building a category-creating company but also achieving true social impact. You can hear the consistency in the company's north star and values from speaking to anyone on the withco team. This is just the beginning for withco on a long road to make it exciting to be a small business owner in America again.
*   *   *
withco is a world-class team on a mission to make it exciting to be a small business owner in America again and they are actively hiring.