Today Latitud announced their $11.5M seed round co-led by NFX and a16z. Latitud is dedicated to building a world-class startup network in Latin America, which is itself an emerging capital of startup talent and innovation.
Here at NFX, we see that the impact of network effects on creating successful startups is enormous. The network strength of an ecosystem can be a 5x (or more) multiplier on the efforts of startups and Founders. Latitud sits in the middle of that.
NFX has been investing in Latin America since our very first fund, drawn by a talented pool of Founders in the region, a fast-growing market and the new digitization of LatAm's population, and a positive funding cycle. Most recently we led investments in La Haus, Nuvocargo, Zubale, Melonn, several companies in stealth mode, and now Latitud. We are not alone and since we started investing in the region, interest from investors in the region has only grown which is terrific for the region.
Here are just a few reasons why we invested in Latitud and are supporting their mission to further develop the LatAm startup community.
1. We Believe in Latitud's Founders and their Mission
We have known Latitud's co-founder and CEO Brian Requarth for more than a decade. I first got to know Brian when I was an advisor to his first tech company, VivaReal, the leading real estate marketplace in Brazil. From there we have worked closely and co-invested in numerous other startups together.
I was also one of the first investors in Latitud's rolling fund which has already backed many of the most promising startups in the region. Latitud's two other co-founders Gina Gotthilf and Yuri Danichenko we have gotten to know more recently. They bring decades of global startup experience to the table. This is just an incredible founding team. We love their expertise and passion for advancing entrepreneurship in the region.
2. Automated Company Formation, For 5X Cheaper and in Record Time
Latitud dramatically reduces barriers to entry for new Founders by simplifying and automating the legal and financial processes to start a company, which up until now has been a uniquely fraught process in Latin America.
Since LatAm startups often have much higher international transactions, investments, and employees, their early business structures are much more complicated that those of their U.S. counterparts. As the story goes, Latitud's co-founder Brian Requarth lost over $100 million in taxes when exiting his last business because of a company formation mistake made in the early days. That inspired him to make proper company formation accessible to help LatAm founders get started on the right foot.
Starting a company in LatAm can also be slow and costly, taking up to 60 days and requiring $30,000 in lawyer fees. Startups often need to set up numerous international bank accounts that increase costs and slow down transactions. Lastly, cap table management softwares aren't built for LatAm businesses and are incompatible with the complicated international business structures commonly used in the region.
Latitud solves for all this with Latitud Go, a product that automates company formation by creating international business structures and bank accounts that provide startups with the optimal financial and legal protections to reassure investors and allow founders to focus on scaling growth.
Latitud quickly identified the opportunity to build and be the hub of all startup activity in LatAm. Their platform and fellowships connect all the key constituents in the LatAm startup world – from founders to talent to investors of all kinds.
As we've written before: Startups are "new networks within larger networks," so it's important for Founders to understand how the network conditions of their surrounding ecosystem can impact their culture, hiring, access to capital, access to information, and chances of success. This is the competitive advantage that Latitud brings to the LatAm startup community.
Similar to how Silicon Valley has been the nexus of tech innovation and networks, now Latitud is looking to create this flywheel through both virtual and physical means. By increasing the number of successful startups in the region, Latitud is poised to create more Founders, angel investors, and overall startup infrastructure in Latin America.
4. LatAm Talent & Startup Ecosystem
The startup ecosystem in Latin America has grown at an incredible rate in the last few years. In fact, total funding into LatAm startups has skyrocketed more than 12x in the last five years from $1.2B in 2017 to more than $14.8B in 2021.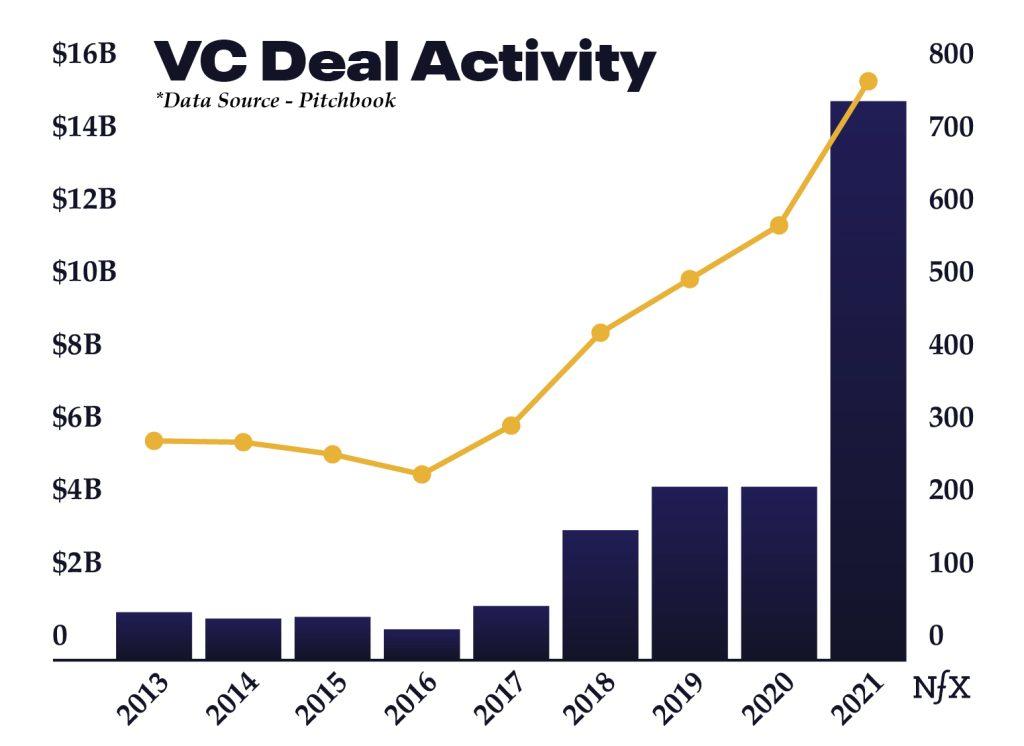 While capital invested into a region in and of itself is not a reason for NFX to commit, as we typically invest before other institutional funds, it is clear that LatAm has "tipped" and is now a major entrepreneurial continent. This critical mass of tech talent, startup culture, economic activity and venture capital will accelerate innovation and we believe startup activity is set to grow dramatically in the region.
Founders, investors, and anyone interested in working at a startup in Latin America can visit latitud.com to learn more and get involved.
This is part of an ongoing "Why NFX Invested" series of posts where, for the benefit of the Founder community, we share what we saw early-on in several of the companies we've invested in.