Generative tech is helping creatives go from 0 to 1 in a fraction of the time. This is a great opportunity for professional photographers – who often spend hours editing thousands of photos – to improve the speed and scale of their output.
Amateur photographers already use AI to edit groups of photos in pre-set styles. But AI has yet to be widely adopted by professional photographers, who need tools that reflect their individual approaches and editing styles. 
To edit photos in your individual style – or to create art based on your previous work – AI needs to be specifically trained. There are no two photographers with exactly the same approach, so specific AI models are needed for each photographer. For example, the AI needs to be taught how to edit a closeup of a face, taken at low light, in black and white, in your specific editing style. This is why personalized, generative tech is important for creatives.
This is exactly what Imagen does. Imagen's AI-powered platform has found the fast-moving water in this space by using AI to master each photographer's unique editing style. Imagen is helping its users reduce editing time by up to 90%. 
Today, Imagen is announcing a $30M Series A led by Summit Partners. NFX led their Seed round, and are continuing to back Imagen. Here's why we invested from the very beginning. 
1. Solving a Time-Suck Problem 
For independent photographers, time is money. Breakthroughs in digital cameras have allowed photographers to shoot and store a tremendous amount of images, but they still have to edit each photo manually. In fact, it is estimated that for every hour a photographer spends taking photos, they spend two hours editing – leading to late nights and frustrated customers. 
This is a massive drain on creative time. 
This is the exact situation that Imagen co-founder Yoav Chai faced when he waited months before getting his own wedding photographs. After speaking with several other photographers, he realized this pain point was universal. With his background in computer science and machine learning, Yoav teamed up with Yotam Gil and Ron Oren to begin developing Imagen. 
2.  Embedding builds defensibility 
With each additional photo uploaded and edited, Imagen's AI continuously learns photographers' signature styles to become better and faster. This makes it very hard for photographers who have already begun editing with Imagen, to go back to manual editing or switch to another service. They'd lose their AI-trained editing assistant. 
By saving photographers 90% of the time they would spend on editing, its AI platform has a clear ROI by allowing them to shoot more events and make more money.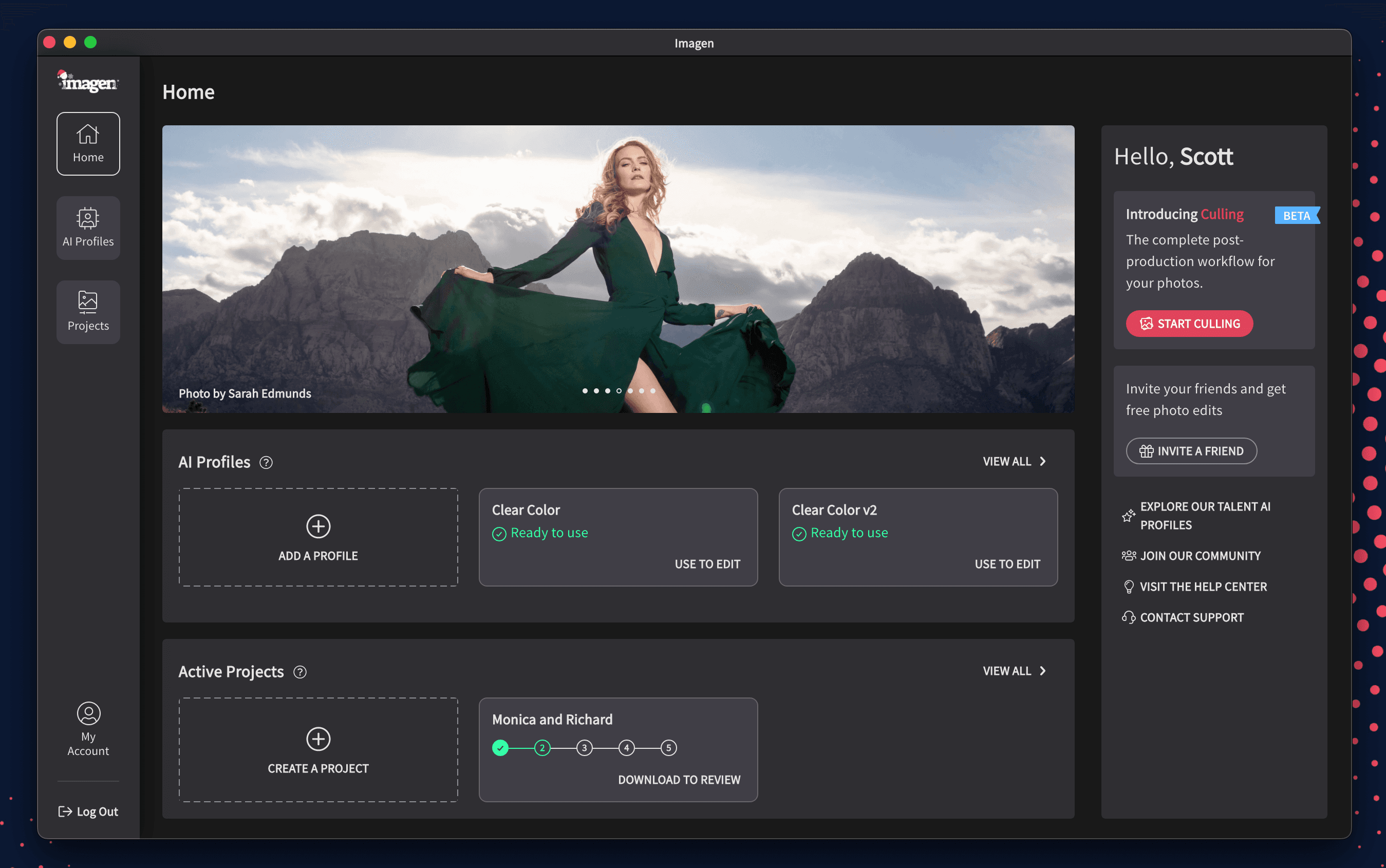 Imagen's AI-powered platform
3. Founders In Touch with Their Customers 
Imagen's founders were the right people at the right time. By combining their backgrounds in machine learning, product development, and creative marketing, they worked closely with photographers to develop the perfect product. 
Imagen's Founders; Ron Oren, Yotam Gil, and Yoav Chai
When we first looked at Imagen, we were blown away by the level of satisfaction by their customers. With a 4.9/5 star review on TrustPilot, we knew this company had strong product market fit. We could see it in reviews like these: 
"Imagen gave me my life back, letting me spend more time with my family rather than being bogged down with my edits."

– Rebecca Carpenter, UK
"Imagen creates a stunningly consistent starting point across your entire collection of images."

– Sam Hurd, USA
This attention to customers has clearly paid off. Since its founding just 2.5 years ago, Imagen now edits more than 150 million photos each year, saving customers millions of hours of manual work each month. With a range of customers spanning individual customers to big creative studios, the company is already profitable and continues to grow at an impressive rate.  
For these reasons and more, we're excited to continue backing Imagen's mission to help photographers spend more time doing what they love. 
Photographers interested in using Imagen's platform can visit https://imagen-ai.com/