Over the last few years we've seen a decrease in VC interest in early-stage gaming companies. Investors consider the gaming industry unpredictable; it is thought that building a "hit" game is a mixture of art and magic, a bit like investing in movies. Gaming is often perceived as mostly a creative industry rather than part of tech.
‍
But this isn't the way we see the industry.  As a co-founder of Playtika, a gaming company that sold for $4.4 billion and as an investor in more than 10 successful gaming companies including Moon Active and Plarium, I've found that while there is definitely a creative element to gaming, the tech and science side is just as important – if not more. It's 50% creative, but also 50% science – the science of complex technology infrastructure, sophisticated data mining and analytics, ongoing iteration and optimization, smart personalized monetization, economy balancing, and a lot more. If you have no creative talent you won't succeed in gaming, but having that creative flare is not enough if you don't also have the technological and data skills. And as in all startups – and maybe even more so in gaming – you will not succeed if you don't use these skills to constantly iterate until you find your game-market-fit.
This is why at NFX we haven't shied away from investing in gaming. Beyond our personal experience with the industry, we're bullish on gaming for several reasons:
Gaming is a huge market that will only continue growing
Gaming today is more than just the games themselves – with eSports it's a complete entertainment experience
Games have an incomparable ability to grow fast
Beyond the broader positive outlook, the industry does have challenges – including increasing costs of customer acquisition and a tough fight for talent – which dictate what types of companies and teams we are looking to invest in.
‍
For gaming startups employing the right product, monetization and marketing strategies, we see lots of opportunities. But to maximize chances of success, Founders need to be aware of the major trends in the industry right now.
Trend #1: Crowded platforms require great execution
At this point, all the major gaming platforms have been around for years. The ecosystems are mature. On mobile, the App Store and Google Play are both crowded with a glut of gaming apps. Desktop gaming's major platform, Steam, is also quite crowded. New promising platforms like VR and AR are available – but devices' adoption is still low and customer experience is still mediocre at best.
‍
And while these platforms mean that everyone has a gaming device in their hand or on their desktop, as more and more games are being published, it's harder for new games to see profit. The biggest issue is discoverability — cutting through the noise becomes more difficult as the platform becomes more crowded, which eventually leads to higher customer acquisition costs (CAC). At the same time, the tendency of a user to pay in a game launched today will be lower than in games launched when the platform was young and there was a sparser selection of games. This is somewhat balanced with the overall users' higher willingness to pay these days.
‍
The outcome is very harsh: If your CAC to LTV (LTV – the revenues the customer will generate over their lifetime playing your game) formula doesn't work, it's an impossible period to be in the gaming industry. Unexpected success stories where games just become viral and grow are becoming further and further apart — if you look at mobile as a platform, for instance, a few years ago, almost half of the successful games at any given moment came from new publishers. But these days we are seeing less and less success from companies that aren't incumbents or that didn't raise significant capital to fuel customer acquisition. As distribution becomes a bigger challenge, incumbent gaming companies with existing users, brand, and distribution partnerships have a mounting advantage and can launch games much more easily.
This increases the pressure on new publishers/developers to be really strategic about how they're going to win and break through the noise. It's no longer enough to just be more creative than everyone else — gaming founders must utilize all available tools and methodologies to maximize their chances of success. Embedding data science into your game early on, being data driven even in your early creative iterations, having marketing professionals embedded in your team from the get go and carefully choosing the genre you are after are all critical steps in building a successful gaming company today.
‍Practical advice for founders: Be aware of the situation and relate to it in your pitch; ensure your team includes data, marketing and monetization skills early on; be on top of your early numbers and ensure your CAC-LTV formula works; and carefully choose your genre, presenting the references you have looked at.
Trend #2: Gaming is still a growing market – aim for the core
Despite skepticism about gaming among investors, it is a massive and rapidly growing market. The global market is $152 Bn and growing ~10% year over year.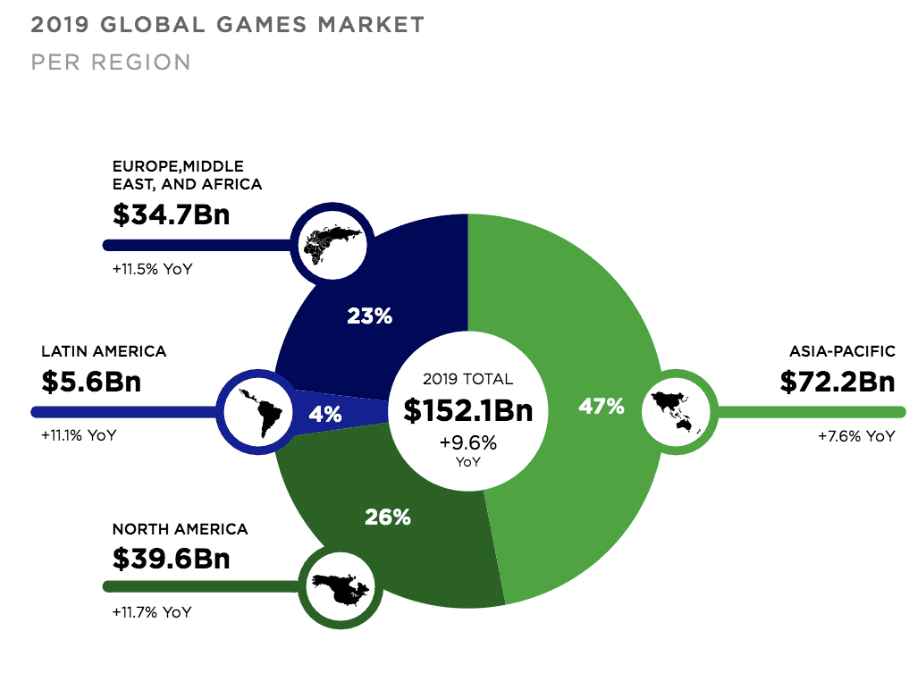 Added to this is eSports, which are becoming a more important part of the picture. The global eSports market is expected to reach $1.5 billion by 2020, with eSports audiences growing at a rate of 15% YoY.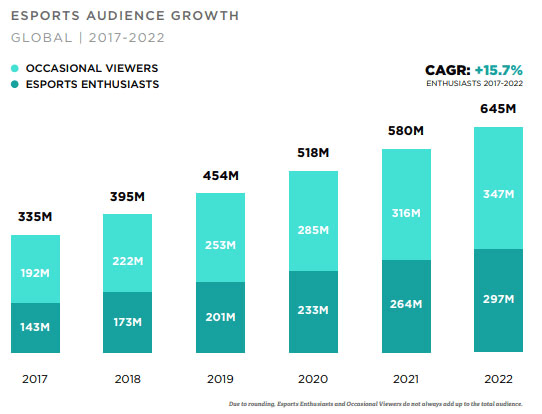 Among younger people in particular, eSports viewership is quickly becoming more popular than  traditional sports. By 2021, the total viewership of eSports is projected to surpass every major sports league in the US except for the NFL. Noticeably Netflix said in their investor letter for its 2018 results that: "We compete with (and lose to) Fortnite more than HBO".
What does all this mean for gaming startups? Mostly that you do not need to reinvent the wheel to create a successful gaming company. It's important to notice that very few business models work in both eSports and gaming other than simply building successful games. After all the dust settles, you see that the vast majority of successful companies in all areas of gaming are game developers/publishers (and the platforms – both the actual gaming platforms like Steam or the AppStore as well as streaming platforms like Twitch). Most of the money in the industry – including in eSports – stays with the game developers/publishers and the major gaming platforms.
Practical advice for founders: Build great games! The industry is still growing and if you create a great game you can reach tens of millions of revenues in a shorter period than in any other industry. Think about embedding eSports elements from the start – if done correctly it's beneficial both for improving acquisition as well as for improving retention.
Trend #3: Games-as-a-Platform means you don't build a game, you build a live entertainment platform 
One of the most exciting evolutions of the gaming industry is the move from the old days of games as 'packaged goods' to these days when successful games are full entertainment platforms. The evolution took many years, and started in the pre internet-connected-games era when a game was a project that ended with its actual packaging; games were sold in video games stores and the team that worked on the game moved on to the next project once the game was ready.
With the Internet came 'connected games' that allowed ongoing updates of the games – introduction of new levels, new game mechanics, etc. into a game that was already published. We call this stage 'Games as a Service' and it became the leading model with the introduction of in app purchases – the more great updates you put out, the more users would spend money in your game. As a side effect, instead of the team moving on to the next game, in the case of successful games the team stayed on and often grew to enable development of additional features.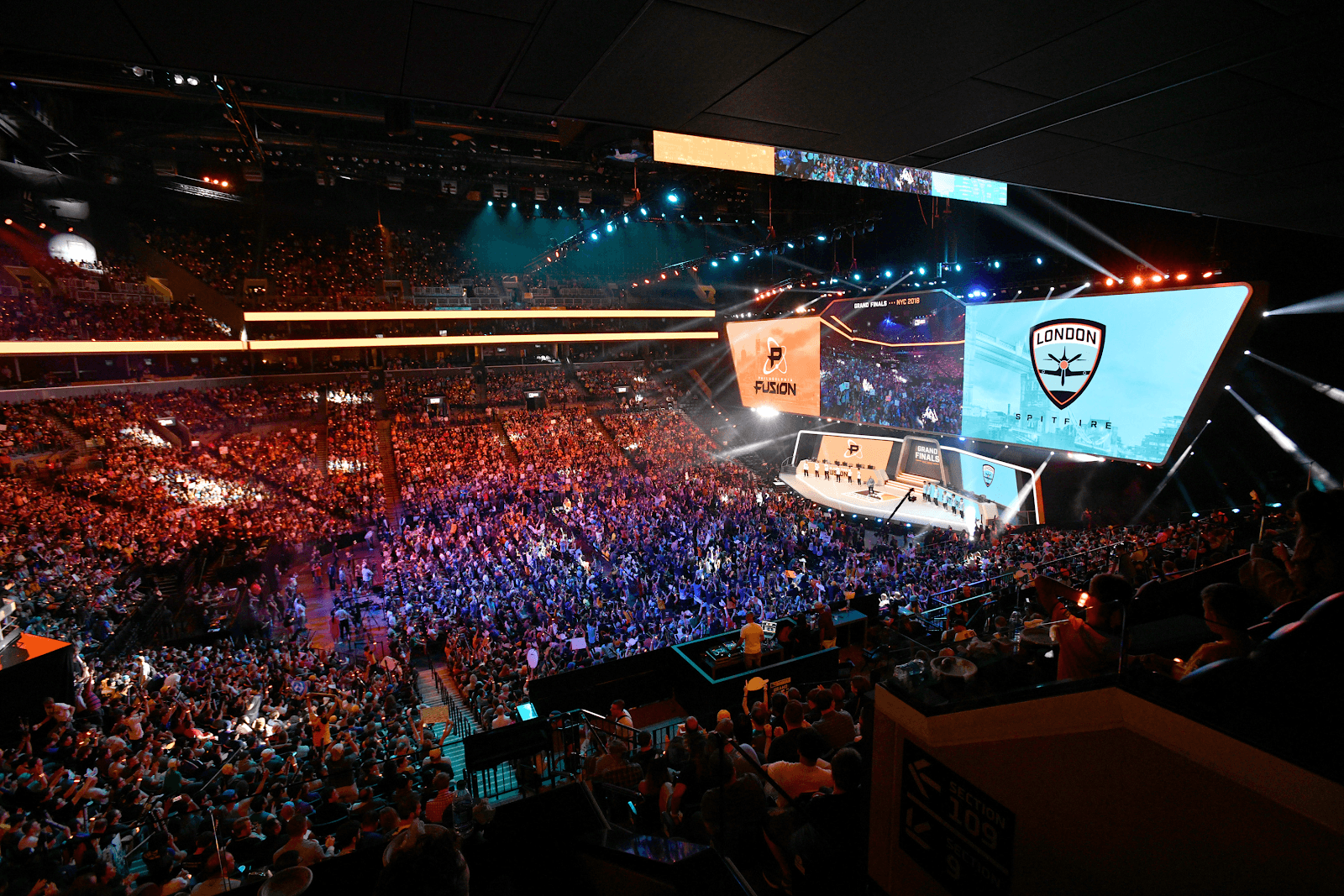 The next step in the evolution of gaming came with the understanding that different users are attracted to different game activities, and that the relative slowness of new game features means that it's tough to keep your game exciting all the time using only new game features. The outcome – 'Live Ops games' – games where every day has a variety of activities, some recurring and some unique (one-off events like special events in Fortnite). These events are usually run by an operational team which does not need to write new code – these are all configurations. They decide which users are exposed to each event, events format, frequency etc. – and are basically running an events calendar aimed to keep the game as interesting as possible for all users.
The last stage in the evolution saw games adding many meta layers which are aimed to keep users engaged often with no real connection to the game itself. The purpose is simple – if I have millions of users playing my game daily, it's in my interest to turn the game into an actual platform where 'there is something cool every day'. We call it 'Games as a Platform'.  Live concerts in games; a card collection or virtual pet layer on top of a game which could completely disconnected from the main game loops; a live hosted activity which is an option and not related to the actual game progress – these are all examples of publishers/developers trying to turn their games into platforms. We expect that in the years to come there will not be successful games which are not 'Live Ops games' and that the most successful ones will all use the 'Games as a Platform' model. ‍
‍Practical advice for founders: Know the way top game companies use different models; build your game and your team to immediately enable Games as a Service and Live Ops; remember that once you start experiencing success you should look for the right opportunities to turn your game into a platform.
Trend #4: Changing audiences open the door to new genres and themes
An important but often overlooked trend in gaming is that the gamer community is aging. Kids and young adults are still playing of course, but they are no longer the biggest gaming demographic. In 2019, the average American gamer is 33 years old. When you look at actual spend (which is subject to not just gaming habits but also disposable income) – the average age of spenders is even higher.
For the first time since the dawn of video games, there's a large group of people over 35 who grew up playing video games. These are likely to be lifelong gamers — and due to their age, they are the biggest spenders on gaming. They're engaged across platforms, including eSports, and see gaming as a main part of their identity.
This is why it's likely that gaming will only see continued growth as an industry for a long time to come. It also means that there's an opportunity for gaming startups to build games targeted at a maturing gaming audience with spending power both in terms of the game genres and in terms of the game themes.
One interesting phenomena which we think is related to the higher average gamers' age is the emergence of 'hybrid genres' – games which involve different genres in the same game. The Asian Puzzles and Dragons combines a casual match-three type game with strategy and RPG elements. Gardenscapes combines match-three with city building simulations. Coin Master combines social casino with city building simulation and P2P RPG. All of these are games worth north of a billion dollars based on the realization that users – with experience in many genres – are eager to experience more than one genre in any specific game
One more thought – these gamers are raising little gamer kids, who will likely not hear from their parents that "games are bad for you".
‍Practical advice for founders: Choose your audience well and be open to different demographics than the typical young-male audience that many games target. Remember that genres that were popular for many years – like strategy games – are likely to continue being popular for many years to come. And look at combining various genres as a way to create new exciting experiences.
Trend #5: Next-level data sciences are core to every successful games company 
As data science capabilities advance, the most successful gaming companies utilize data more than any type of company in tech.
One important application for user data is to personalize the gaming experience, which can be used to increase engagement and retention and eventually facilitate more in-game transactions. All major games companies moved to data driven sophisticated games personalization, match making, and optimization over the last few years.
The importance of these applications has led to a rapid growth of data science roles in the gaming industry across all verticals. It is very common today that great founding teams have a data scientist as a founding employee as data sciences become core to the actual game development process.
Finally, as machine learning becomes more advanced, it will take gaming to the next level. NPCs, or "non-player characters", will become smarter, richer, and more realistic. Data based optimization will be more precise and even more personalized. Gaming companies with the strongest machine learning talent will have a major advantage in the coming years.
‍Practical advice for founders: Data, data and data – hire the right talent, collect all the data, and embed data-based decision making everywhere. Also speak data with investors – the more you show you are data driven, the more you will look like a set-to-win gaming Founder!
Trend #6: Talent problems require creative solutions 
Statistically speaking, most games fail to get a lot of traction – this is true for all startups but even more extreme for games. Employees who have been through multiple failed game cycles get tired, and the fact that "fairy tale" success stories are few and far between means that motivation within the industry is at a low point. Because of this, we have seen some engineering and data science talent leaving the industry.
Compounding this morale problem, lower VC and investor interest in gaming means that salaries in early stage gaming companies can't often keep up with the tech giants. This leads to a vicious cycle — teams without sufficient talent lead to fewer successes in the industry, low success rates lead to less VC interest, and less capital leads to a bigger talent problem.
The talent issue is mostly felt in the major tech hubs; Silicon Valley, Israel, New York, etc. For many successful gaming startups, the best solution for now seems to be distributed teams – core teams in the tech centers who are backed up by engineering, art, creative, and even data sciences teams offshore – in eastern Europe, Latin America or Asia. In these locations, not only is it easier for games companies to recruit talent – but the lower employment costs also allow these companies more shots on goal with the same capital raised, often the difference between success and failure.
‍Practical advice for founders: Focus on recruiting your core initial team across the different domains; give priority to candidates who have experience operating with offshore teams; and think about creating and scaling a low cost dev/creative center early.
Where we see opportunity
Given the current gaming landscape — crowded platforms, distribution challenges, powerful incumbents, and yet high upside — we're very specific in what we are looking for in gaming startups:
For all of our gaming investments we would expect to see experienced gaming teams who have been involved with the building/running of a top tier game.
We would expect their teams to have novel ideas on genre, theme and/or audience -or- a new convincing manner to monetize their game on top of in-app purchases and ads.
We are open to looking at eSports related platforms if they serve a core need for the eSports community.
And we are constantly monitoring the new platforms front (VR, AR, Voice etc.), waiting for the right moment when these platforms become ubiquitous enough to generate enough gaming potential.
If you're a Founder with the right team who is building a gaming company in one of these fields, send me a Company Brief (the best way to communicate your business to VCs) via the link below!