Today, Firefly officially came out of stealth and announced $21.5M of seed funding led by NFX. We've been joined by Decent Capital (Tencent founders), Pelion Venture Partners, StartX, and Jeffrey Housenbold (SoftBank Vision Fund).
‍
Firefly gives drivers of ridesharing, taxi and delivery vehicles a way to earn more money — right now, about 20% more per month. Firefly does this by creating a media network using proprietary smart displays and software mounted on top of vehicles. The car-top units are also packed with data sensors, creating a data platform useful to the cities Firefly operates in.
Firefly has been testing and refining on the roads of San Francisco and Los Angeles for a year now. So far, they've logged 110,000 hours of unit time, and have executed over 50 successful ad campaigns for companies like Hotel Tonight, Brex, Turkish Airlines, Bonobos, Venmo, DoorDash, San Jose Children's Museum, and The Coalition for Clean Air.
The 3 biggest reasons we're investing in Firefly:
1. A great team with a big idea
Firefly is a big idea — one of those companies that could change the landscape of how cities look and function. We believe that in the near future, when we watch movies made before Firefly, scenes will feel dated by the lack of Firefly-equipped vehicles driving by in the background — just as movies today feel dated when they have scenes with characters using pay phones.
The reason we see such transformative potential with Firefly is that everyone wins. Four groups benefit from this clever system:
Drivers, who work many hours and don't get paid a lot by their normal jobs. Firefly can help them earn more every month. And having a Firefly is both professional and cool. Firefly is now serving over 600 drivers using the units, and installing more every week.
Cities benefit by getting a cutting-edge data collection system moving around the city and paying nothing for it. The Firefly system collects and provides a variety of data types and real-time information on local conditions, starting with pollution and congestion measurements. Further, cities and non-profits get free public service messaging on 10% of the impressions, informing citizens about amber alerts, cultural events, recruiting for police and fire departments, etc. Firefly also helps make a city look and feel modern, cool, and connected by helping cities operate with more real-time data, leading to less congestion, less pollution, less trash on the streets, fewer potholes, etc.
Citizens get free WiFi from the Firefly units, their local businesses can advertise effectively on their streets and neighborhoods, they are informed of local events and conditions in real time.
Advertisers. They can finally bridge the gap between digital advertising, which is modern and effective, and out-of-home — which has been the opposite of modern and flexible until now. Advertisers can now target digital ads by exact location and time. It's the fastest-growing ad medium in California by percentage, an entirely new ad format.
Another reason we like this idea is that Firefly can build two different types of nfx for defensibility. First, the obvious two-sided marketplace between drivers and advertisers. Second, and less obvious, is the two-sided platform network effect where cities and other businesses can develop applications on top of the data platform, with Firefly units supplying the data. Other defensibilities includes the software embedding Firefly can do with the cities it serves, and scale.
All that said, this is a complicated business. Ideas aren't enough. You need to be excellent at ad delivery and measurement software, excellent at hardware, excellent at ad sales, excellent at civic relations, excellent at fundraising, excellent at design and branding… and companies can't do all those things well at the same time unless you can attract the very best team. Firefly has that team.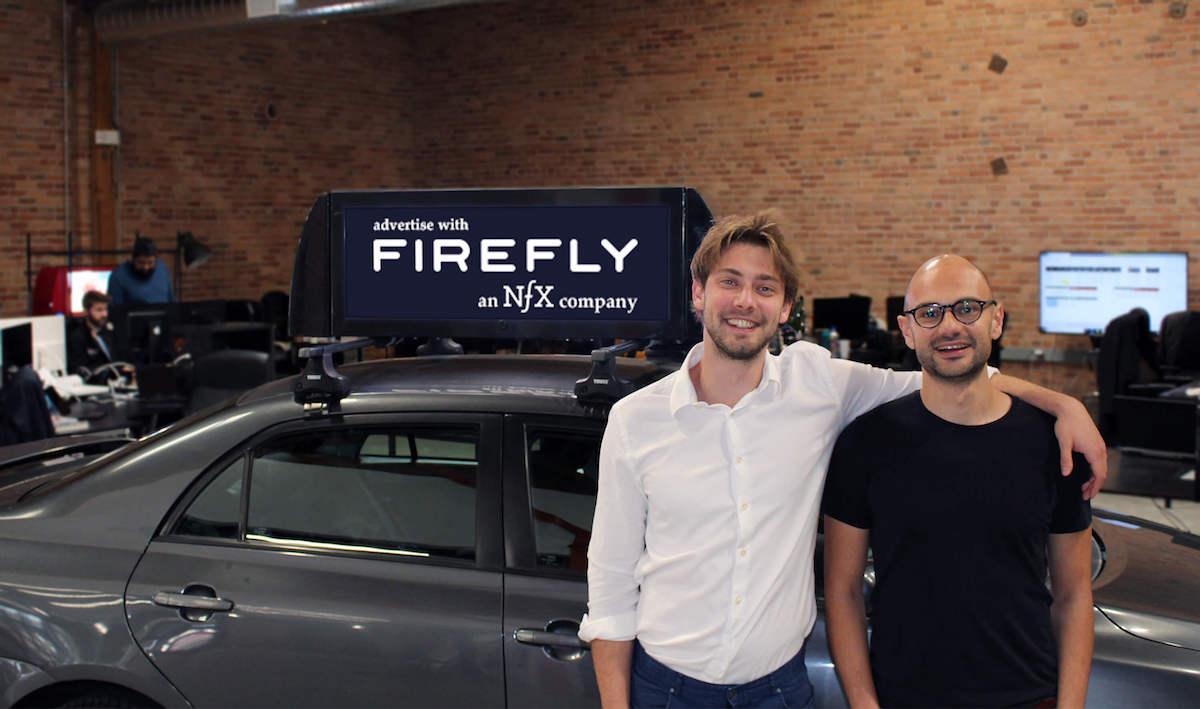 2. Tech changes mean the time is now
Ridesharing like Lyft and Uber and delivery services like DoorDash have created a new untapped supply of potential ad space in addition to taxis. Important new tech companies have traditionally emerged with the creation of brand new supply. For instance, in 2000, Google started putting ads next to the searches for the new supply of webpages we started creating in 1994. In 2006, Facebook starting putting ads against a new supply of media we all started generating in 2002 on social networks.
Firefly's business approach is very much like Google's. Google gives away searches, maps, email, etc. and makes money on the advertising. Firefly gives away its data platform and some of its inventory and makes money on the advertising.
In addition to this recent new supply, outdoor video now feels inevitable. Given the dropping screen prices and the superior visual experience, it intuitively seems natural that outdoor advertising will evolve to video from static images over the next 10 years. Of course, it won't happen all at once. And clearly, we will need good practices that balance the benefits of additional communication and commerce with image density in a city environment. But the direction of change is clear. Done right, it will benefit everyone. And going mobile, on newly created supply, feels like the the best place to start.
Other recent changes that make Firefly possible are: increased mobile data connectivity in cities, increasing acceptance by advertisers of digital advertising methods, and cities' increasing willingness to welcome new technology and smart-city infrastructure.
This critical mass of enabling technologies, economic impetus, and cultural acceptance is precisely what we look for in startup timing.
From the beginning, this team has built Firefly with an eye to positively modernize cities and towns by proactively thinking through what will benefit all parties. They sincerely want to be an important piece of smarter, safer and more sustainable cities, driving social good at the local level. Doing good for the drivers, cities and citizens is not an afterthought, rather it's been baked in from the beginning.
Clearly, as video screens replace static advertising in cities, we want to avoid the negative scenarios of over-advertising. Also, these smart-city data collection platforms must have well thought out approaches to data security and privacy. The Firefly team has been concerned with these considerations from the beginning.
***
If you're an advertiser looking to make a splash in the new medium that really gets consumers' attention, get in touch with Firefly.