The construction industry is estimated to be worth over >$10 trillion globally, a colossal market. But it's notoriously inefficient. Large construction projects typically take 20% longer to finish than planned, and go 80% over budget on average.
Today, NFX is proud to announce our seed investment in Constru. Constru brings the power of AI to construction to help address the problem of inefficiency by providing real-estate developers, construction project managers, and financial institutions with machine-vision-based ongoing site-inspection and monitoring.
This is done using cutting edge AI and computer vision technologies, which have been shown to greatly exceed human abilities to inspect on-site construction processes. The result? Significant reduction in schedule overrun and an already proven decrease of 4% – 9% of project costs.
The platform works by collecting 360˚ spherical images of the site and extracting relevant information, effectively digitizing the construction process. That data is then cross-referenced with design, budget, and schedule data, which is transformed into actionable engineering and business intelligence using advanced analytics.
The 3 Biggest Reasons We're Investing In Constru
1. Market with big potential for disruption
Although construction is a large sector, it has been quite slow in the past to adopt technology innovations. Lately, however, we have definitely seen this start to change.
There are many large inefficiencies affecting construction globally. 9 out of 10 construction projects around the world experience cost overrun. Large construction projects can experience even greater cost increases — the Chunnel famously ended up costing 80% more than budget. And on the other side, financial returns for contractors are typically volatile and low.
A lot of the biggest pain points here, we believe, can now be solved with technology. Many companies are operating in fields such as Project planning, communication, project management and safety – Plangrid (acquired by Autodesk), FieldLens, Katerra & Procore are good examples. We think that now is the time when even more advanced technology, especially machine vision, can really make a difference.
Applying recent technological innovations to the construction industry will continue to revolutionize this industry and we believe that machine vision technology will capture a lot of the value created in the field.
2. Proven product-market fit
Constru has developed a breakthrough computer vision technology in order to digitize the execution process on-site. We believe this is key to transforming construction projects into Big Data. But to meet the market needs, the solution must be very robust and very easy to use. Constru does just that – from the employees on-site perspective, it is only a small change from the way they currently work – a very simple camera placement process that can be operated easily by the team on site; the team has already completed various projects with major customers, and have been able to meet and exceed promised value.
The core of Constru is a working, proven machine vision technology that has been iterated based on customer needs. Project managers testify that the technology works accurately and reliably. Constru is able to measure progress, compare it to the original plan and update the project manager of expected delay. According to one real-estate developer who worked with Constru, "Constru predicted a 3 month delay in my project, giving me enough time to re-adjust the plan and communicate the delay effectively with the other stakeholders."
Moreover, Constru actively monitors construction mistakes that deviate from the plan, providing real-time alerts for the project manager so that the problem can be fixed while it's still solvable. Without such a solution, mistakes and deviations from the construction plan are often only discovered when it's already too late.
Constru's machine vision software gets smarter every time a new project is monitored, as the system is able to identify more and more components and mistakes – leading to better insights for the next project and generating a powerful data network effect.
While not all of our investments are in companies with a proven product market fit, in this case given the magnitude of the technological task on one hand and the need to create a solution which is simple enough to operate in a construction site on the other, the fact that Constru has achieved such clear product market fit and has amazing customers testimonies played a significant part in our decision process.
3. An excellent team with an engineering focus
The final reason we're investing in Constru is because of the exceptional founding team, each with complementing strengths. A well-balanced team with an established track record of excellence is something we are always on the look for at NFX, where we work with top Founders to build the next generation of transformative companies. The Constru team brings tens of years of experience from interdisciplinary fields and with hands-on construction management experience.
In addition, the team has one of the top Israeli talents in machine vision who worked with leading computer vision companies in Israel such as Mobileye. They are also able to bring together the different areas of technological expertise to one simple solution that serves the customer's needs. Lastly, we often talk about the need to have a founders-market fit – having the best team that is passionate about and has the abilities to disrupt a specific field; the Constru team definitely has a great fit to their industry.
Transforming construction 
We believe that construction will radically change in the upcoming years, as we have seen with every other major industry in the recent pass as they hit a critical mass of digital penetration. But more than digitizing processes, we believe that the applications for machine vision and AI to improve construction labor productivity will have a transformative impact. Constru is one of the most promising companies in this space, and we're excited to be working with them to make the future of construction into a reality.
More info on the team: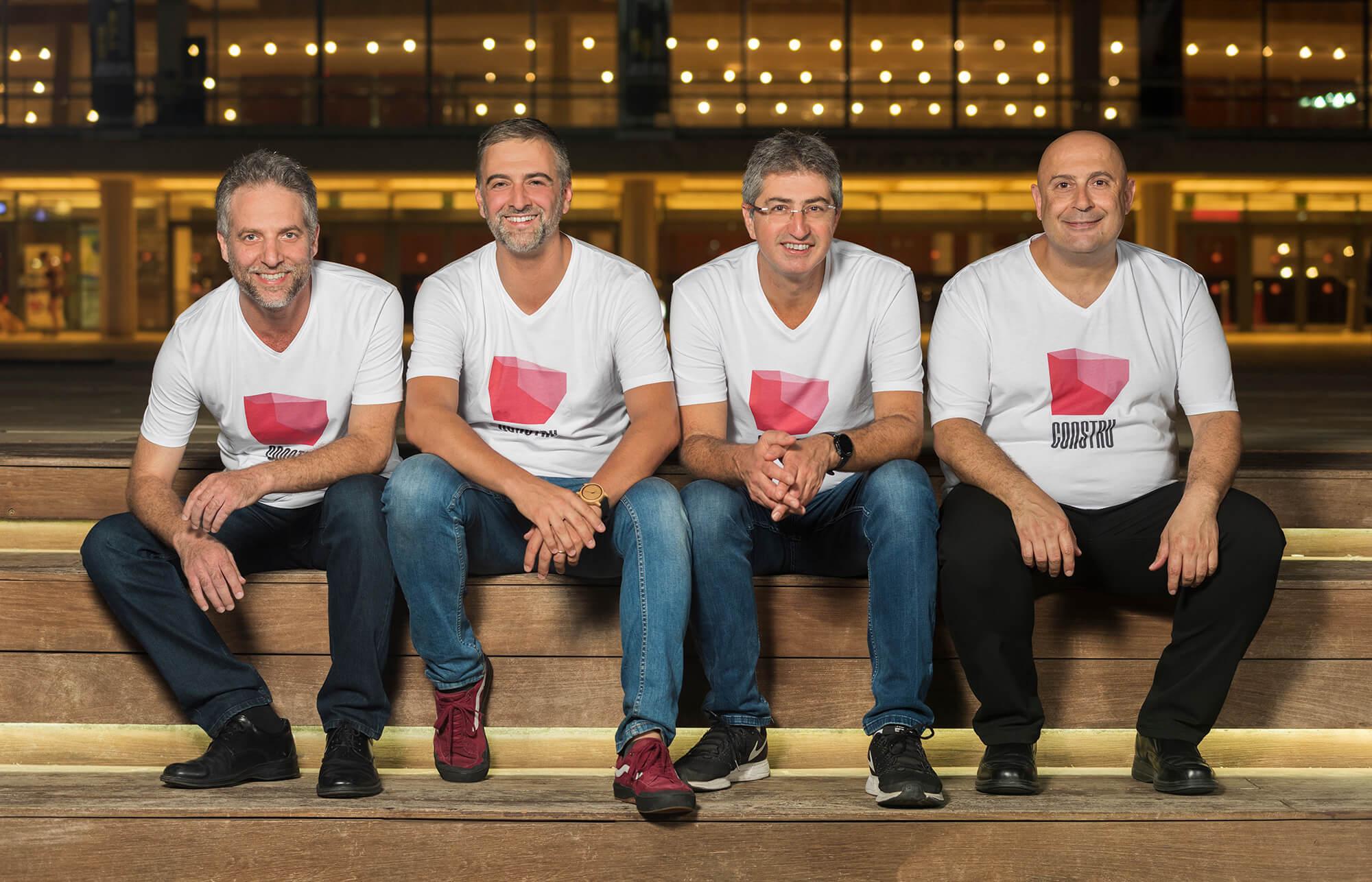 Co-Founder and CEO Michael Sasson brings firsthand understanding and expertise in business development, product, and technology. Previous to Constru, Michael took senior positions at Viaccess-Orca, Comverse CTO Office and took key engineering and management positions at Radvision, Boxee and several startup activities.
Co-Founder Shalom Bellaish is a leading expert in Civil Engineering and Construction Management, with over 20 years of experience and thousands of units built.
Co-Founder Ron Zass has a deep academic background in deep learning & computer vision with a Ph.D. in Computer Vision from Hebrew University, a top university in Israel. He has worked with leading computer vision companies in Israel, including Mobileye, Orcam, Trax Retail and Mantis Vision.
Finally, Co-Founder Moshe Nachman was previously CFO at Orca Interactive. He was an active participant in its IPO, and then contributed to its M&A process with France Telecom.