The VC & Founder COVID-19 Sentiment Survey is an ongoing initiative to track how early-stage VCs and Founders are reacting to the COVID-19 crisis and economic downturn. The goal is to provide a series of reference points over time to the community, in the midst of one of the most unpredictable climates we will ever face.
Part I of The COVID-19 Sentiment Survey was published on April 3rd, 2020.
Part II is our June 2020 check-in to see how VCs & Founders are feeling and responding to the downturn nearly three months later.
In Part II, 451 Seed-stage and Series A Founders & 141 VCs reported their candid feedback on questions including:
Valuations – What are actual tech startup valuations looking like now, several months into the pandemic?
Zoom Investing – Will VCs make investments over Zoom, without meeting Founders face to face?
Remote Plans – How do VCs and Founders really feel about funding or operating companies that are fully remote, going forward?
Hiring & Compensation Shifts – To what extent has hiring compensation changed, if at all?
Grading the Government – How would VCs and Founders grade the Federal Government's handling of the pandemic?
Pace of New Investments – At what rate are VCs investing today, compared to pre-COVID-19?
Revenue Breakdown – Which tech markets are seeing significant revenue gains vs. revenue losses?
Below we provide the full deck, followed by a breakdown of the results. 

Full Deck

Breakdown: VC & Founder Survey Data
1 – VC and Founder predictions for U.S. economic recovery are getting worse, not better.
Founders remain more optimistic than VCs about how long it will take for the U.S. economy to recover. Still, Founders and VCs alike have revised their predictions for the worse, with the majority now predicting that an economic recovery is 1-2 years away.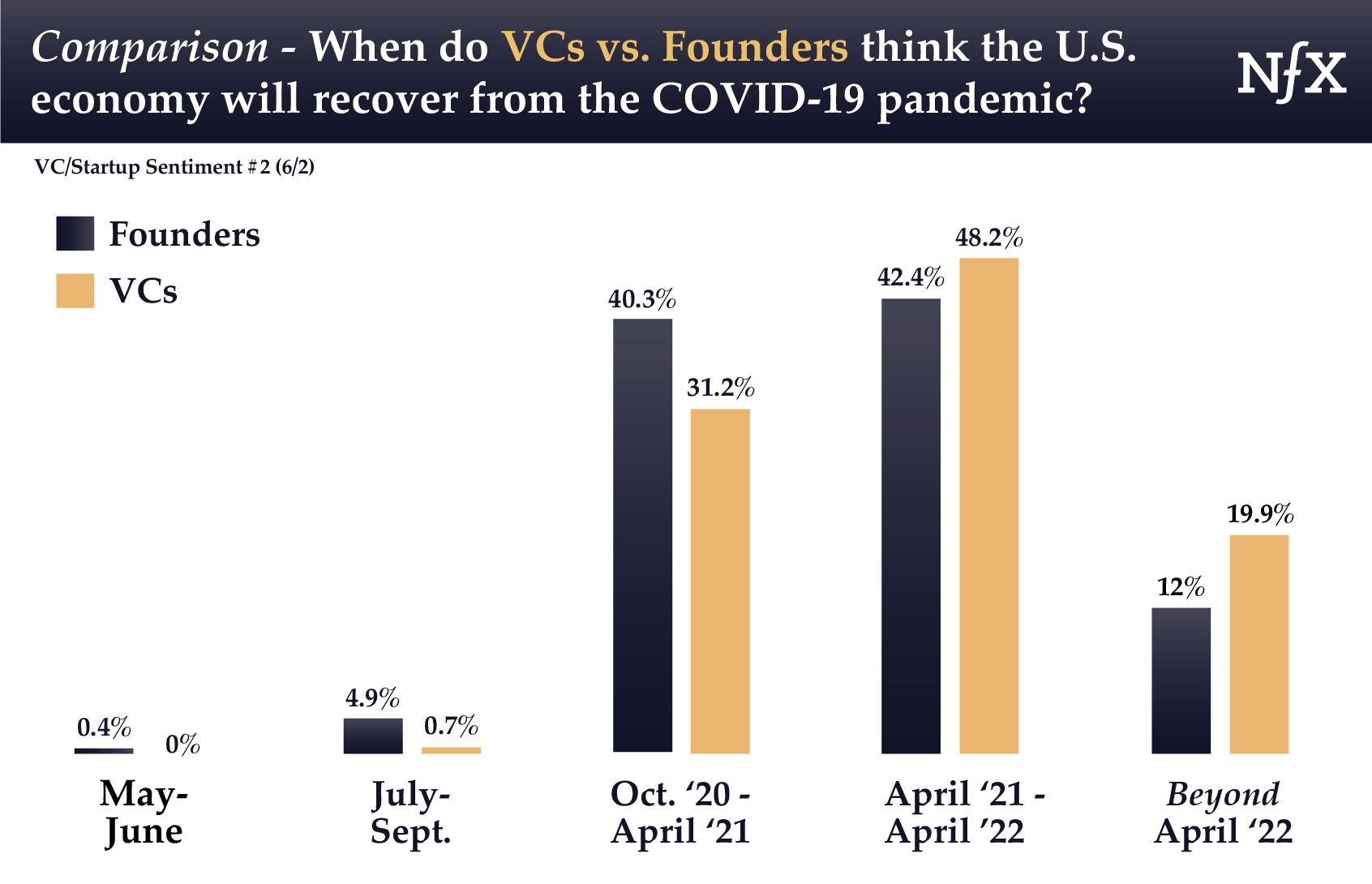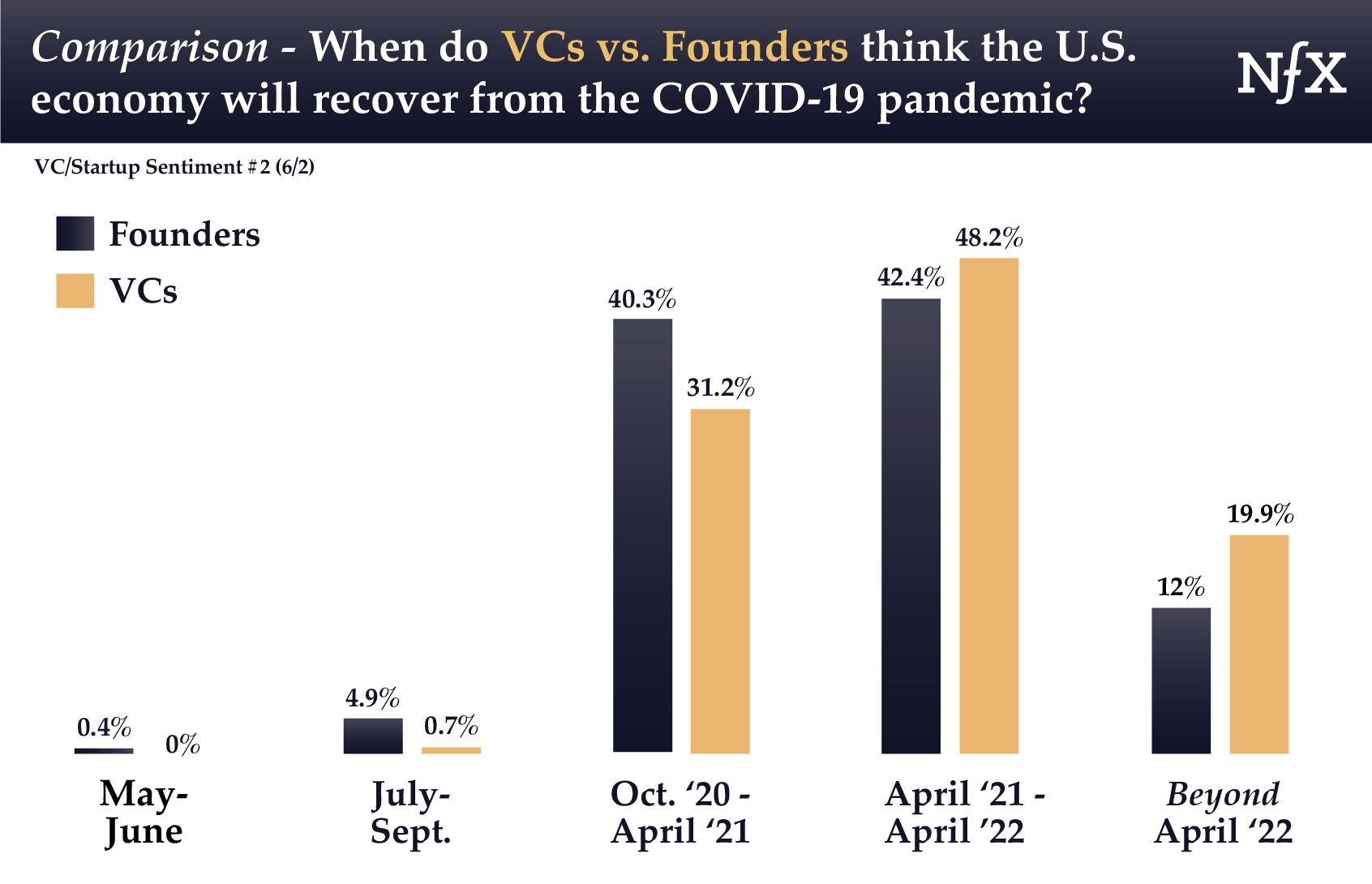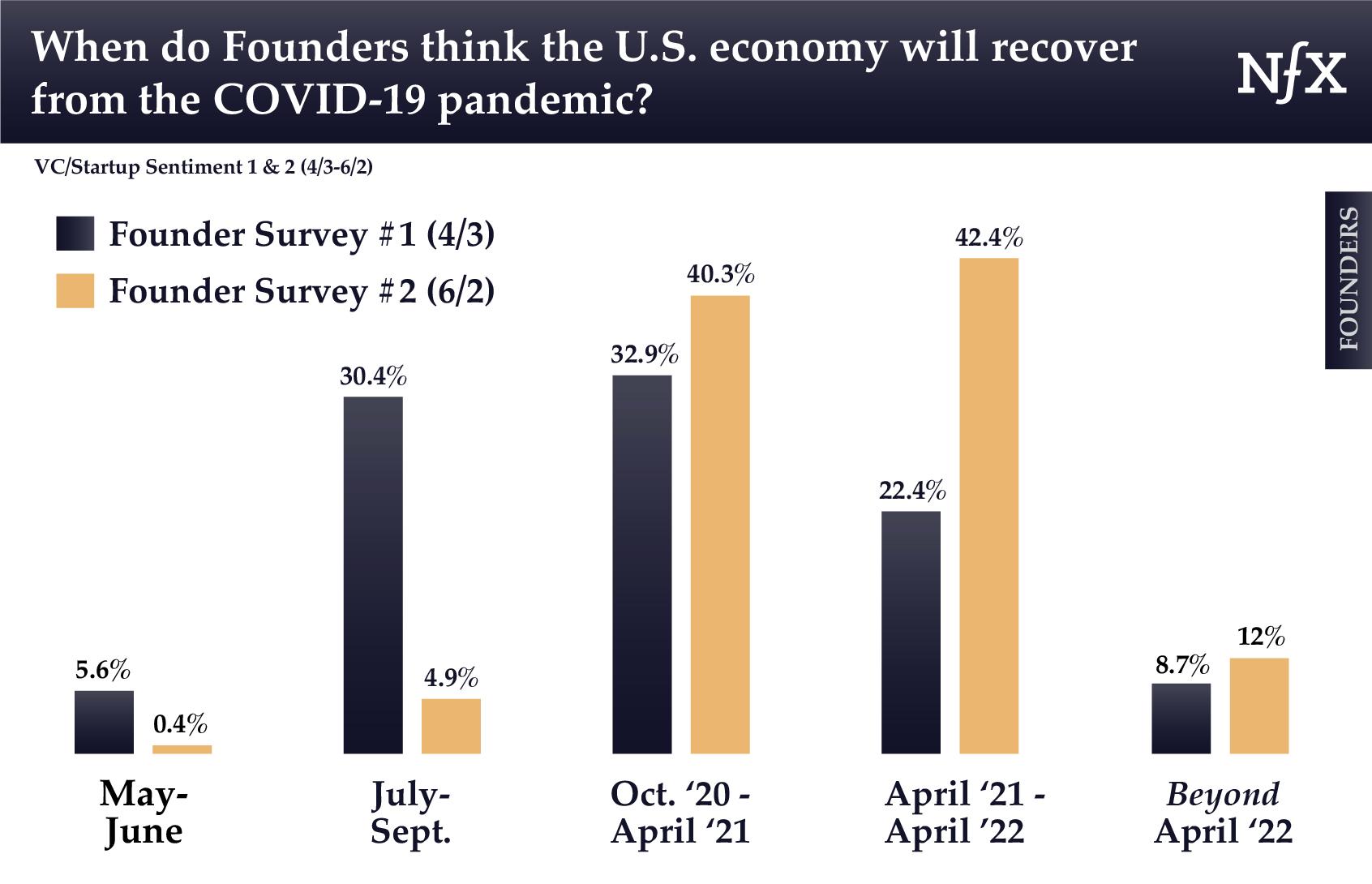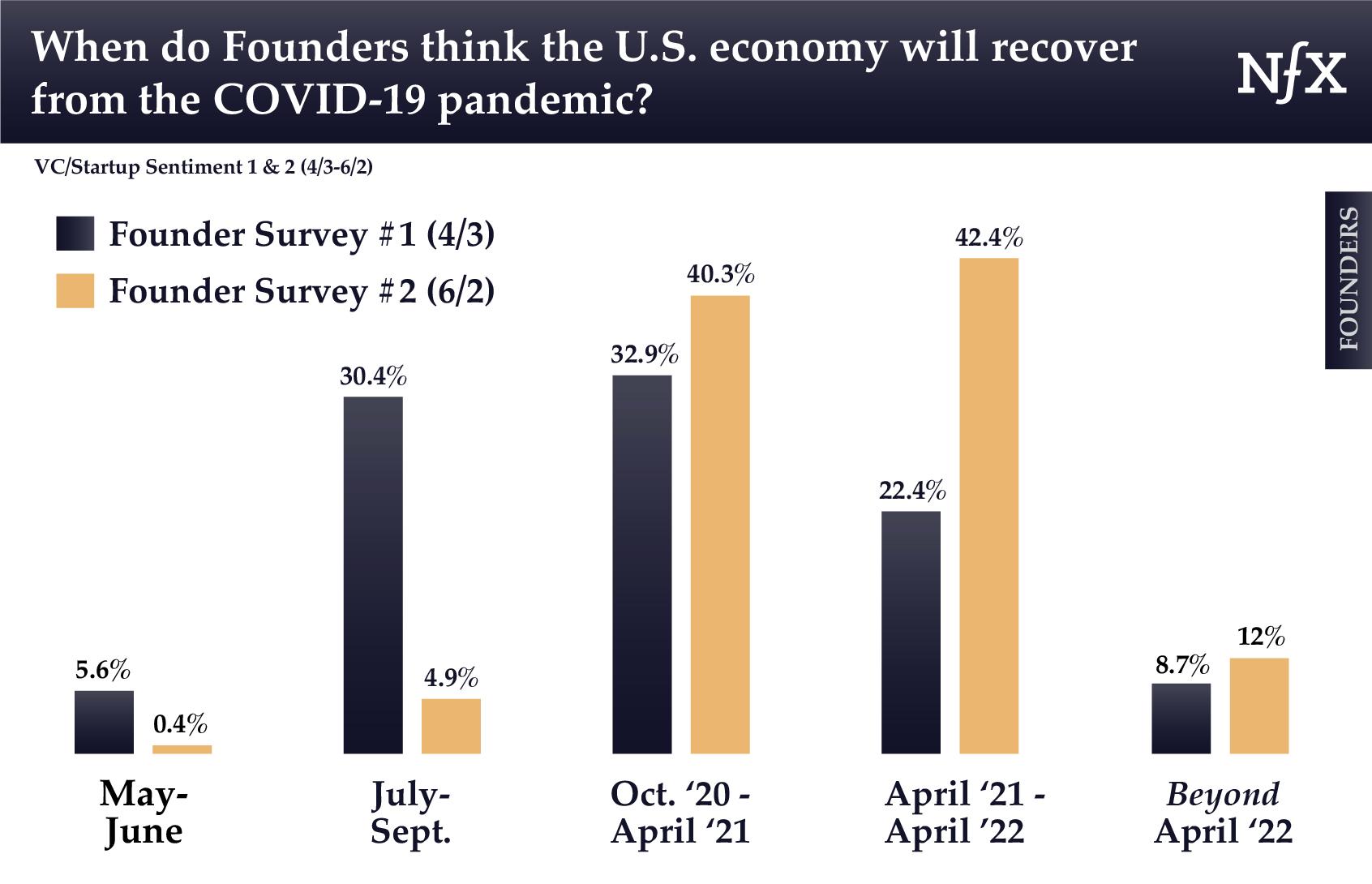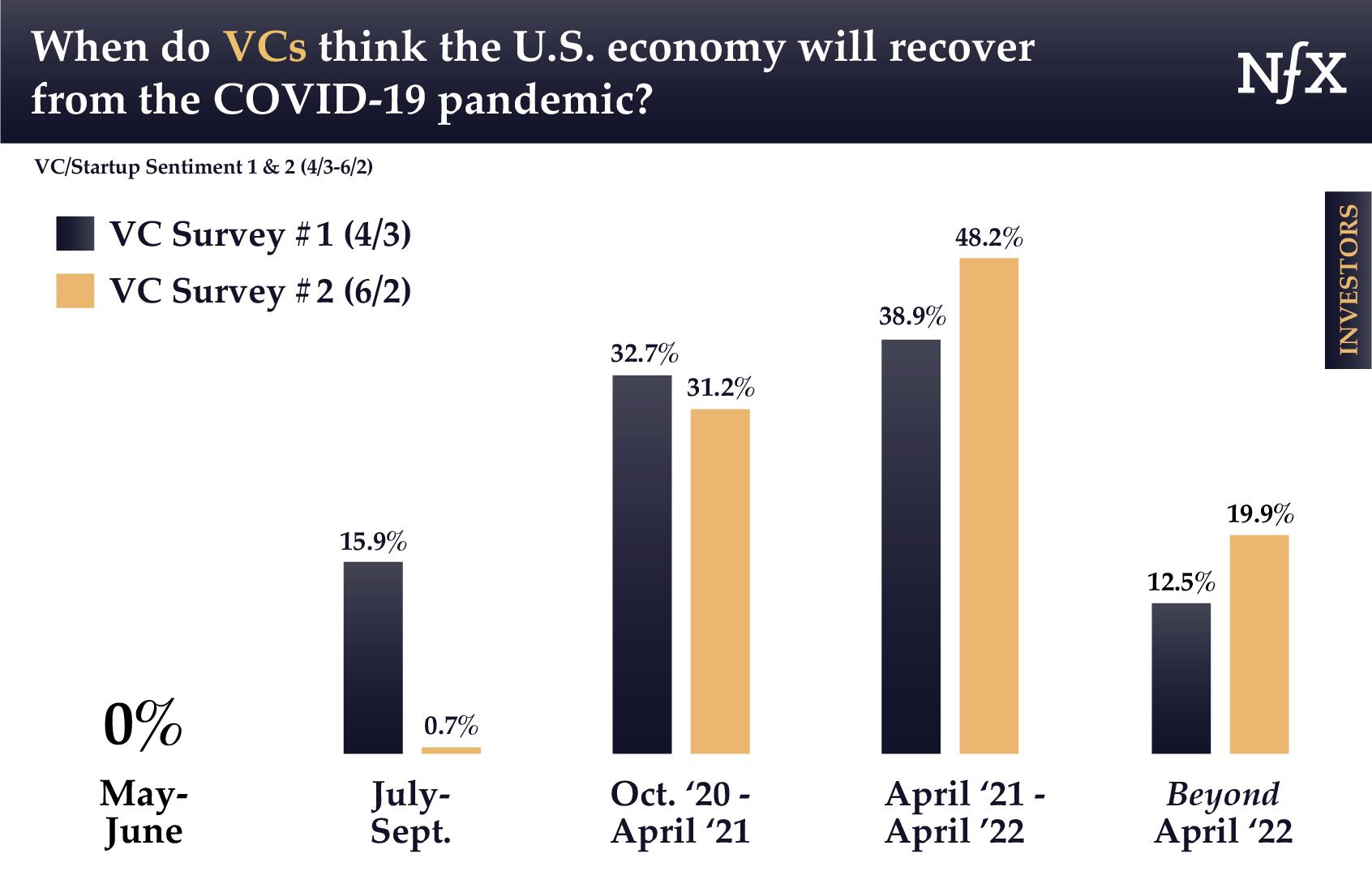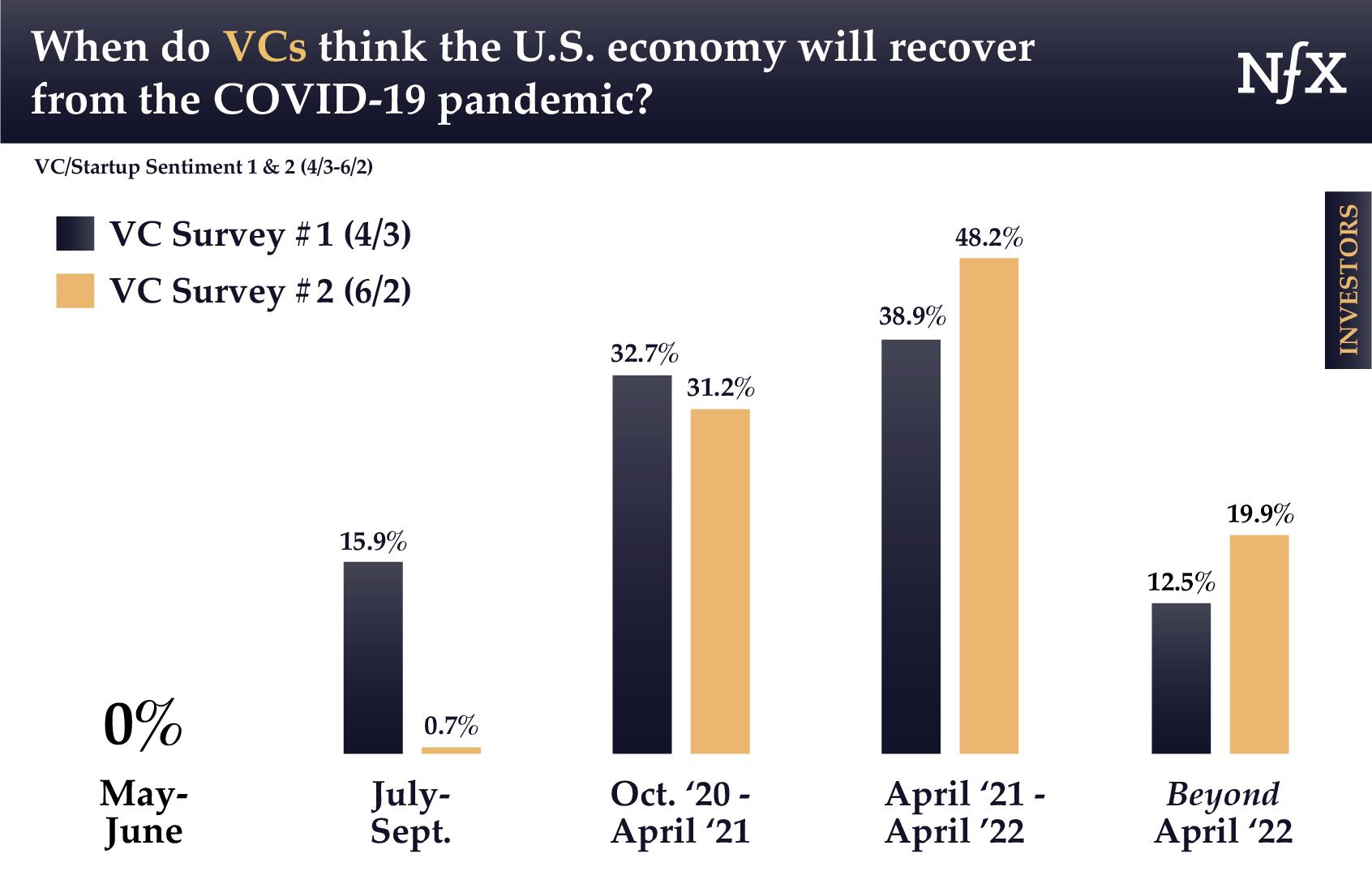 This latest survey reveals the evolving sentiment of the startup community, highlighting recent trends and comparing them to reactions from nearly three months ago when 286 Seed-stage & Series A Founders & 114 VCs were first surveyed.

2 – Founders are less worried about what COVID-19 means for their specific startups than they were two months ago — while 49.6% of VCs today are "Extremely Worried".
VCs believe that startups need more runway right now than Founders do.
VCs estimate that 39.2% of their portfolio companies do NOT have enough capital to weather this downturn without raising more money.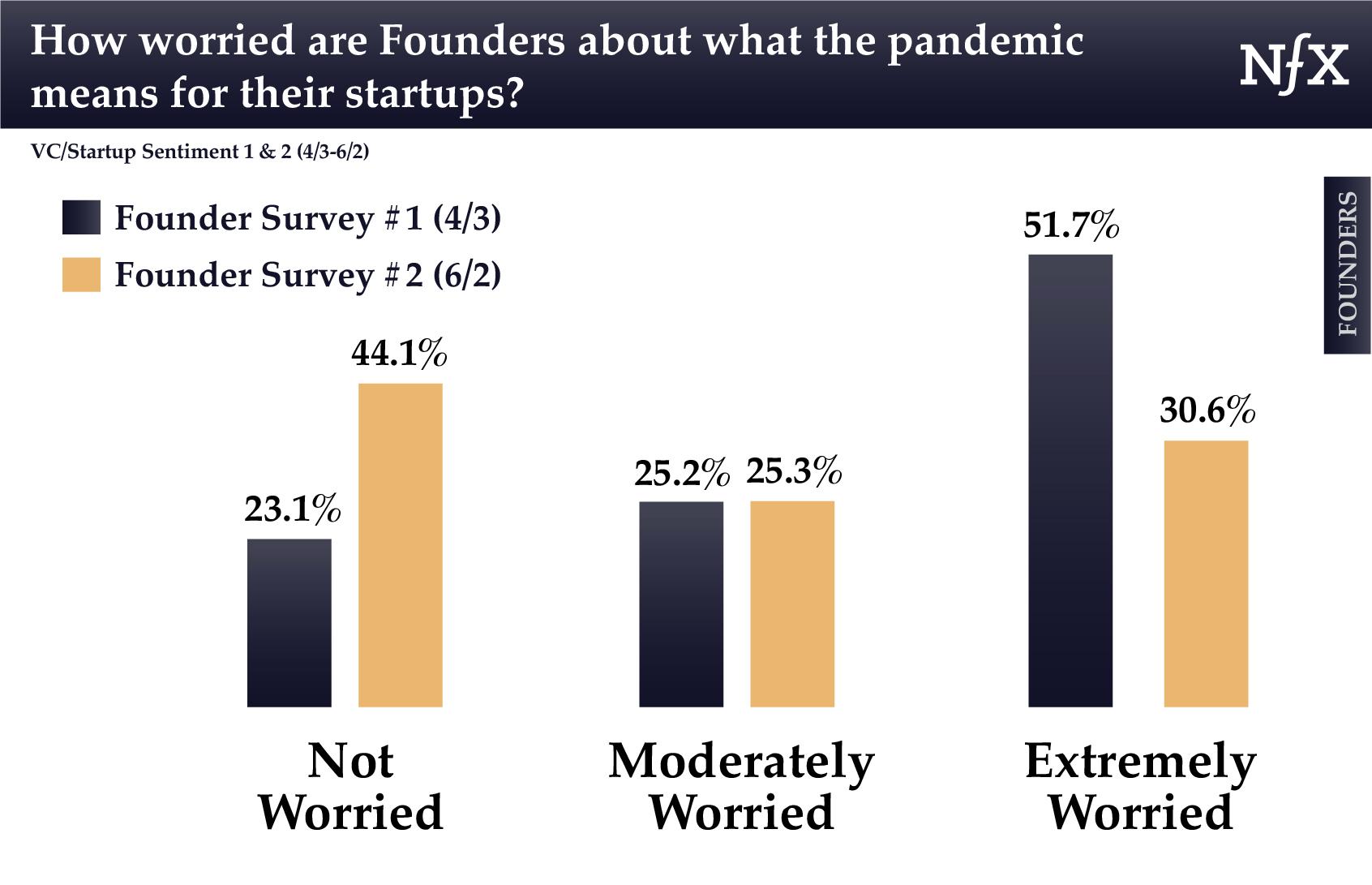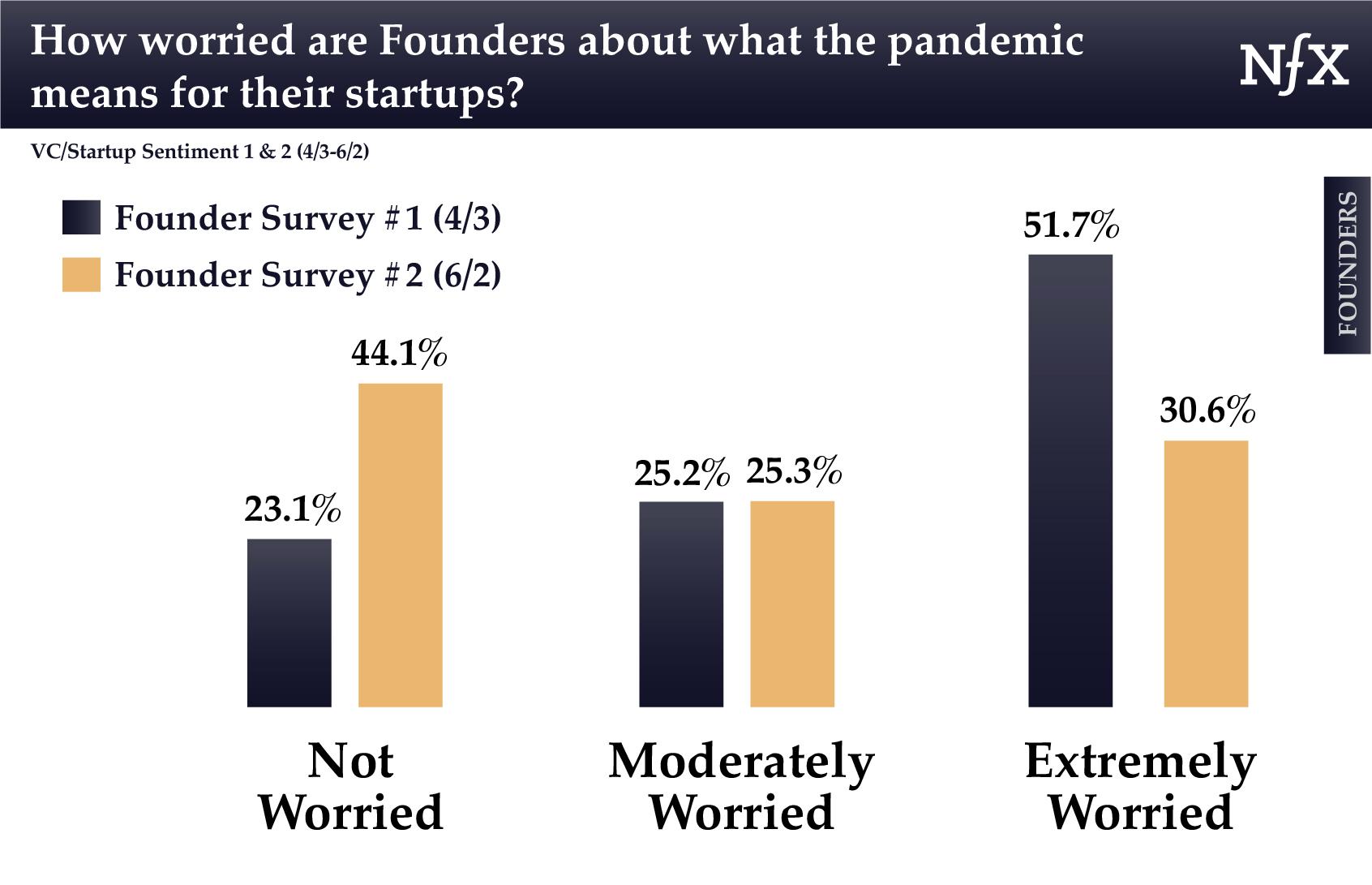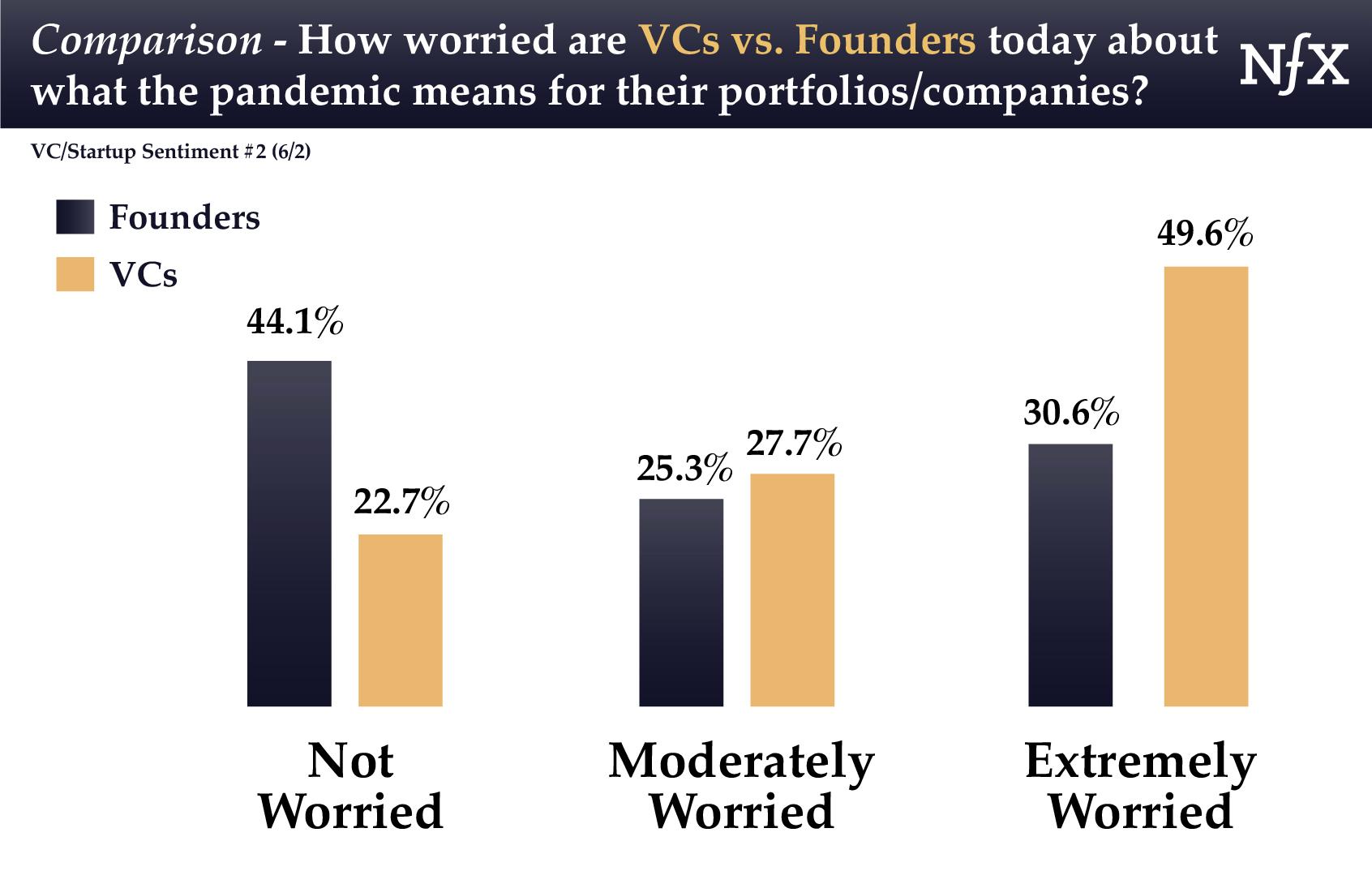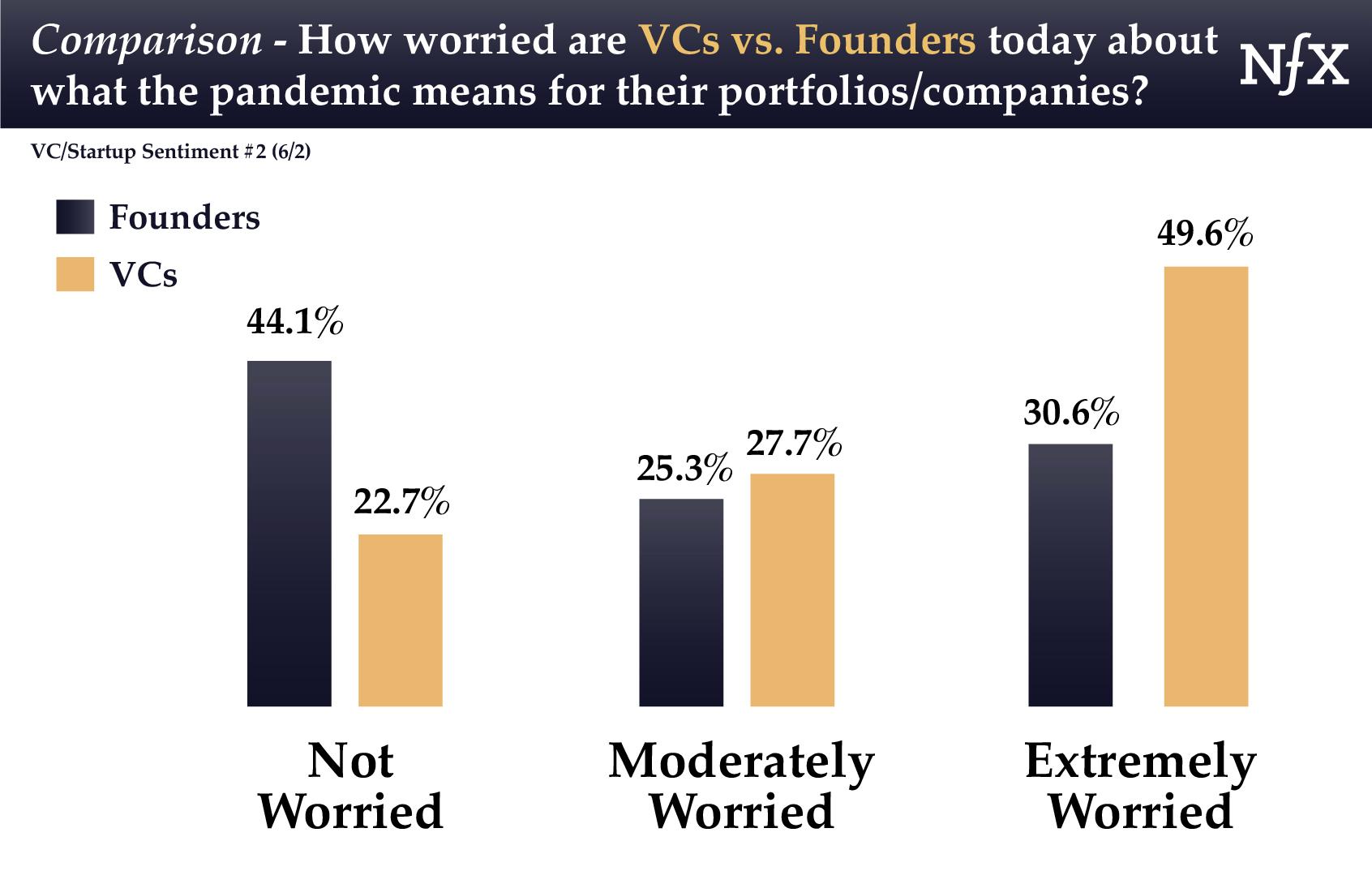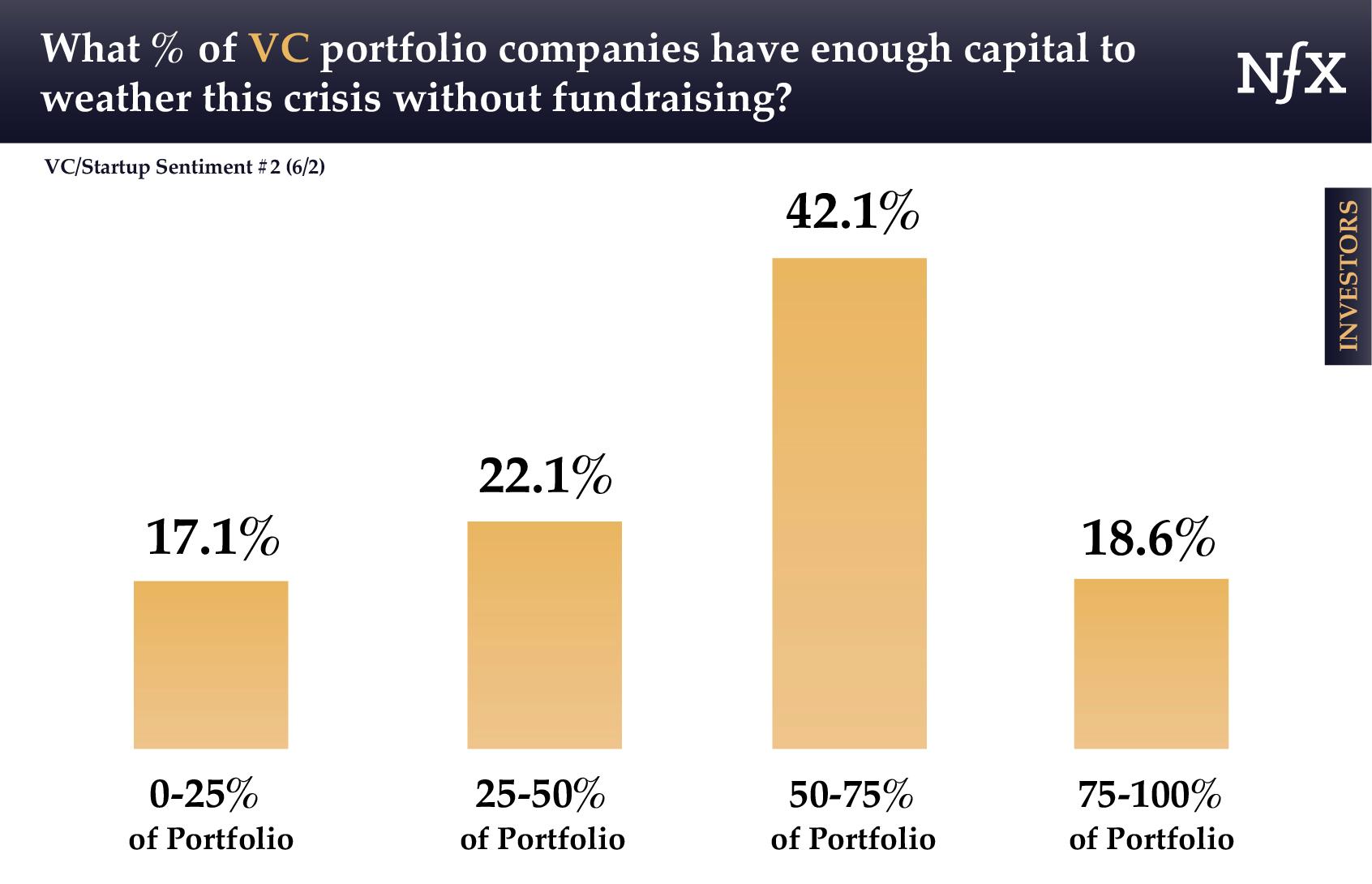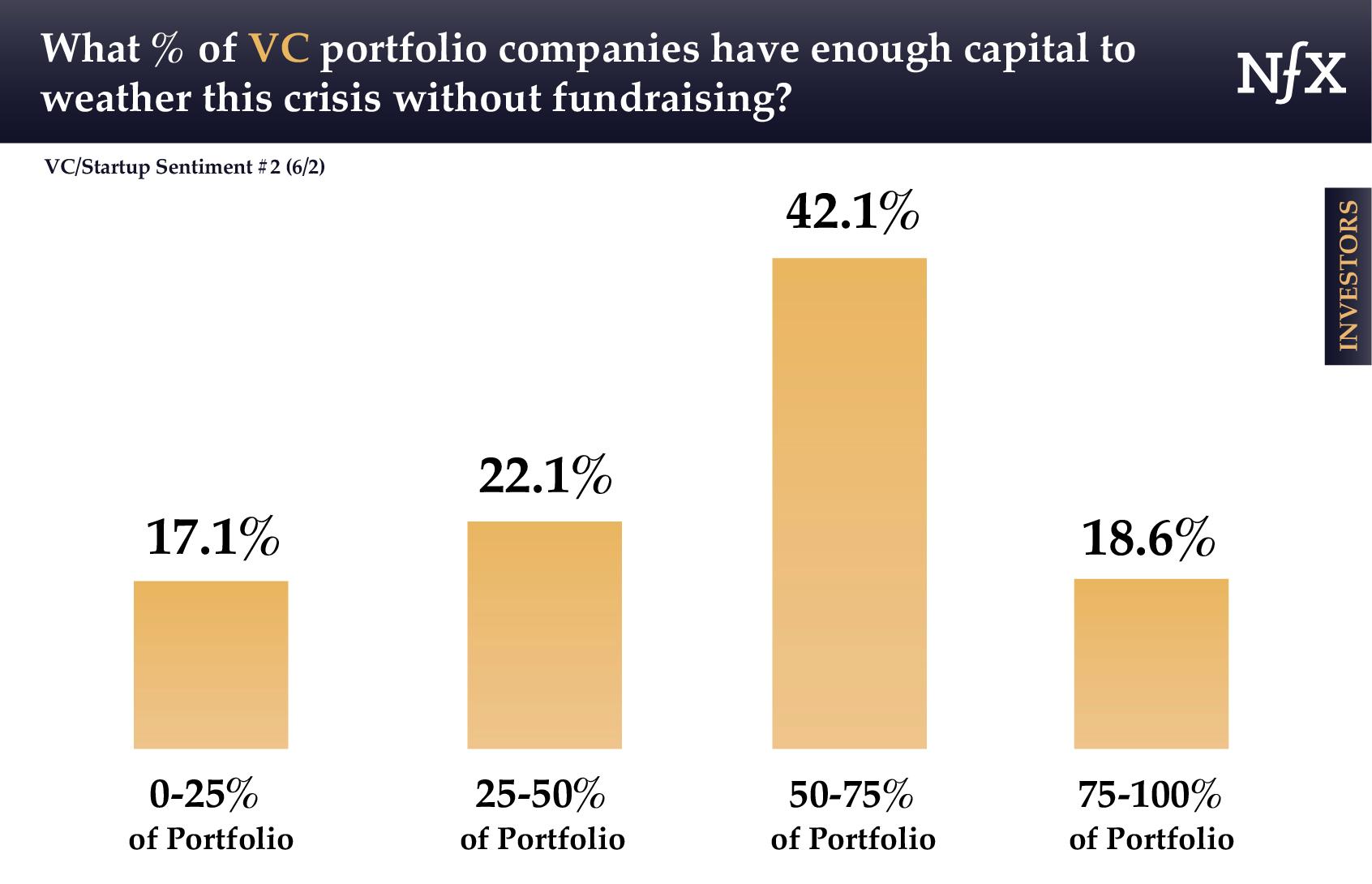 3 – 60% of VCs give the Federal Government a failing Grade of D or F on its handling of the COVID-19 pandemic.
A majority of these VCs give the Federal Government an F.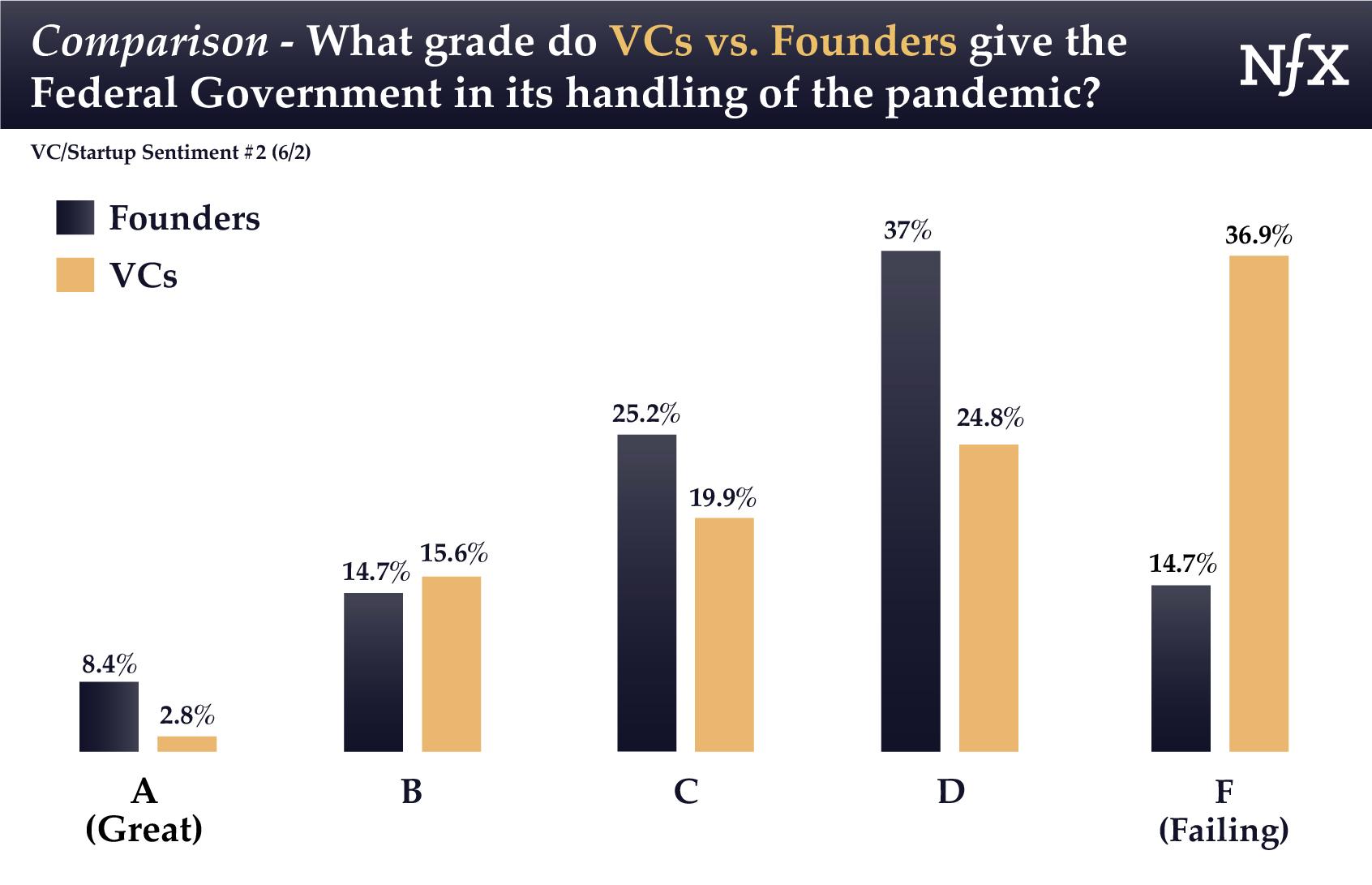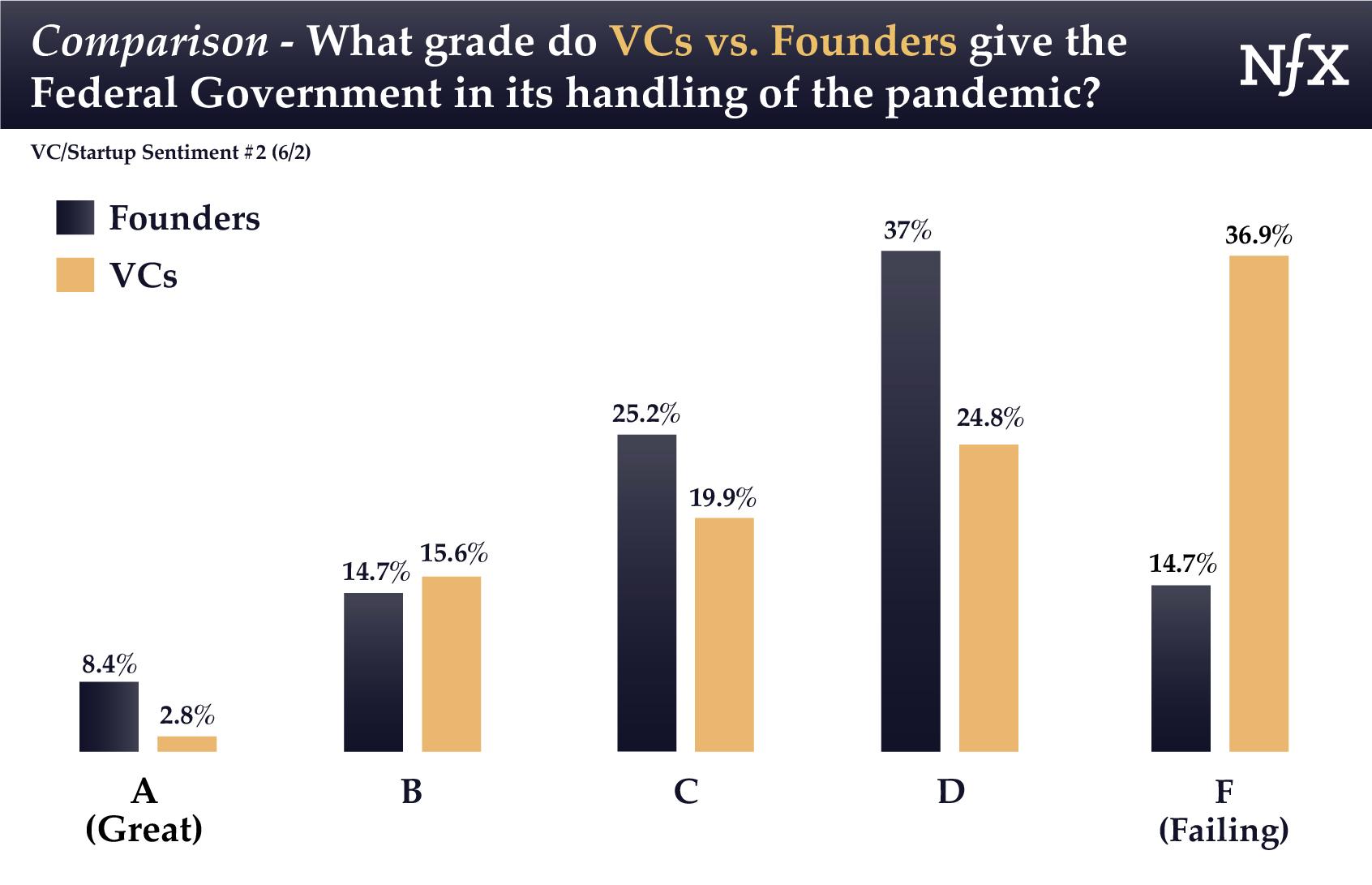 4 – Tech startups may have a competitive advantage in their speed to adapt to changing market conditions.
40% of tech Founders have reported

no change

to revenues since COVID-19.
20% have reported an

increase

in revenues.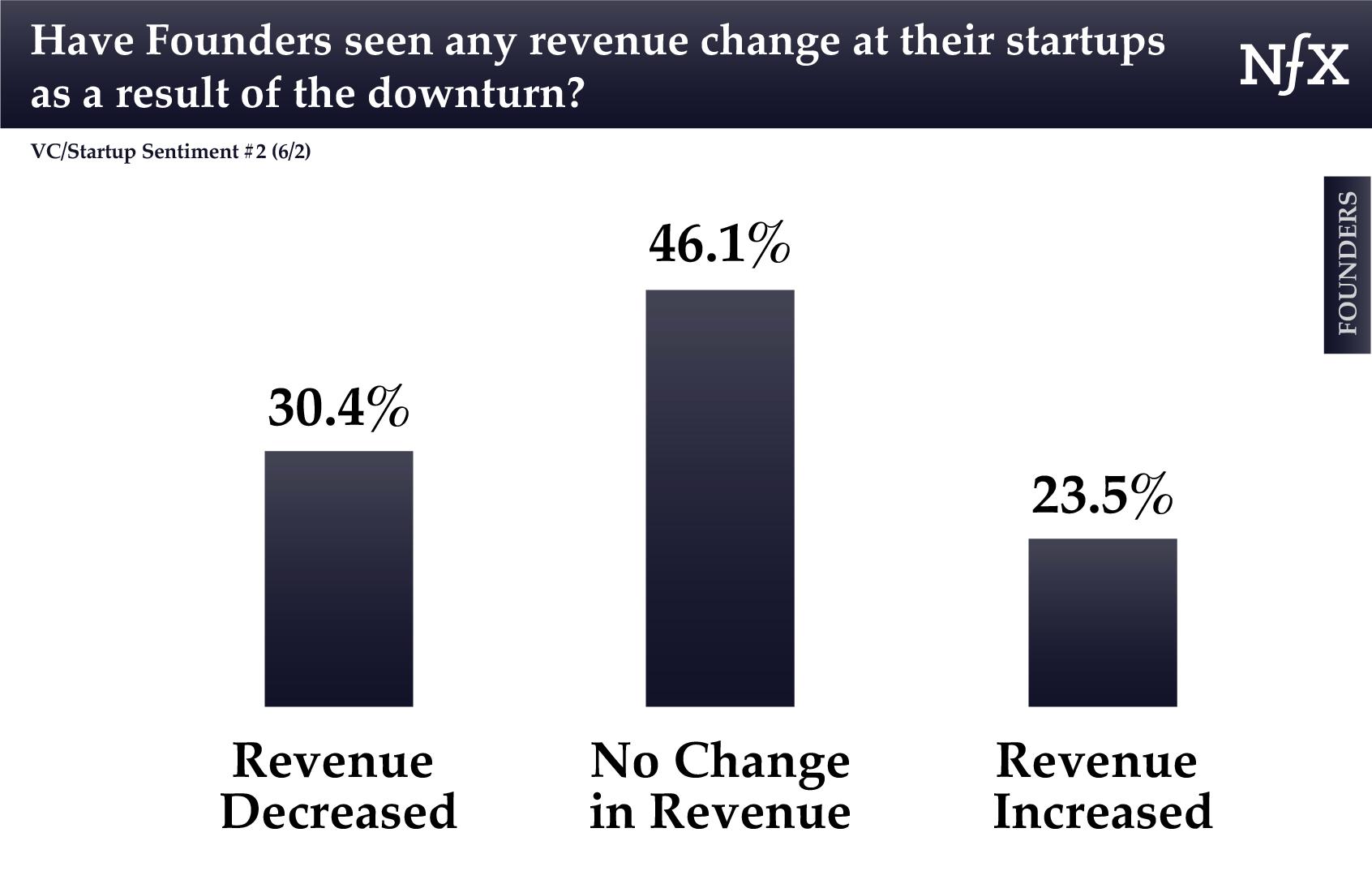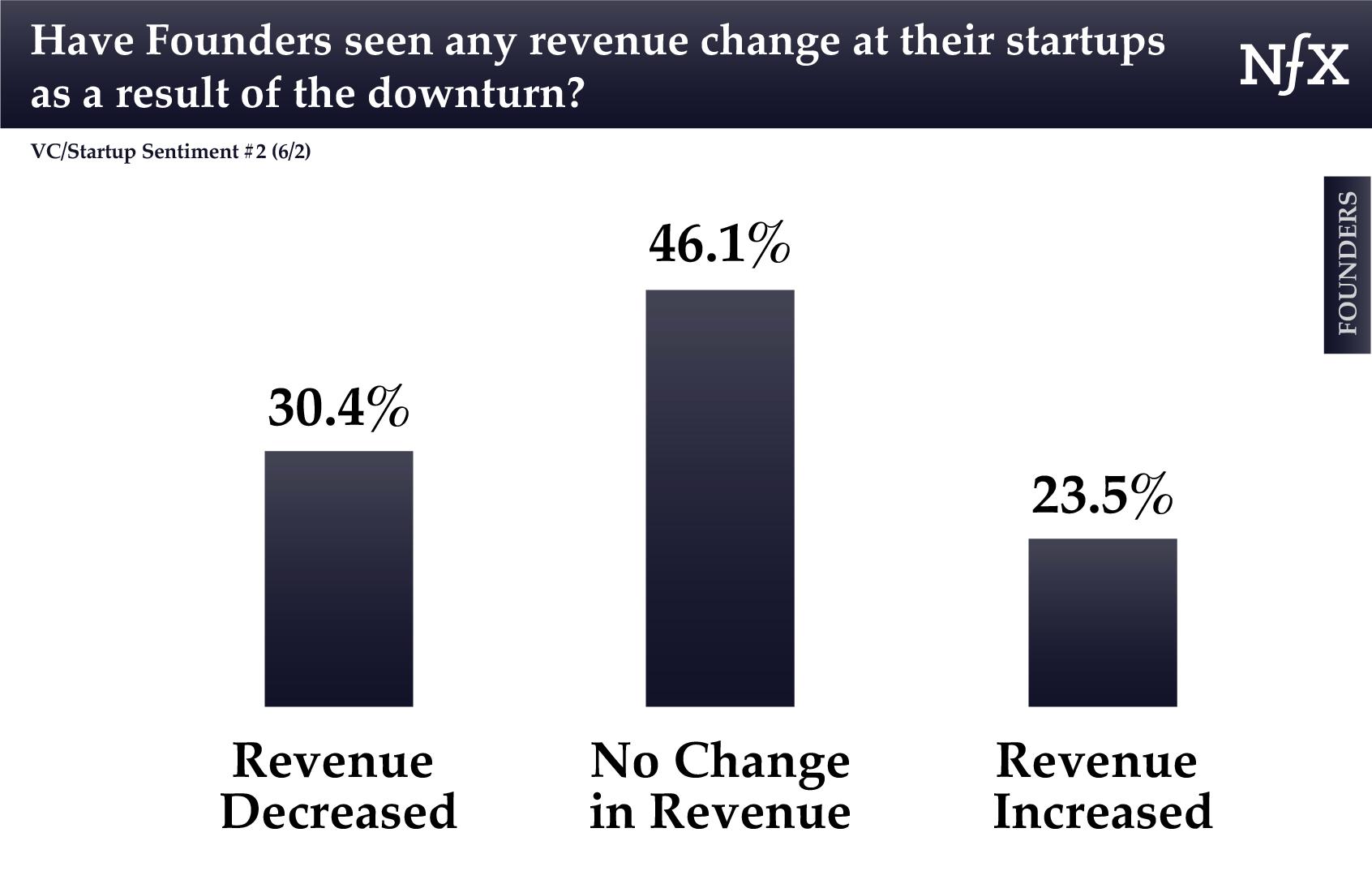 5 – Startup Founders are quickly looking to fundraise, at the same time that VCs are decreasing their rate of capital deployment into new investments.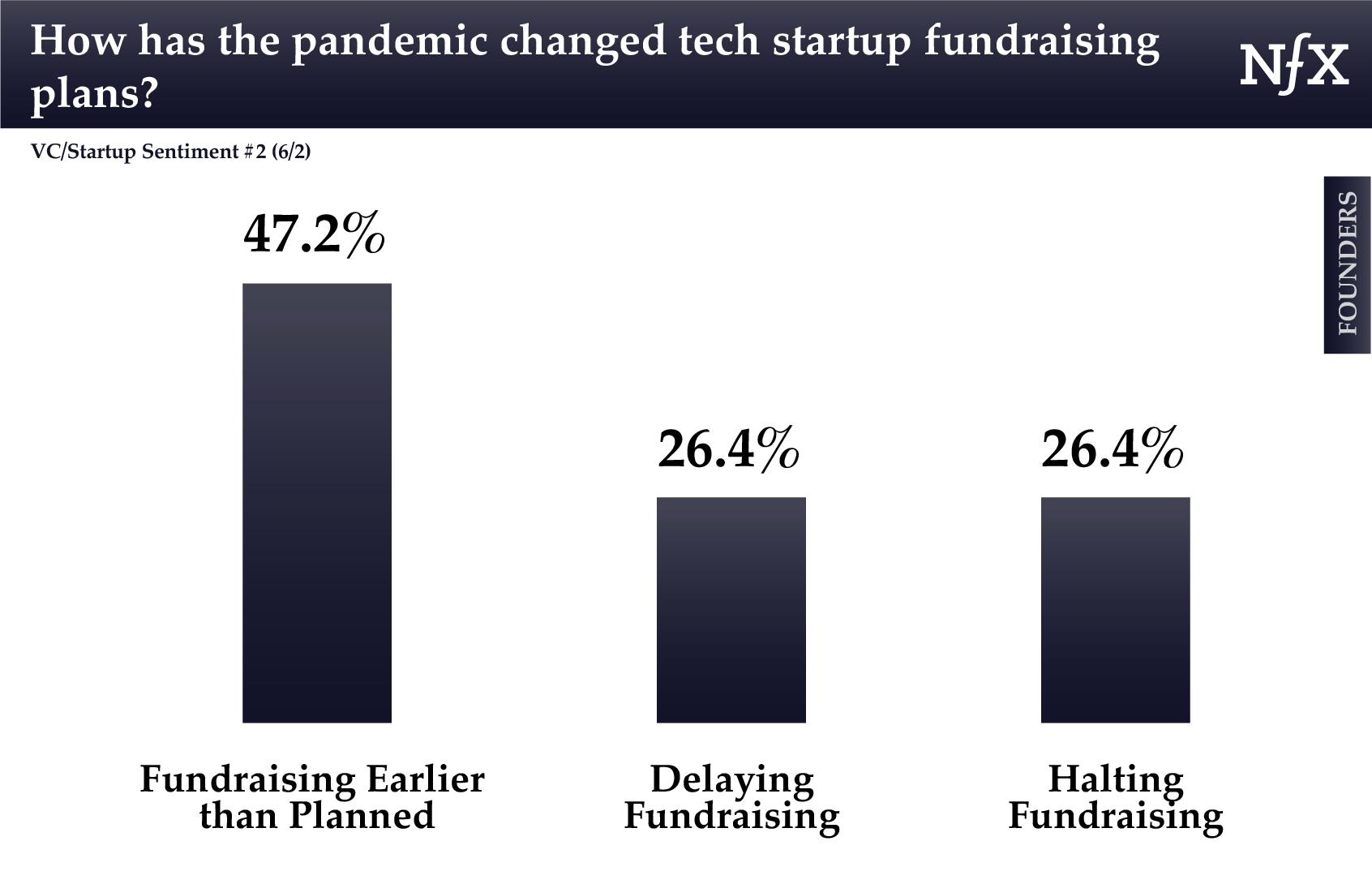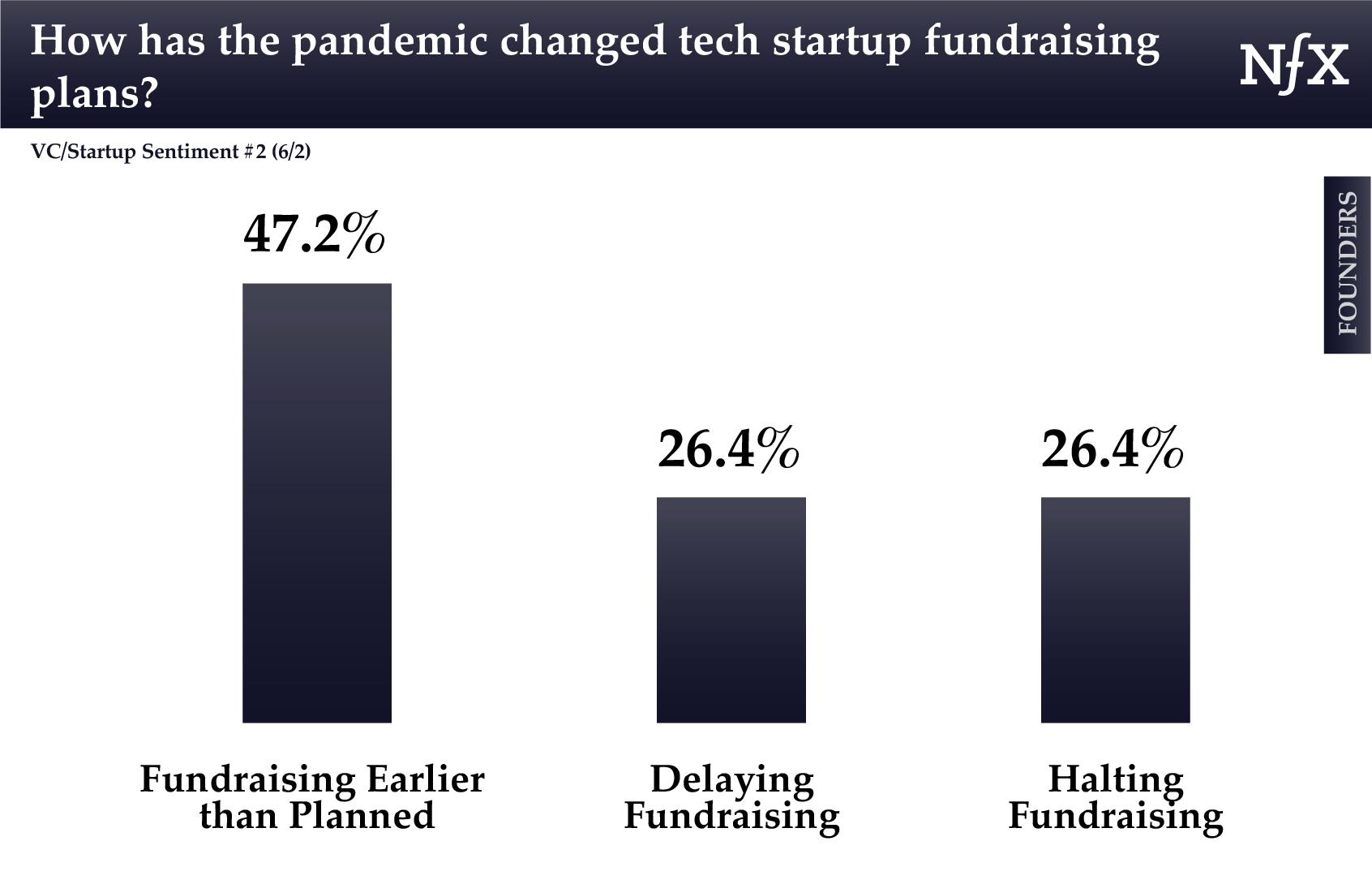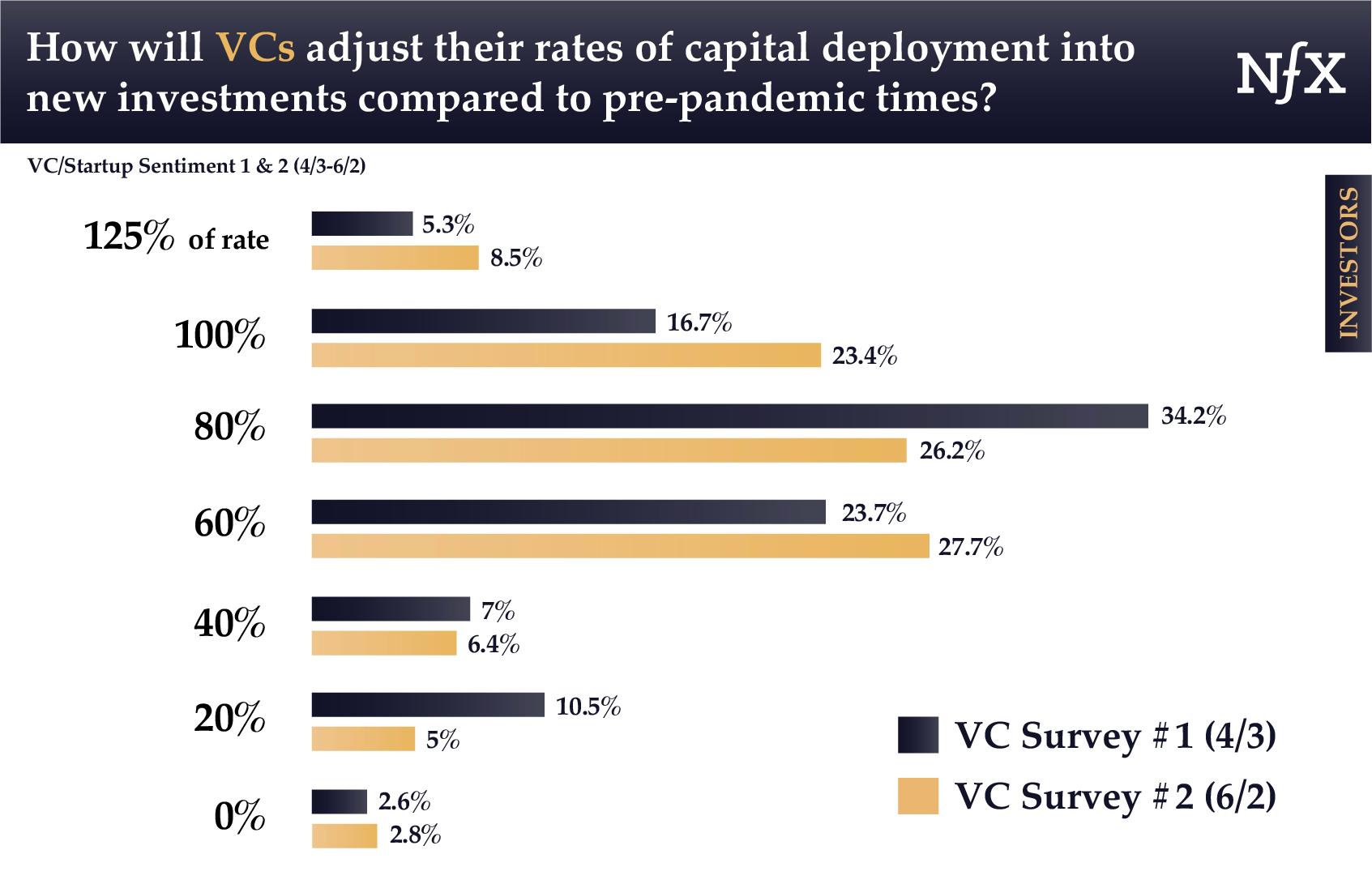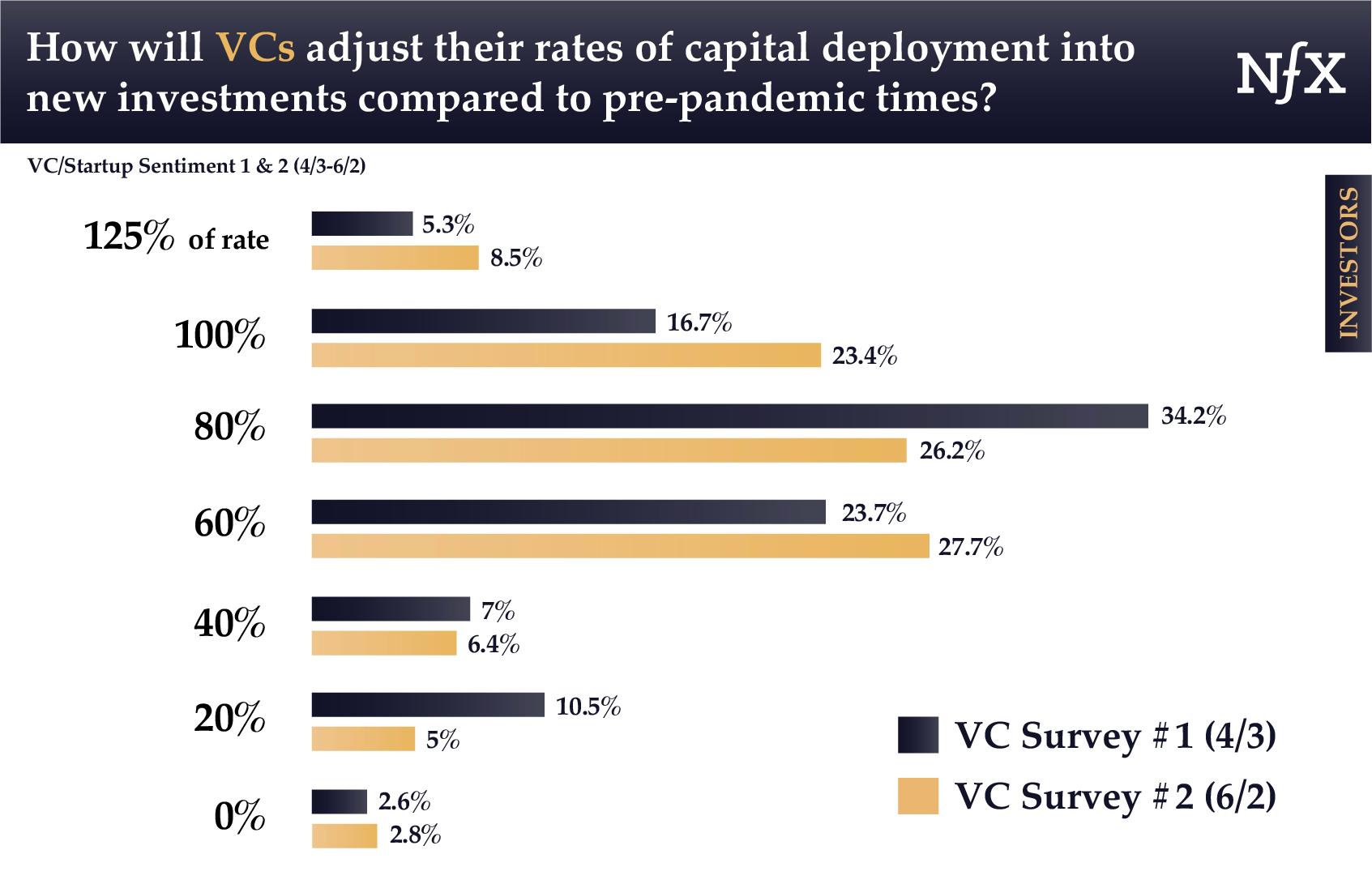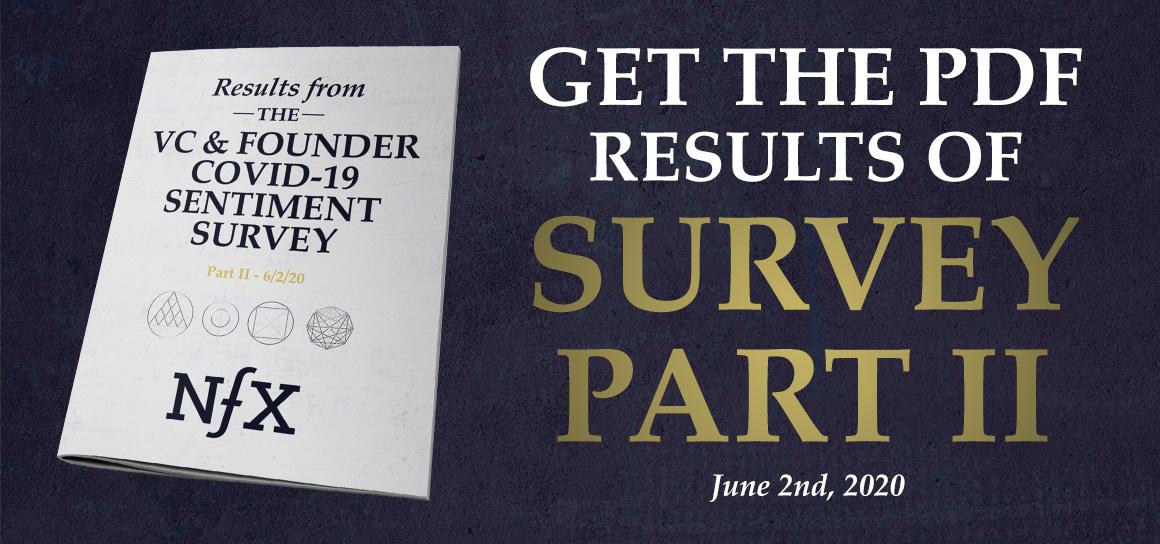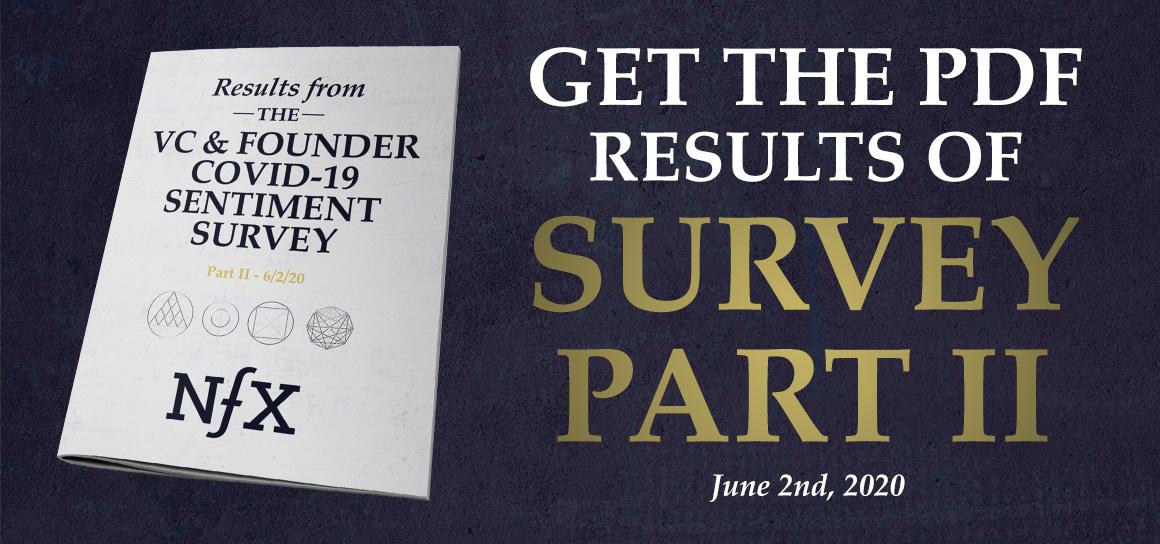 6 – Startup Valuations Continue Dropping
60% of VCs have seen valuations drop by 20-30% so far as a result of COVID-19. They predict additional decline in valuations over the next 12 months, adding up to an average predicted decrease of 40.1% in valuations.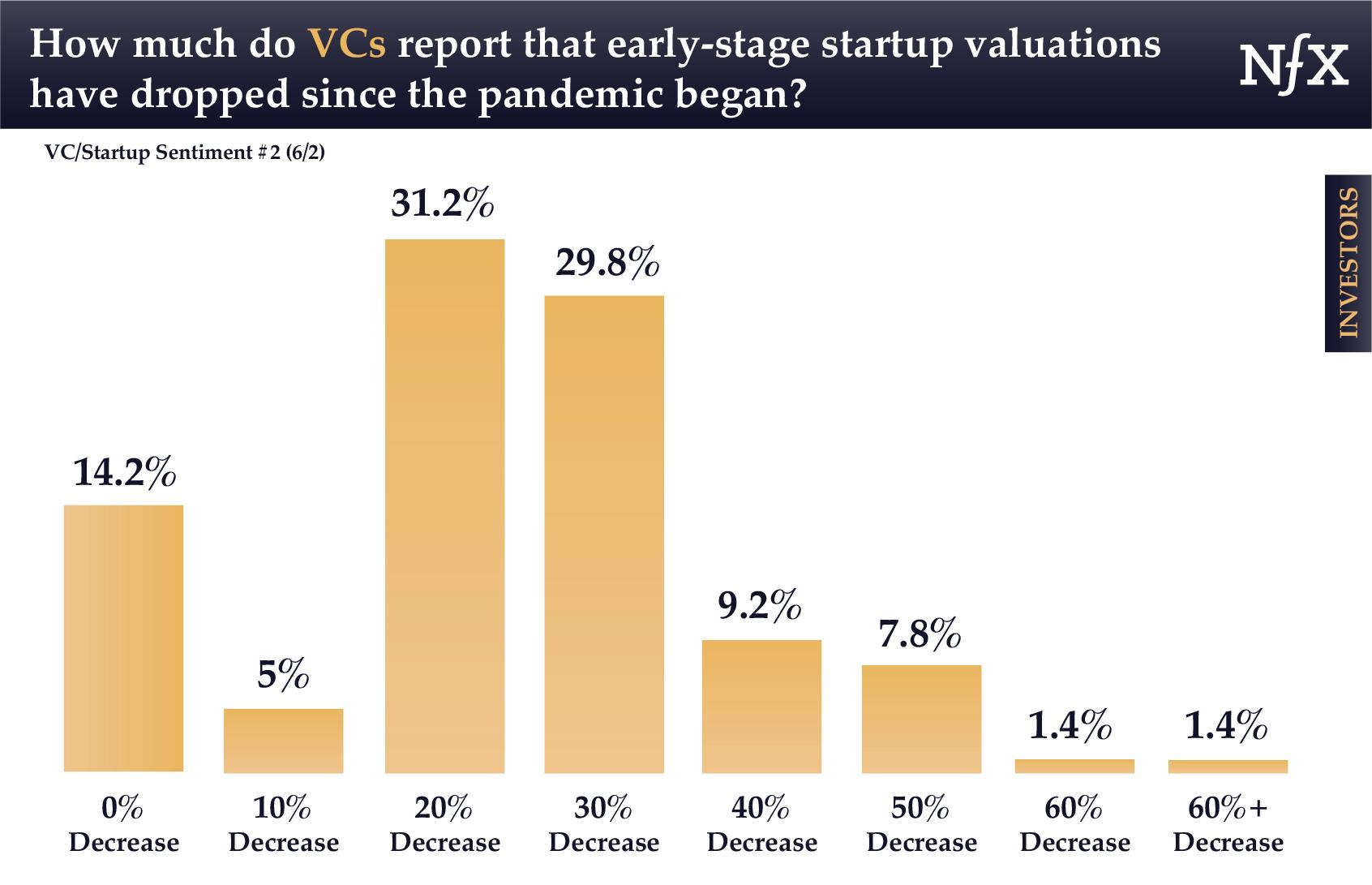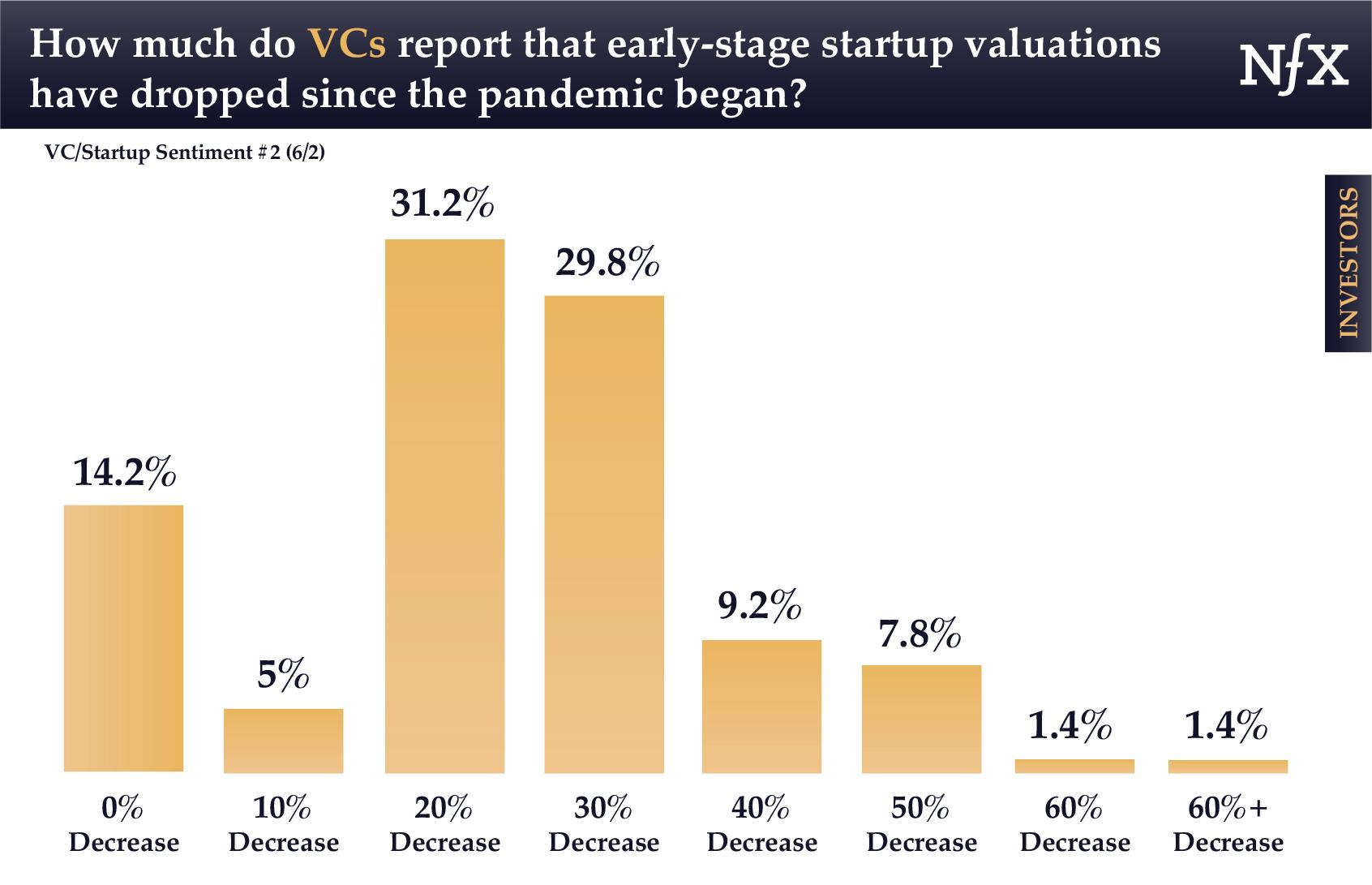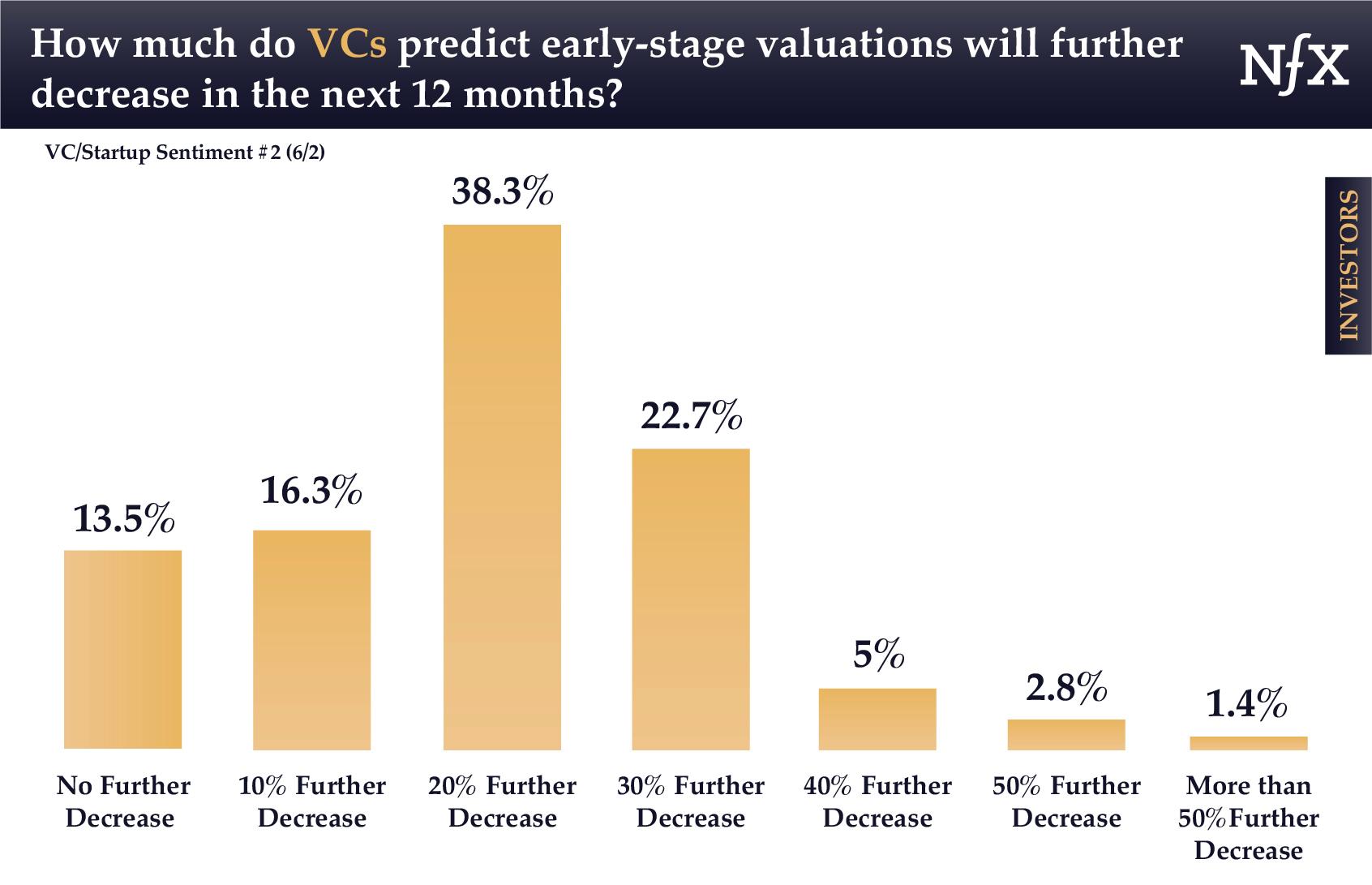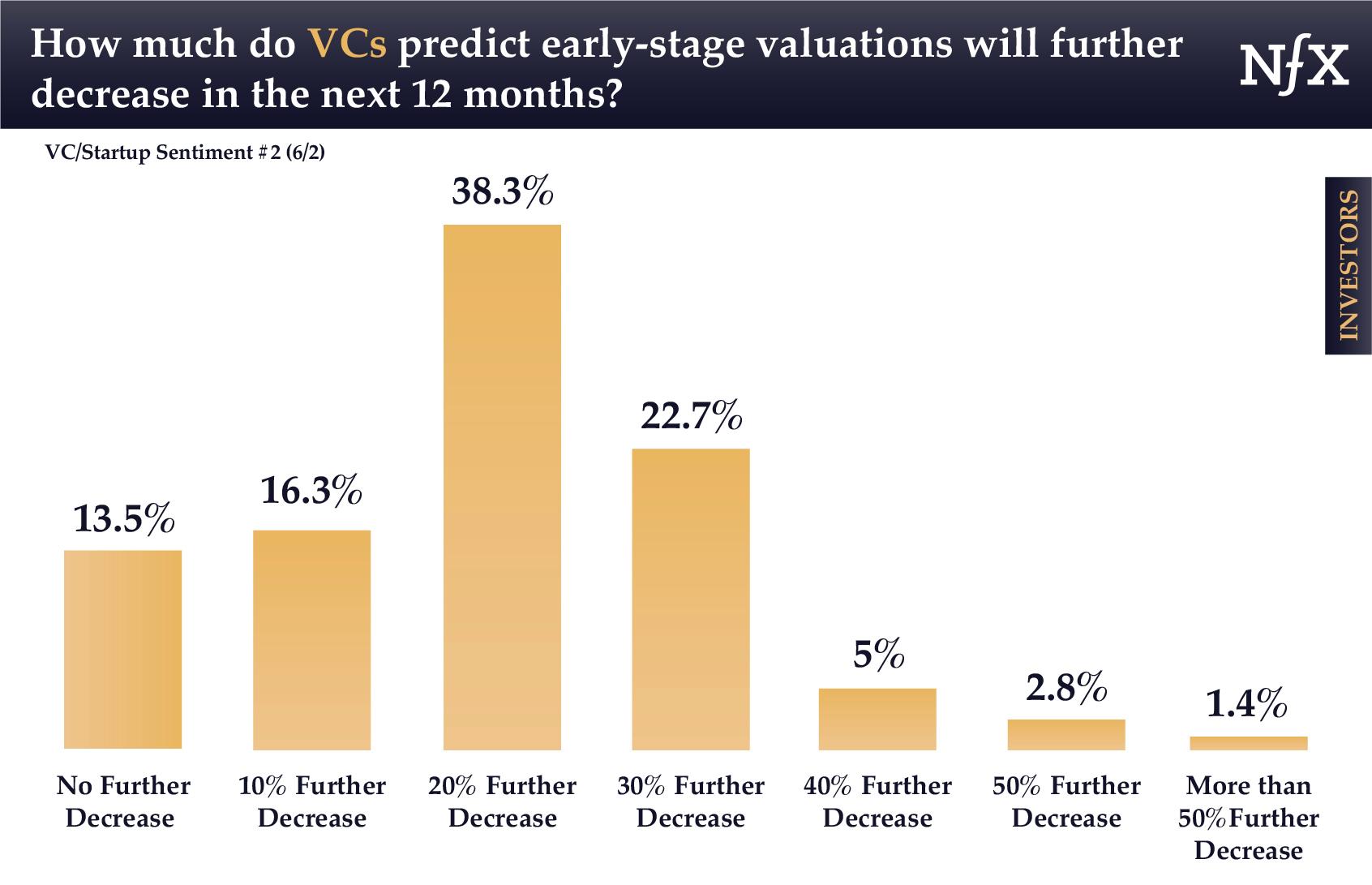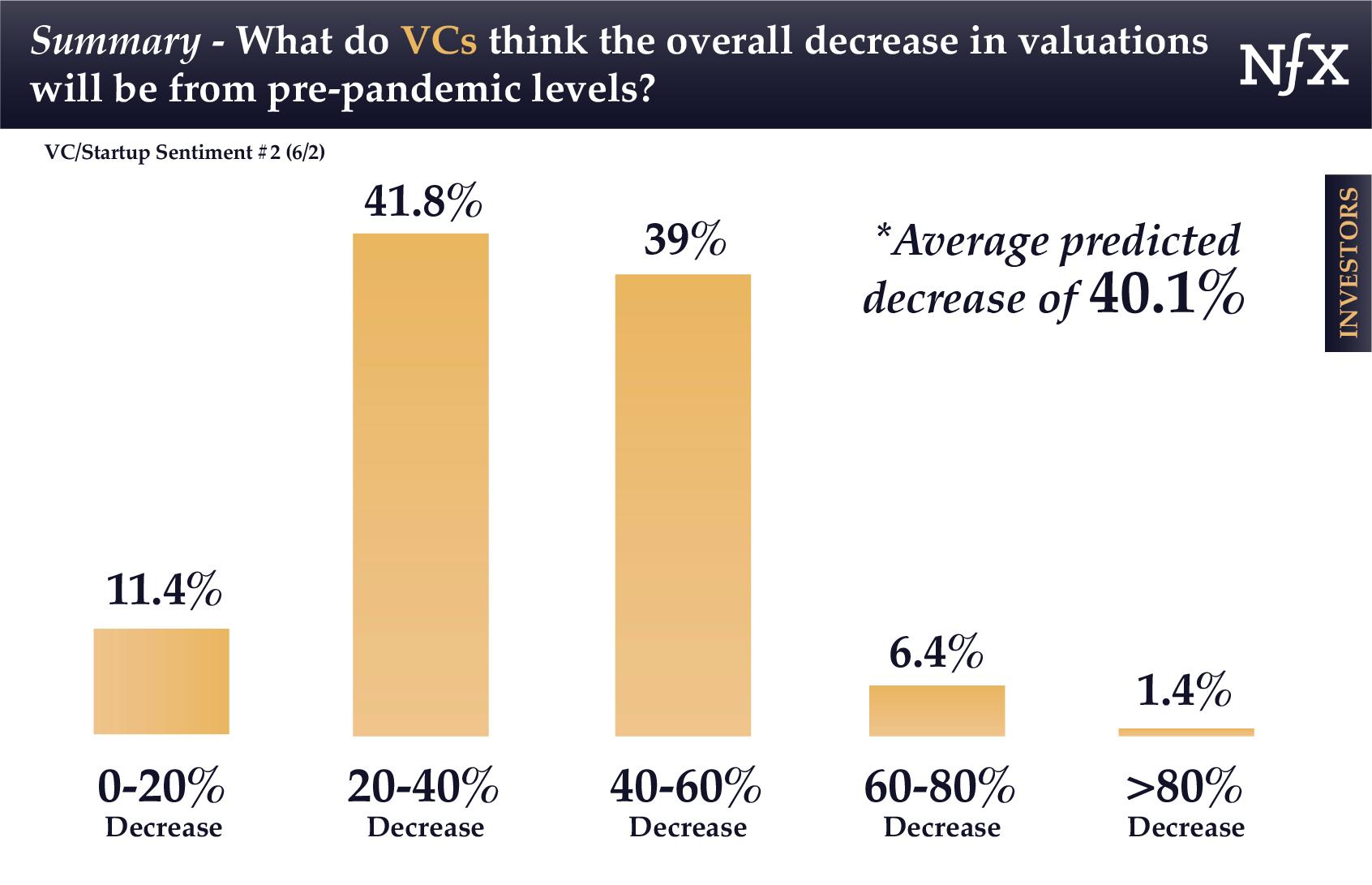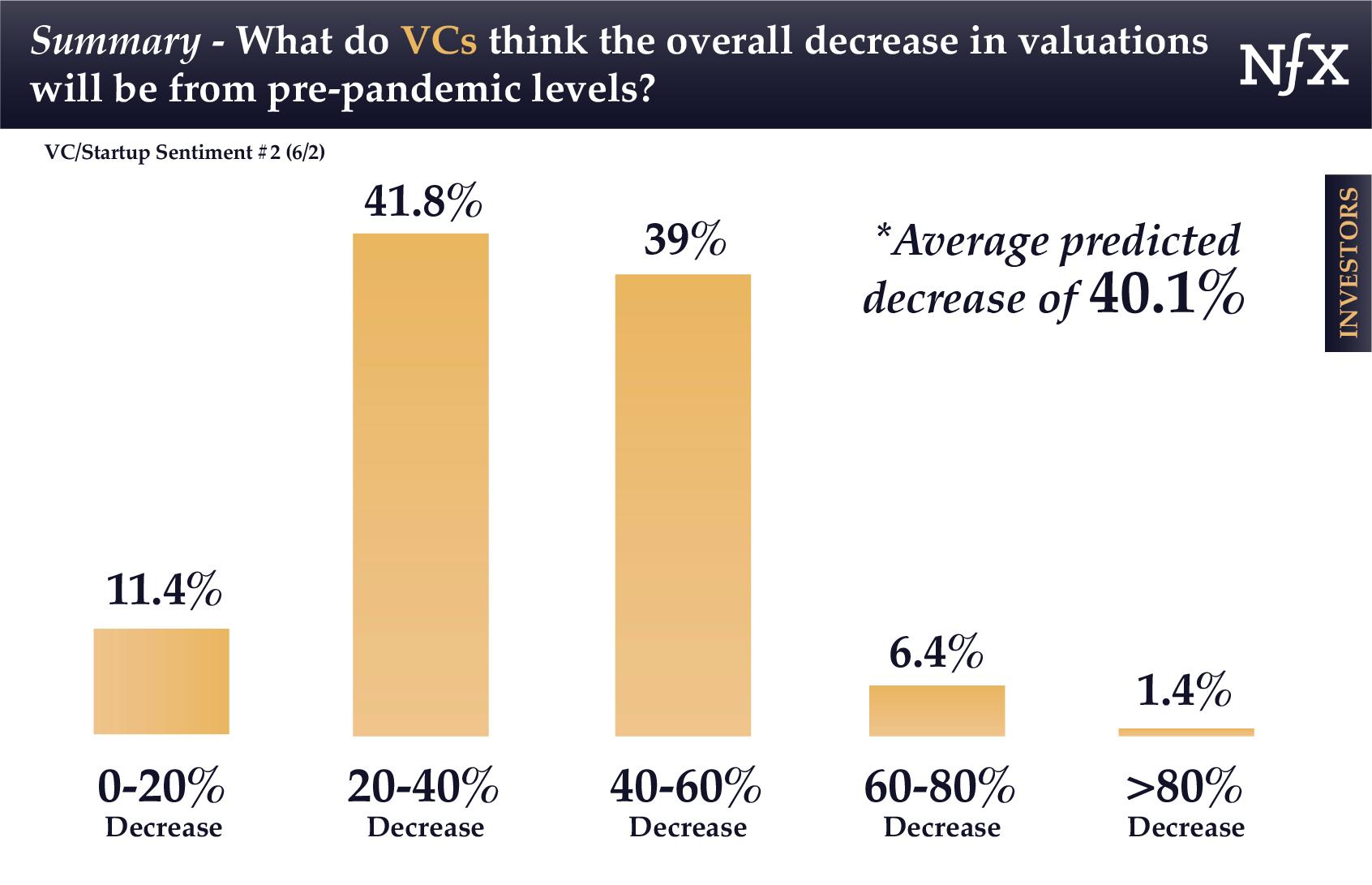 7 – As more Founders move their teams to be more remote, VCs remain skeptical of the long-term viability.
Founders report they are planning to take their companies more remote for the long term than they were two months ago.
Nearly half of VC respondents said they have already invested in a startup without meeting the Founders face-to-face. 60% of them say they would invest without meeting Founders in person going forward, even after a lockdown is over.

But VCs report that they view remote companies less attractive as investments. Though 74% of Founders plan to move to majority or fully remote work, nearly 60% of VCs report that remote teams are less attractive as investments.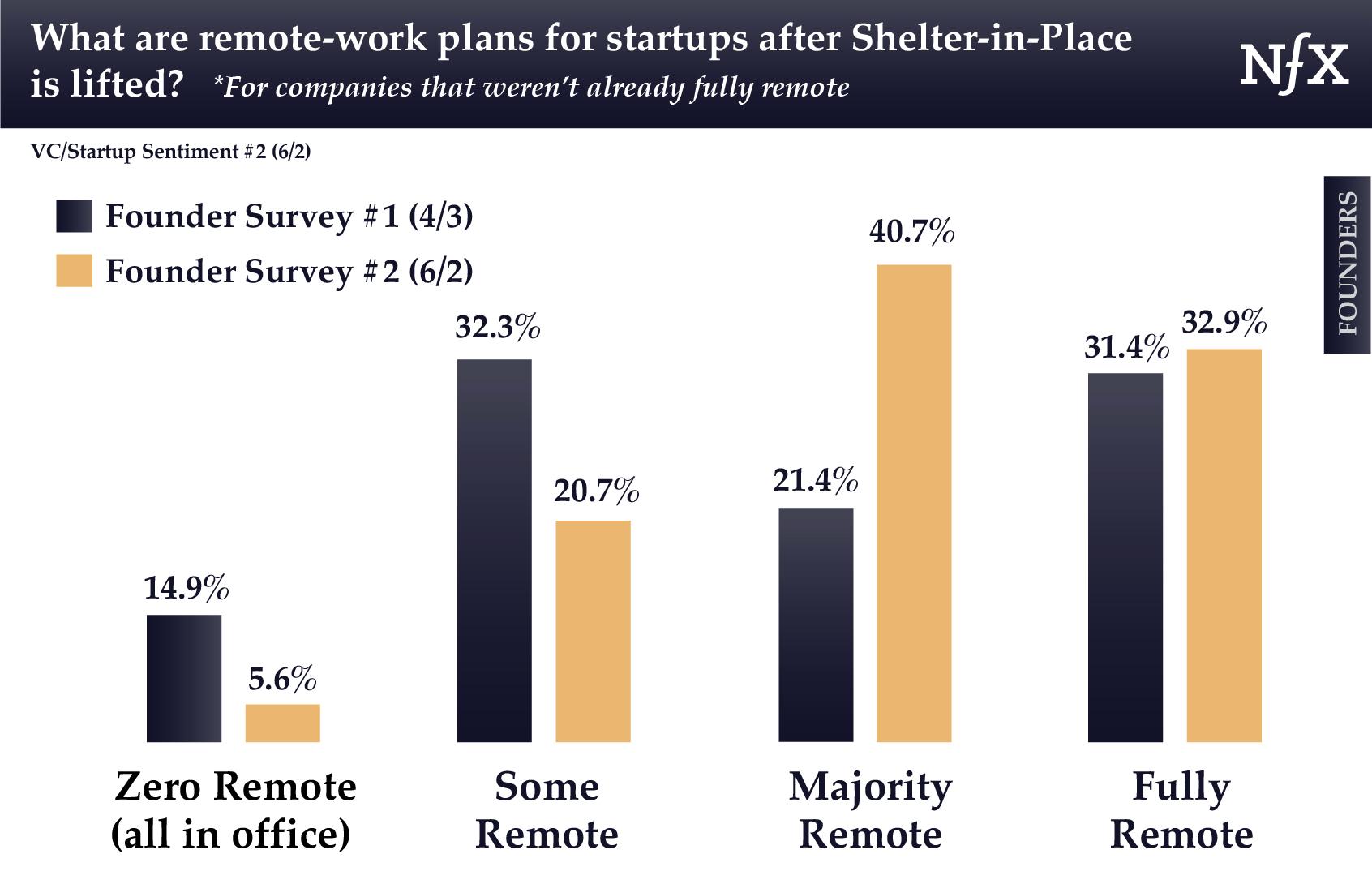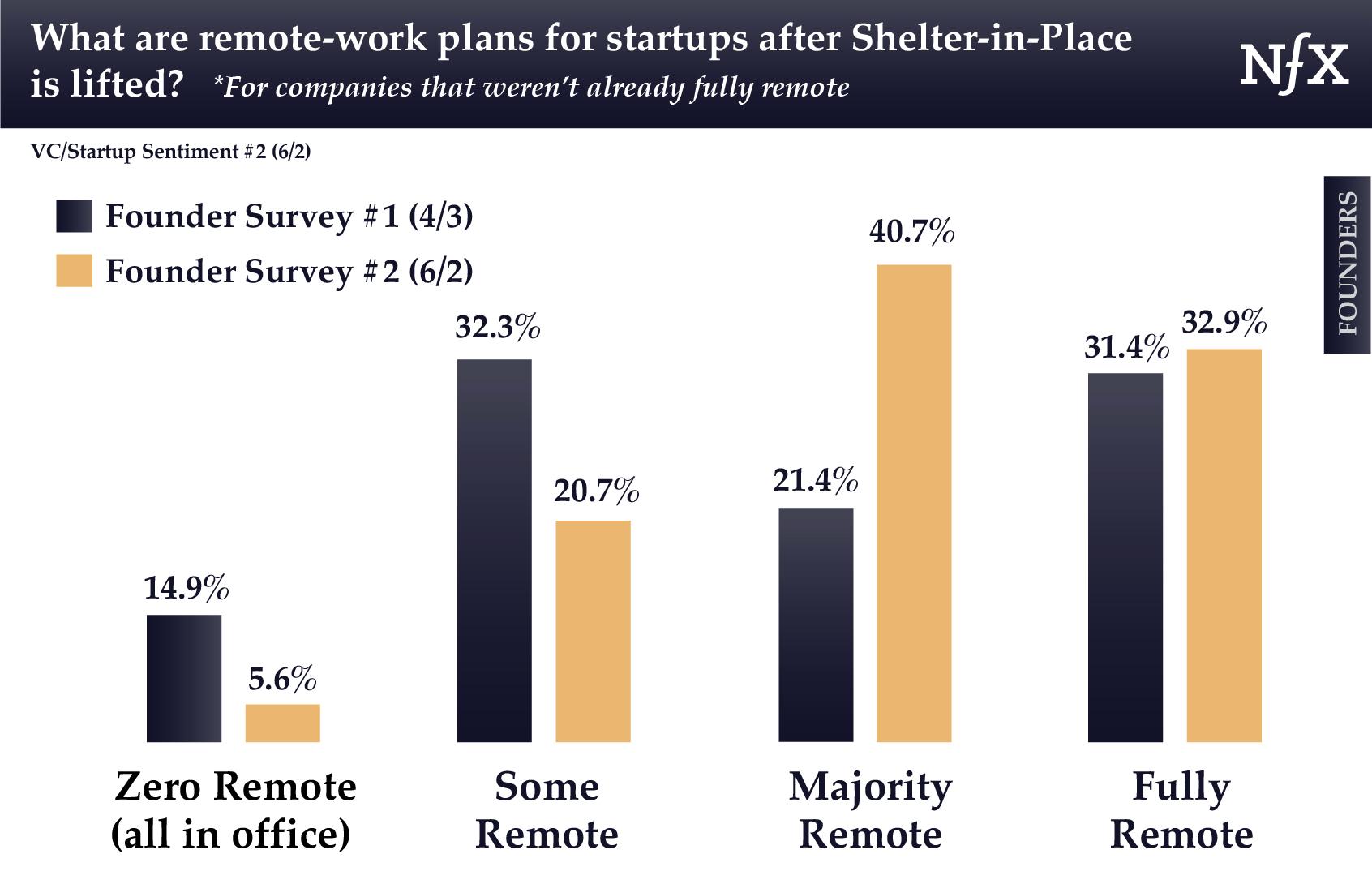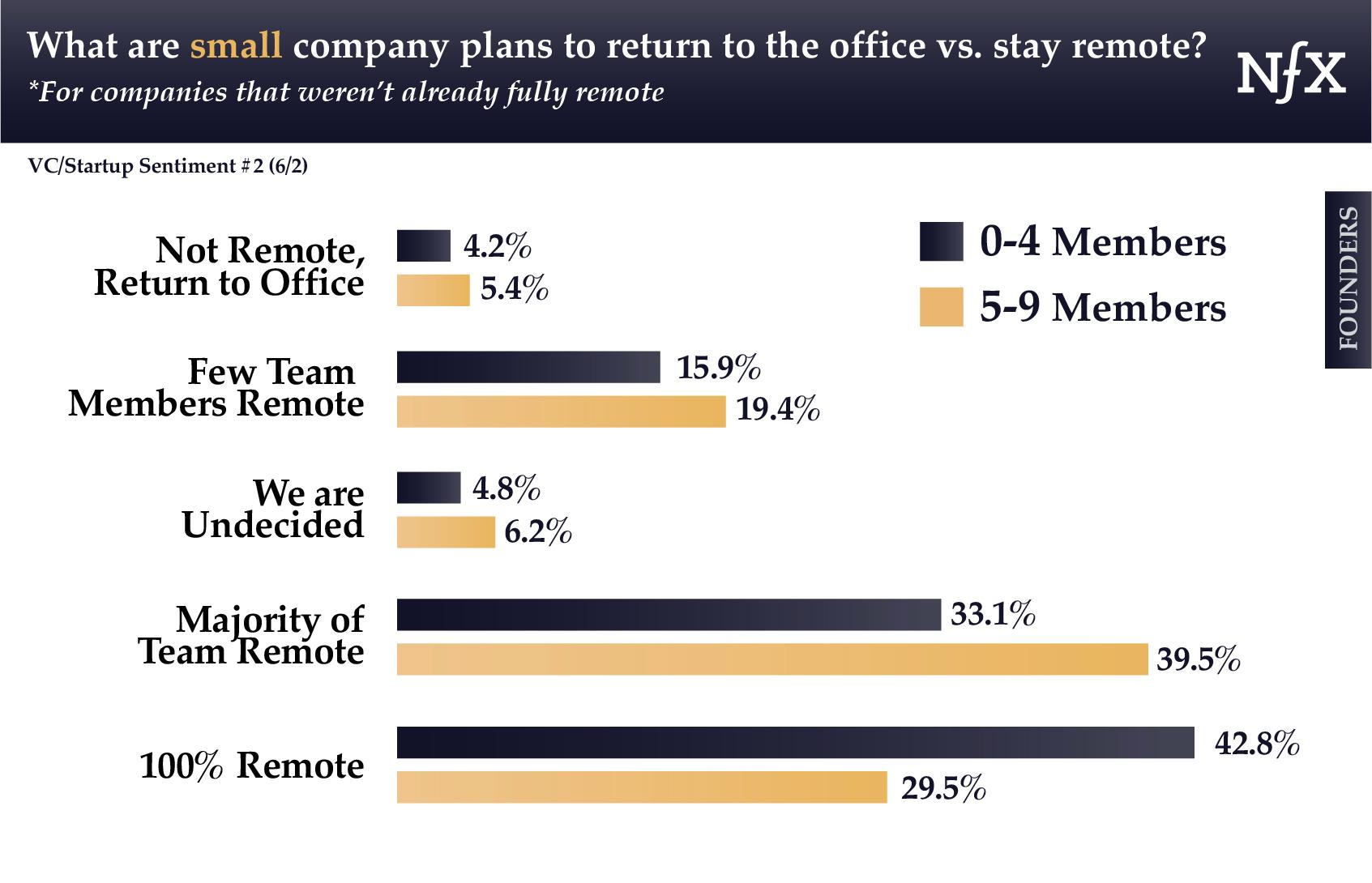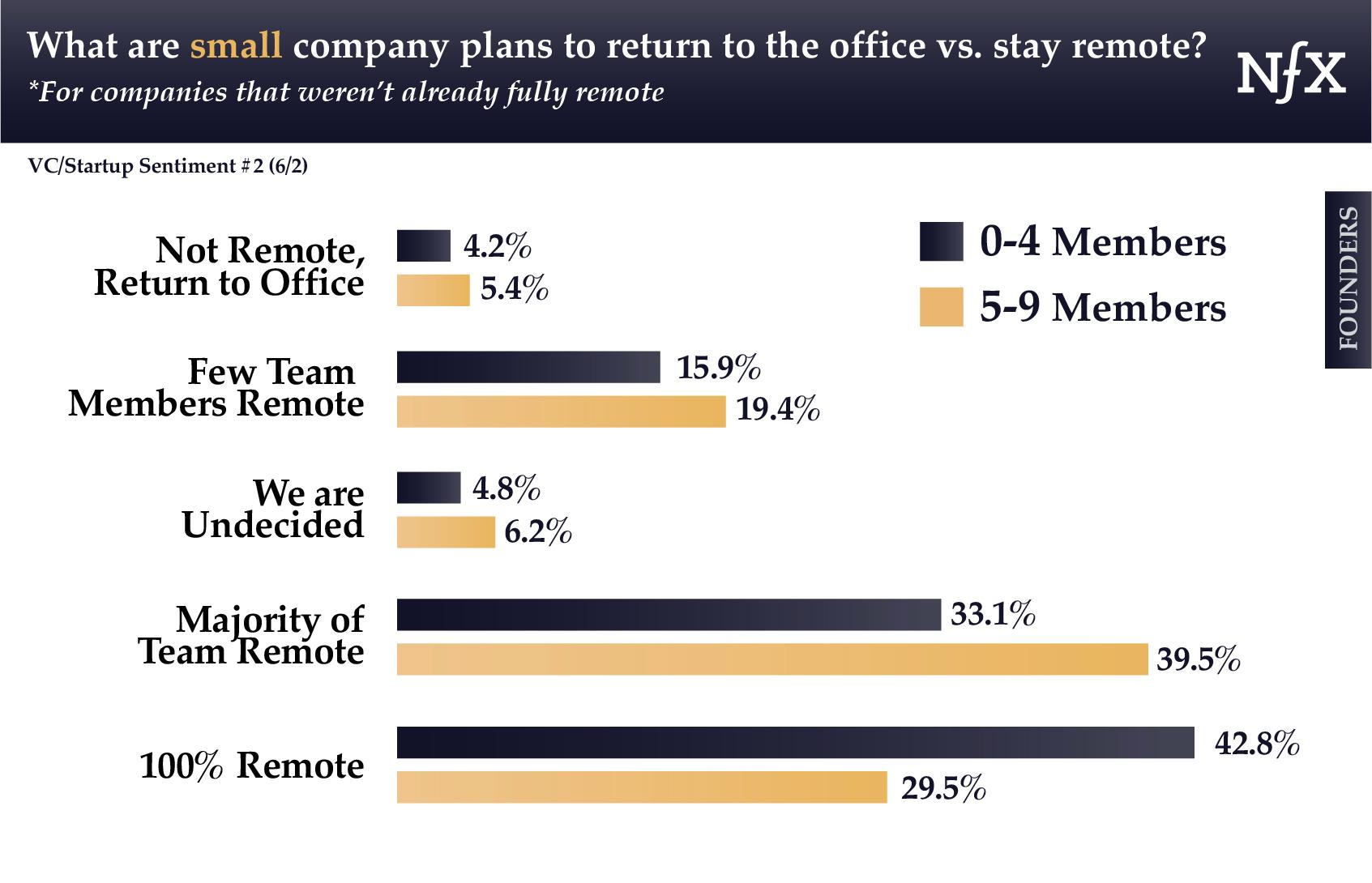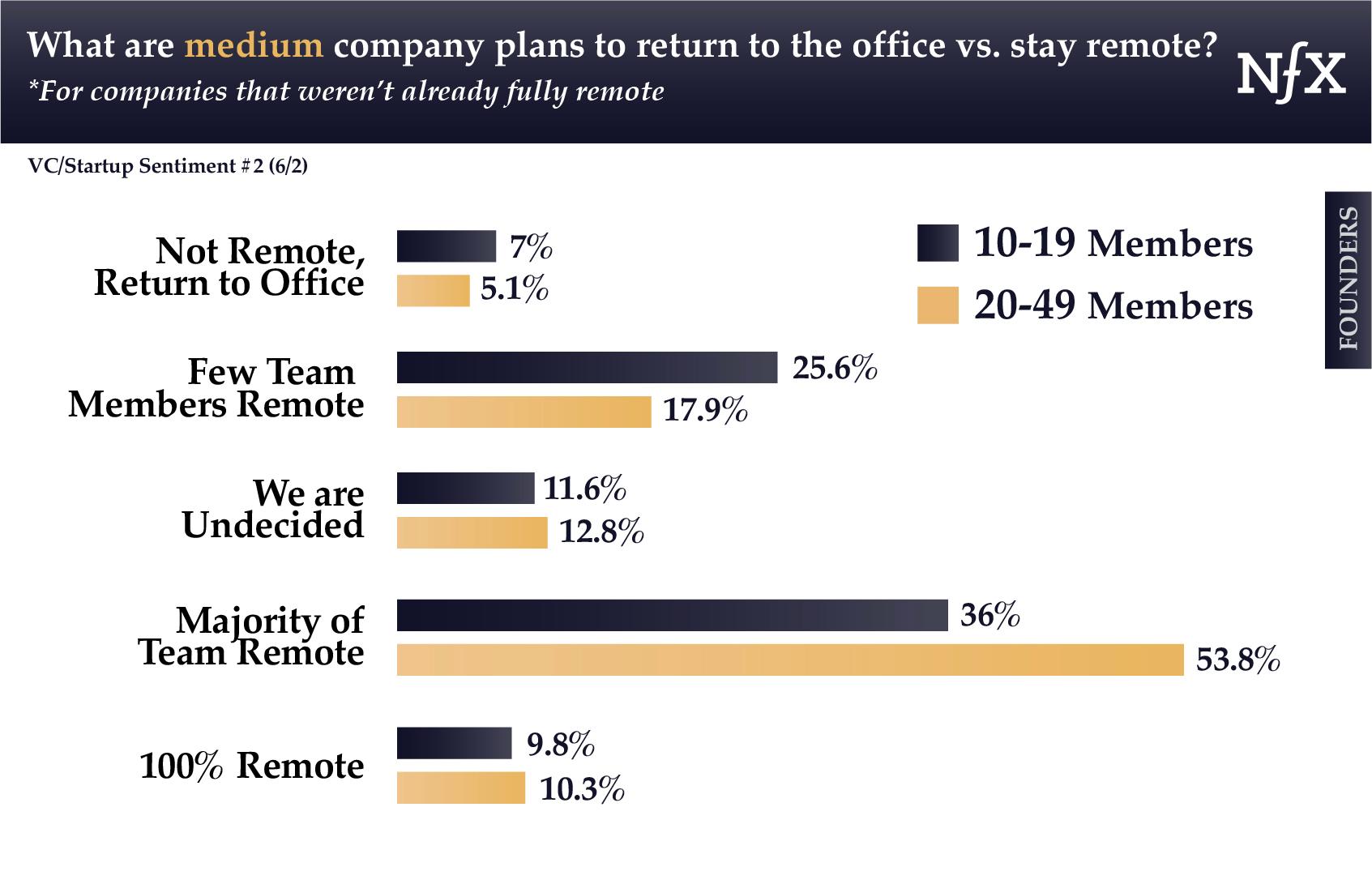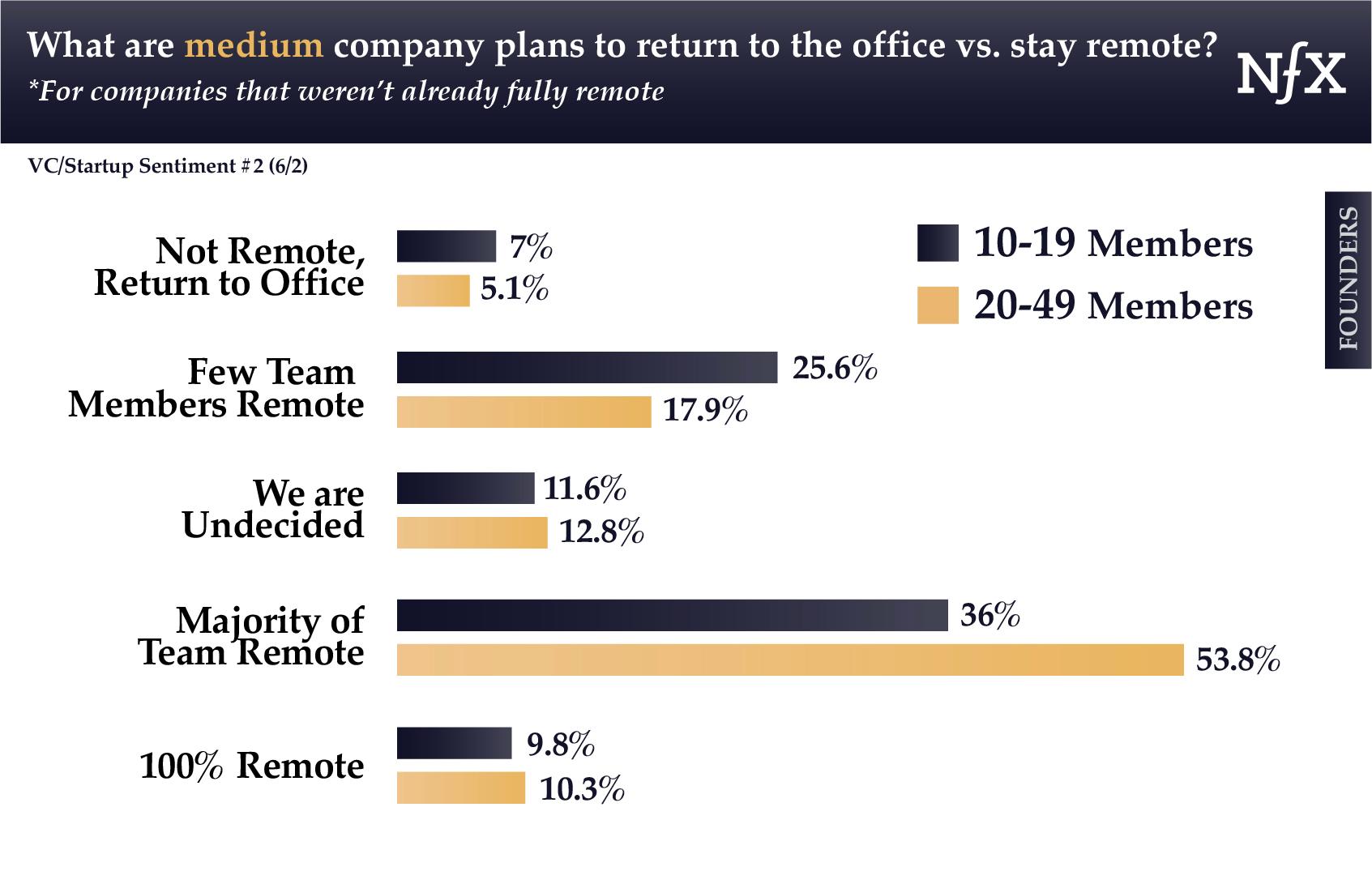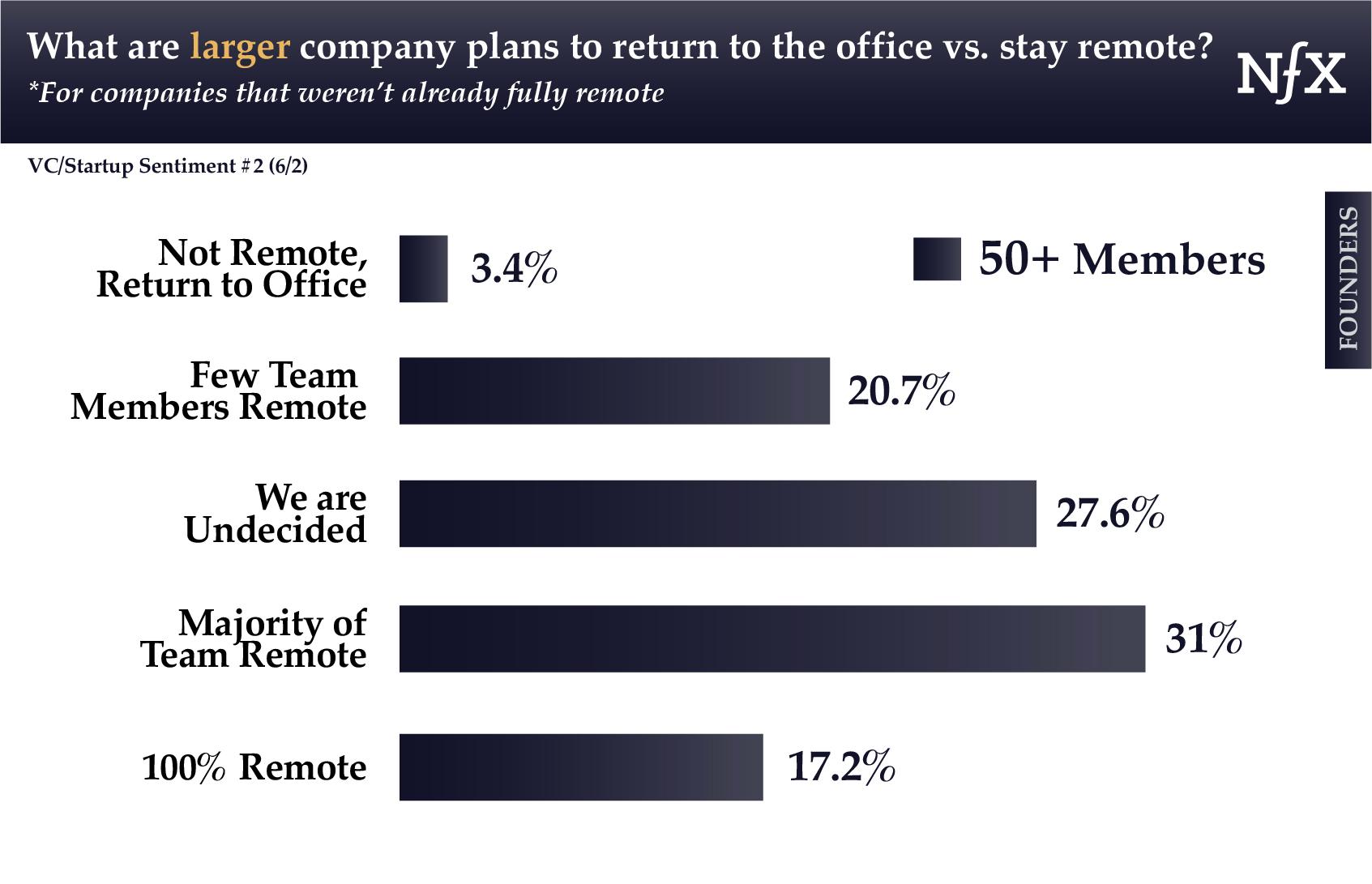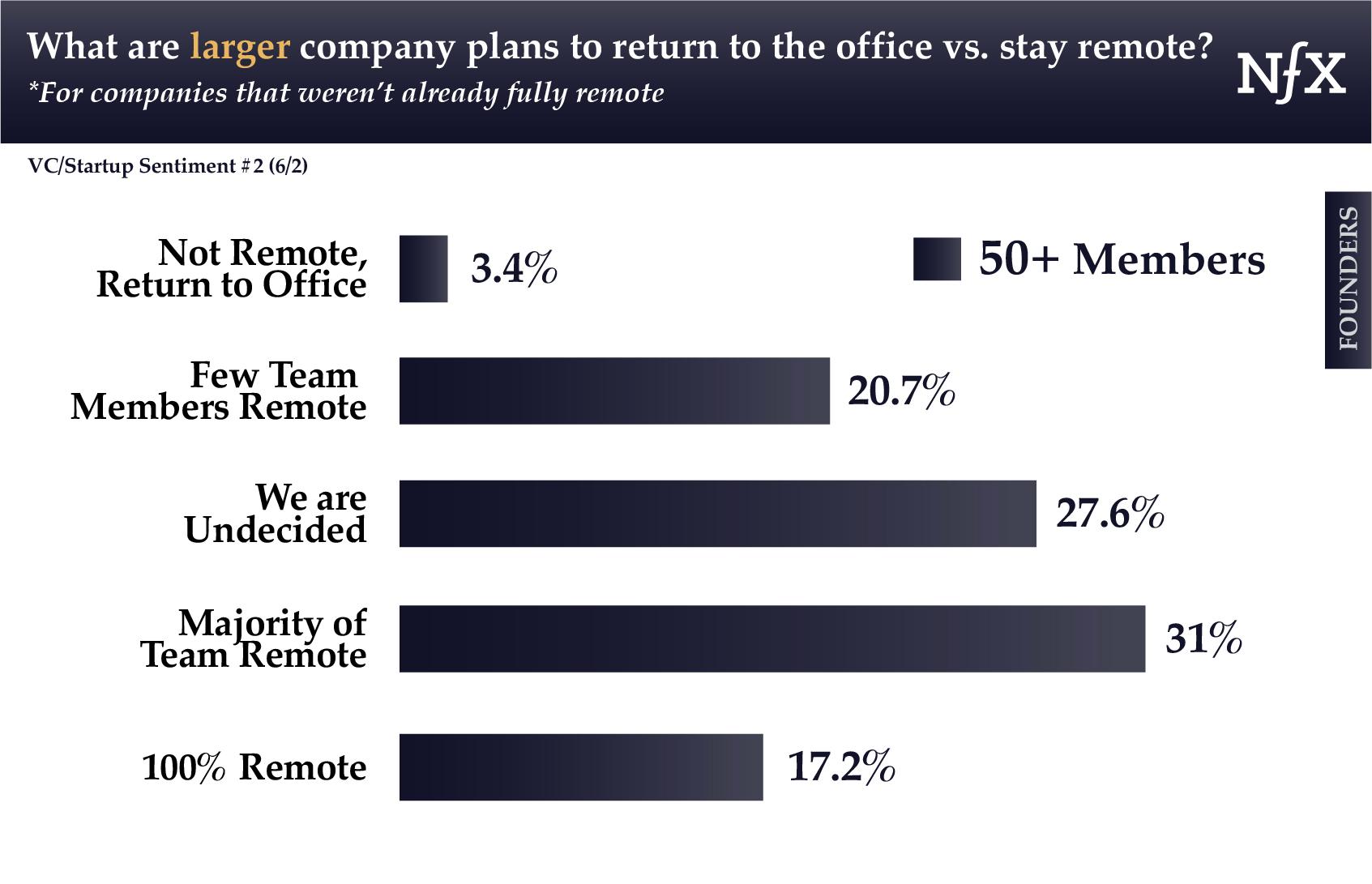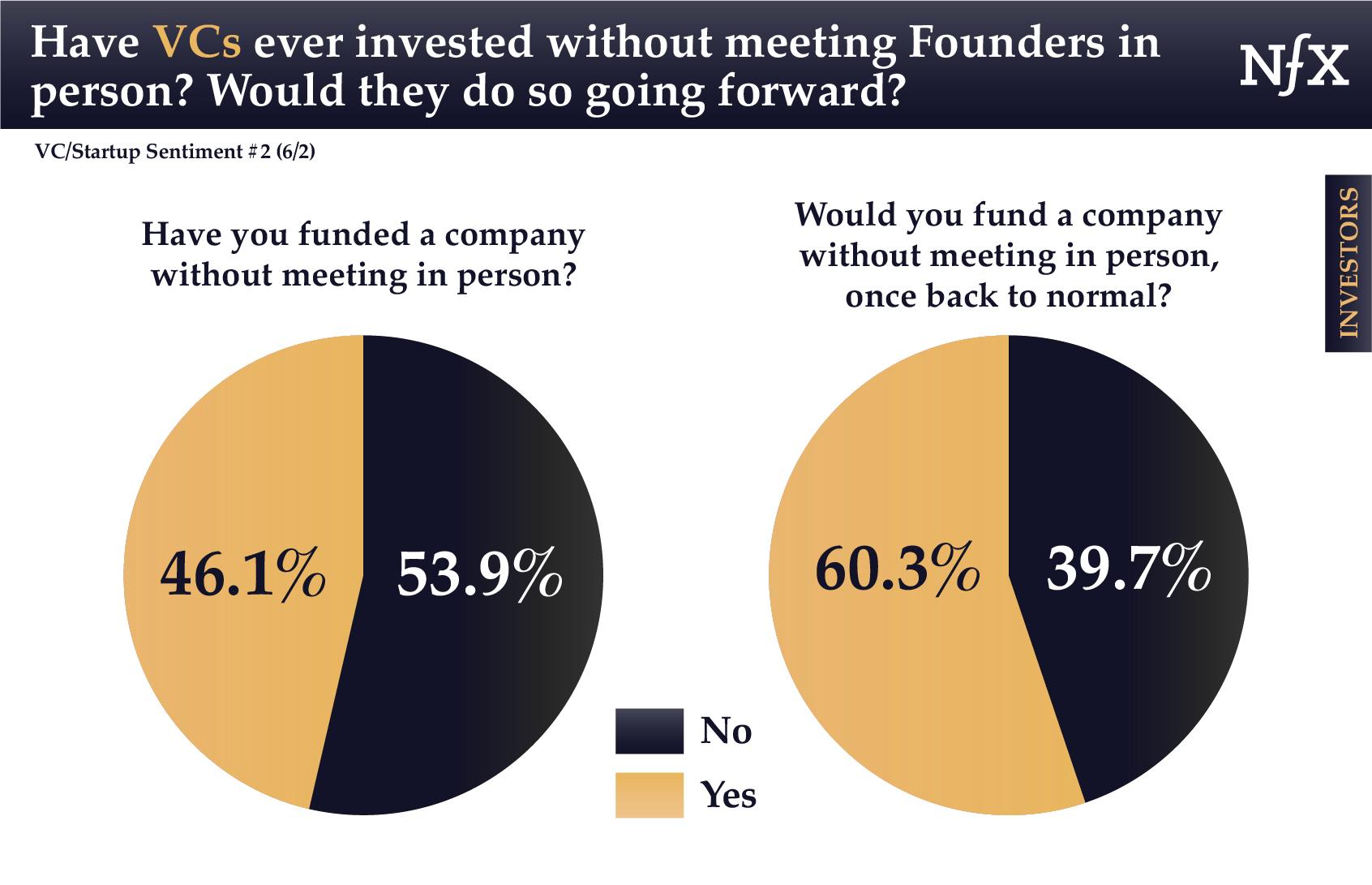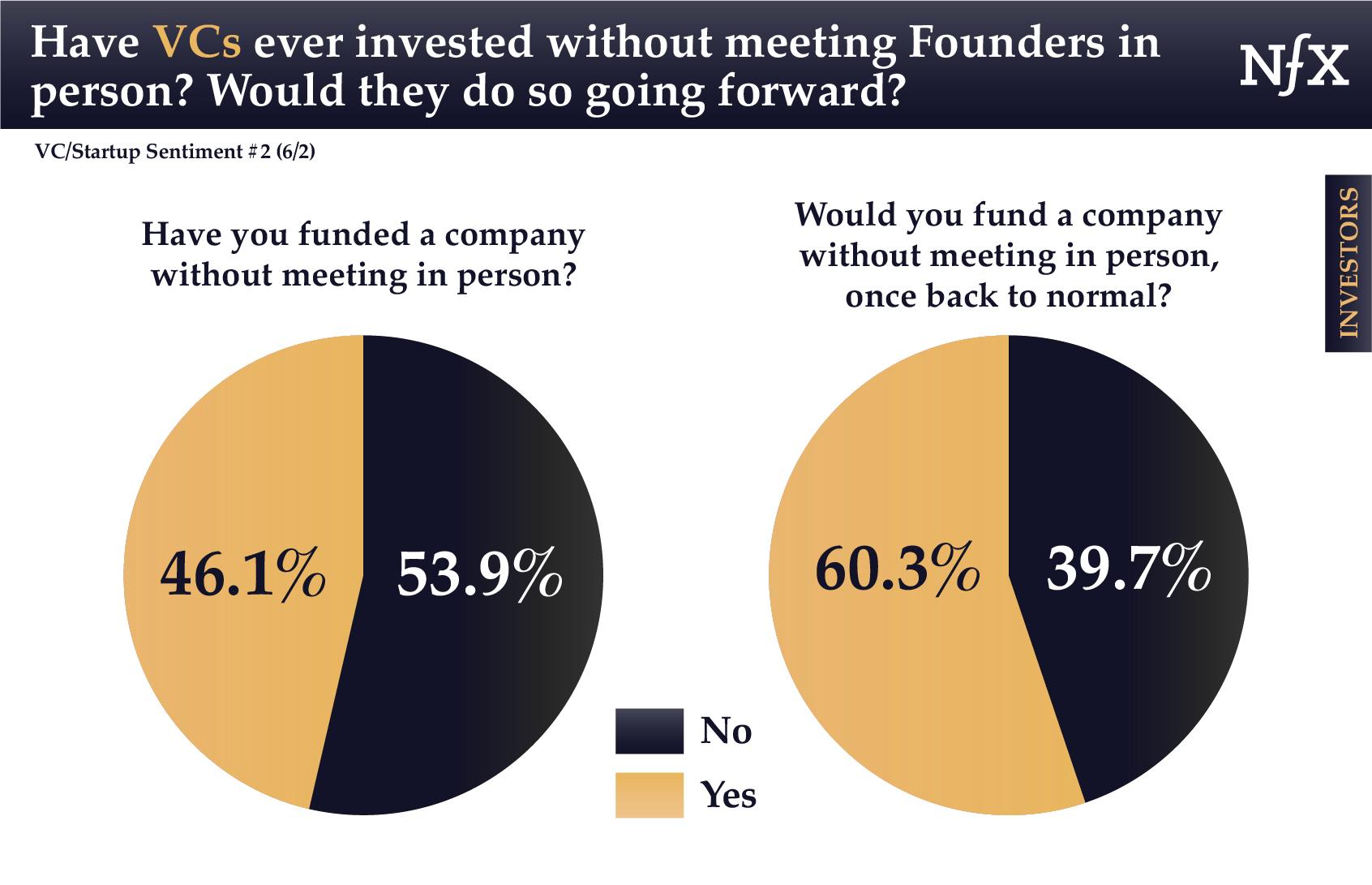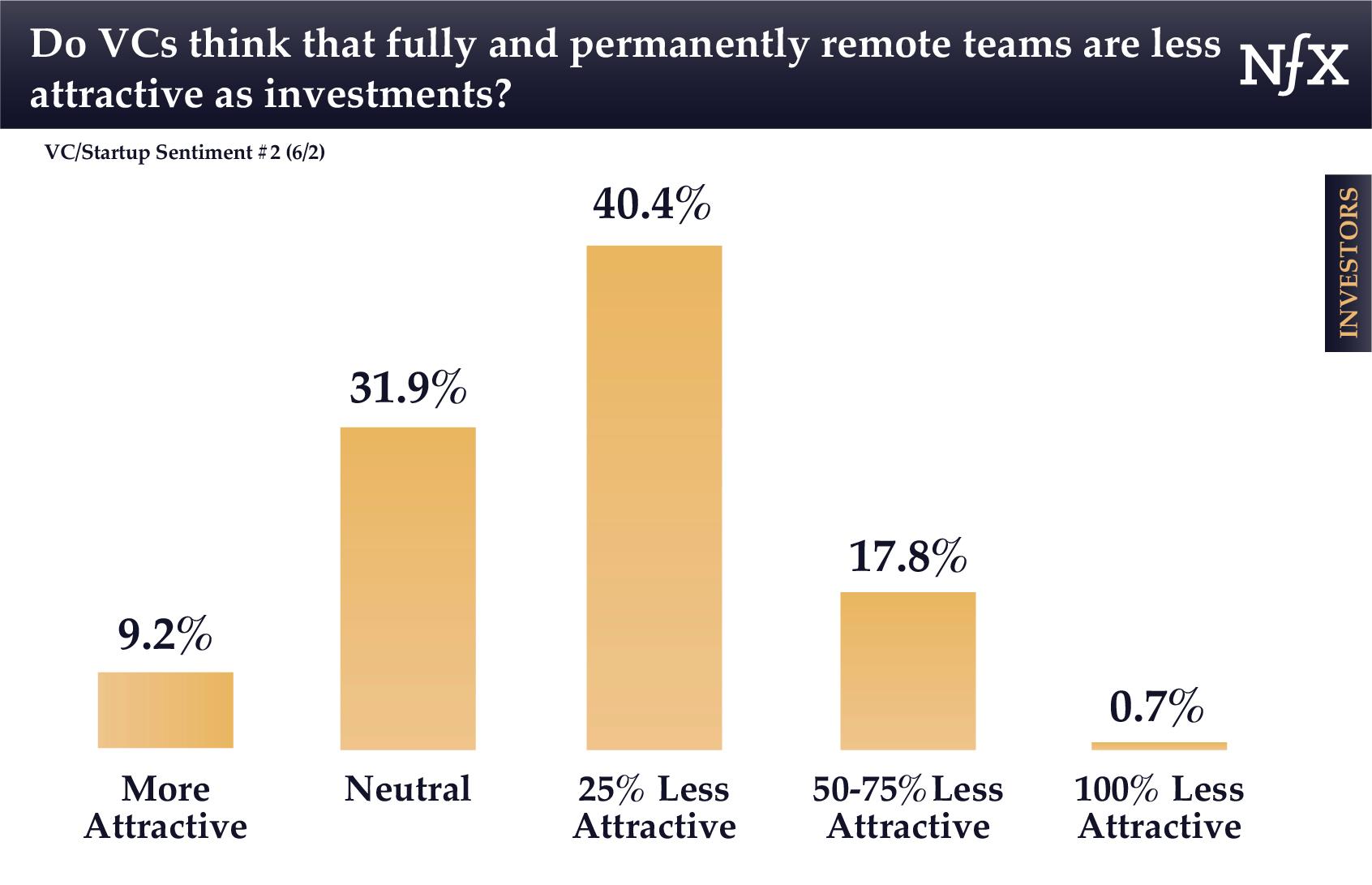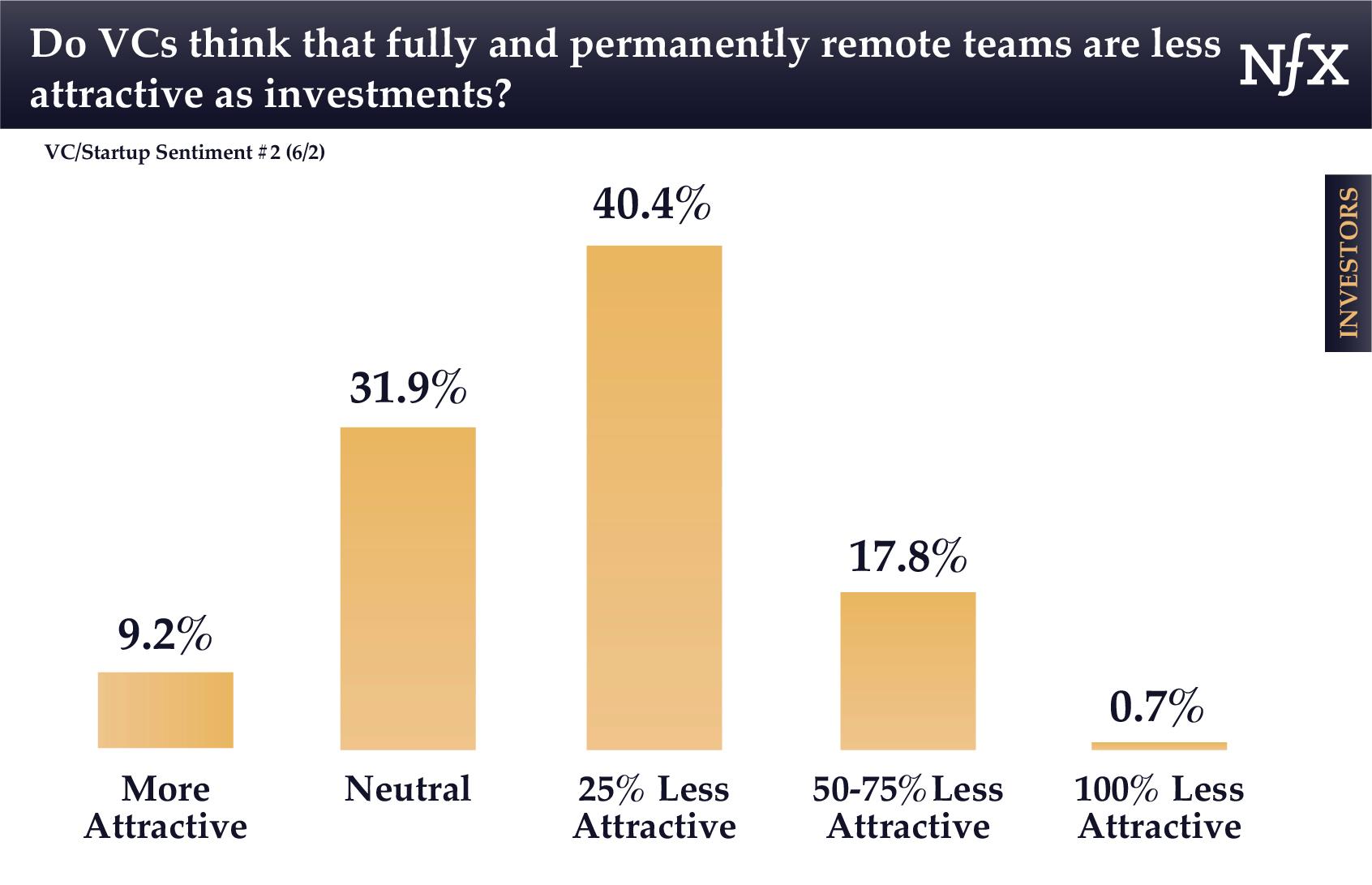 8 – Startups are still hiring (and getting talent for less $$)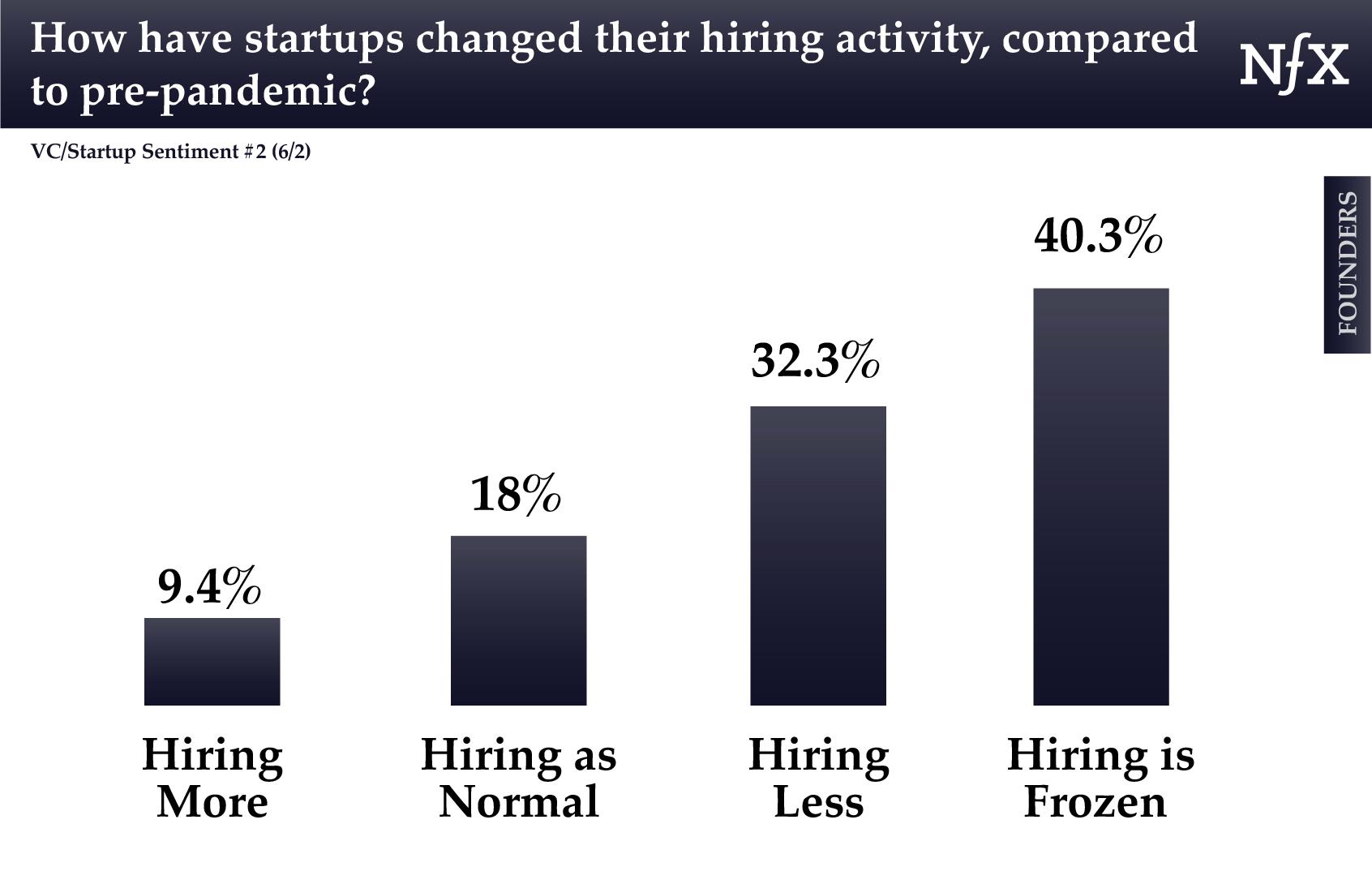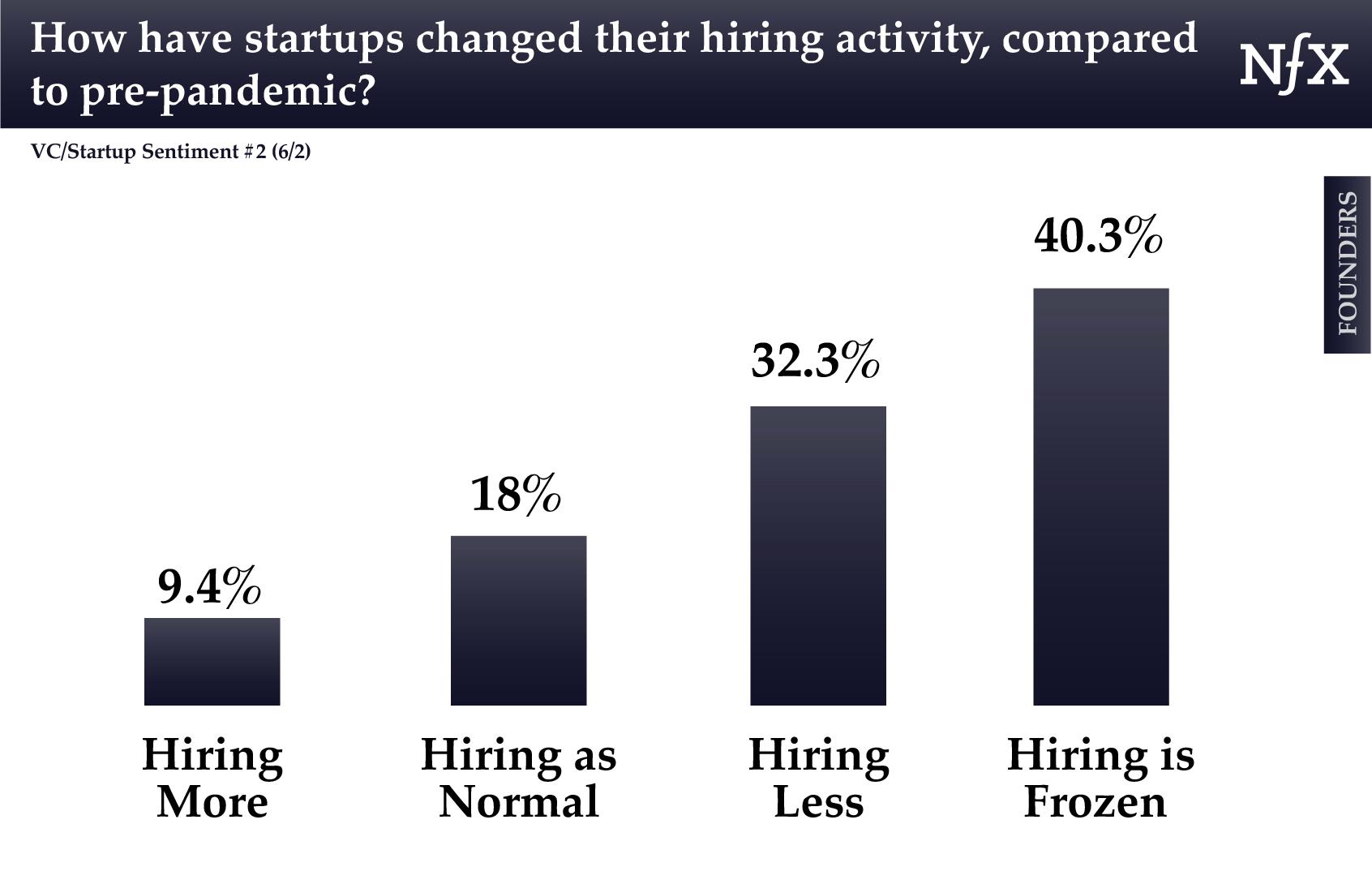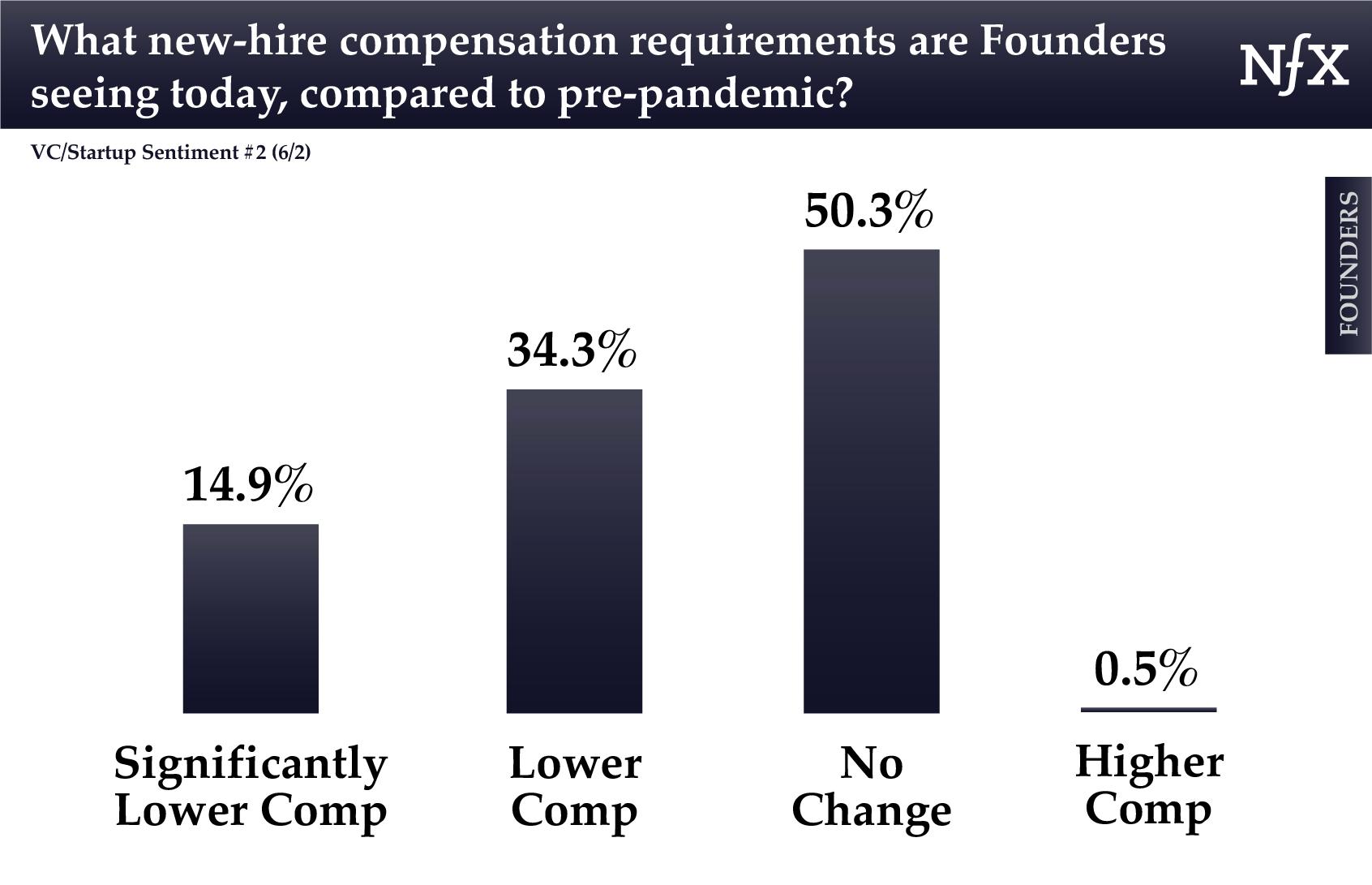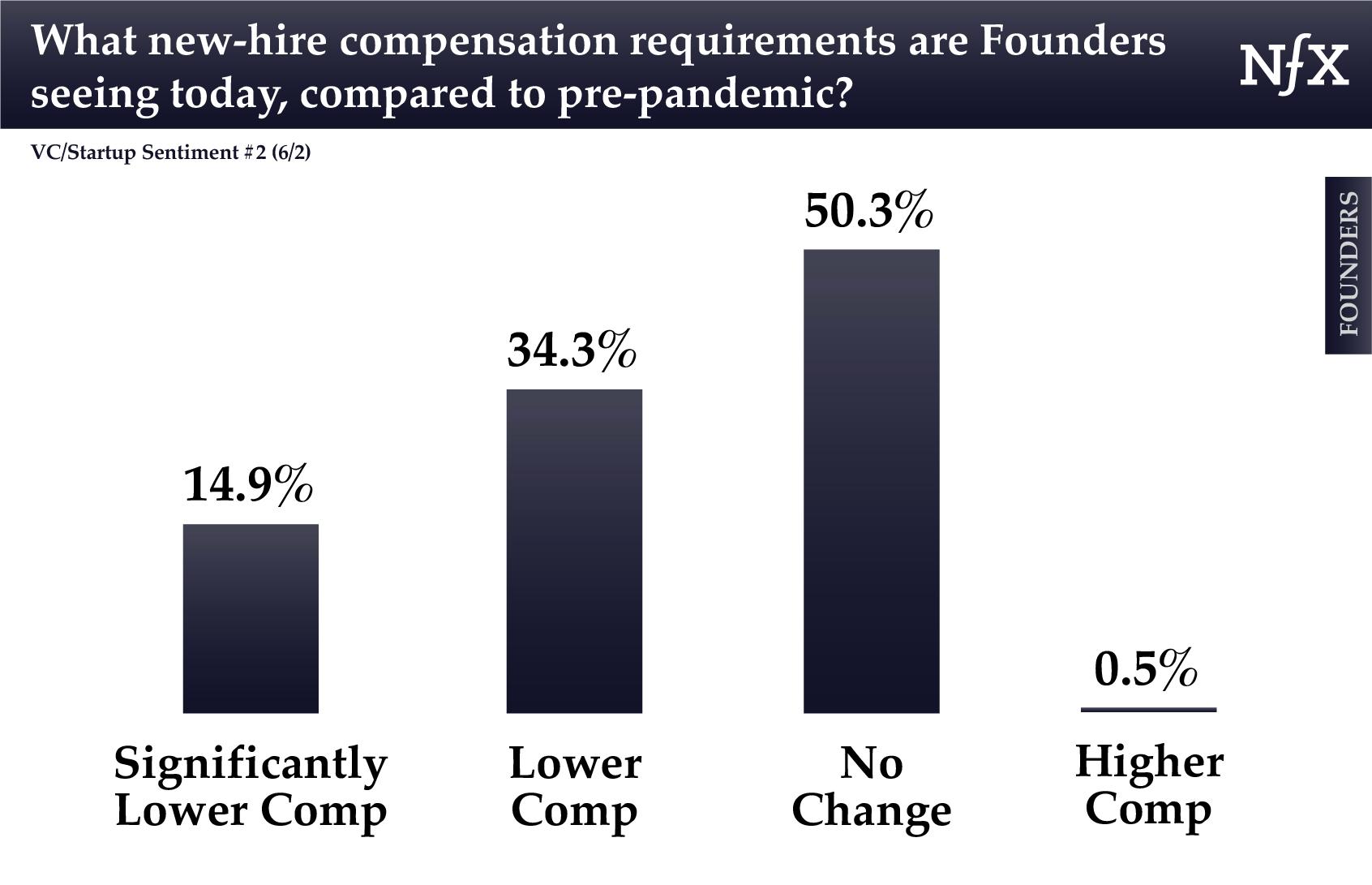 In partnership with Crunchbase: Early-stage fundings reported so far in 2020 are still strong.
We partnered with Crunchbase to review U.S. venture funding patterns from the last 5 years.
Crunchbase data shows that early and late-stage fundings are still strong today — down from 2019, but up overall from 2018.
Simultaneously, NFX Survey II data shows that 53.9% of early-stage VCs are reducing their rate of investments by 20-40% from normal pre-COVID-19 times, and that VCs believe the U.S. economy will heal even more slowly than Founders do. This may impact future data of successful early-stage fundings.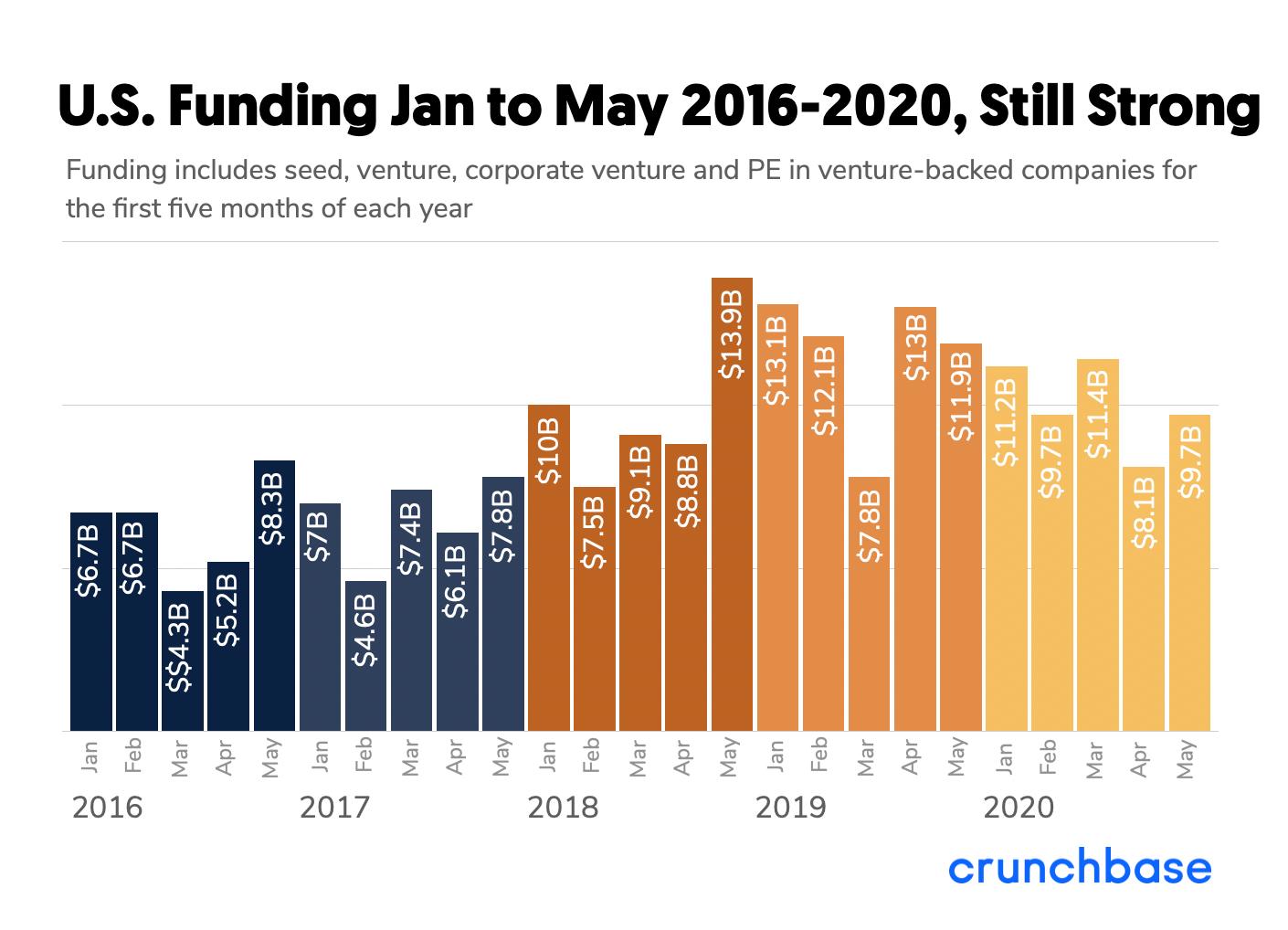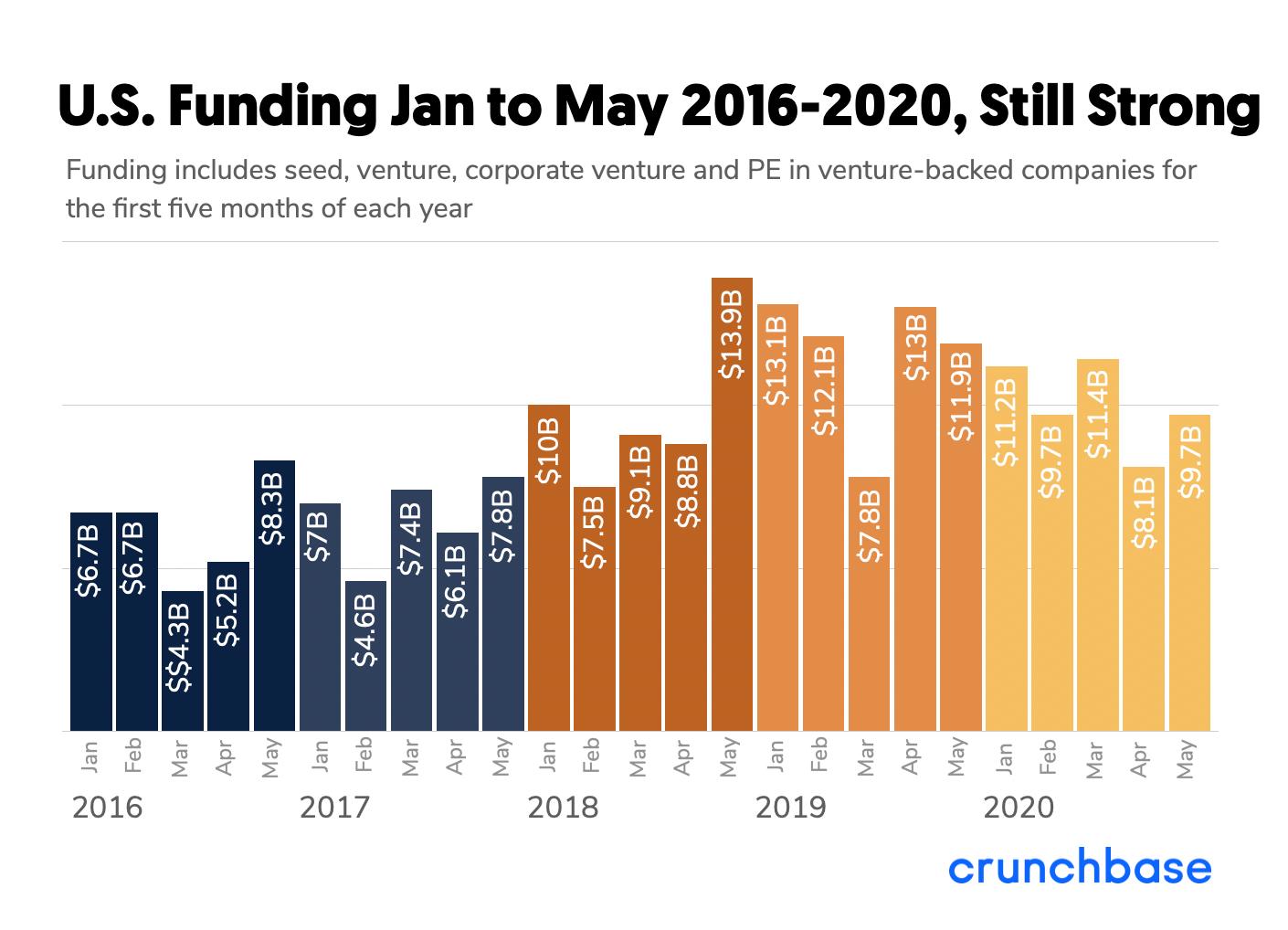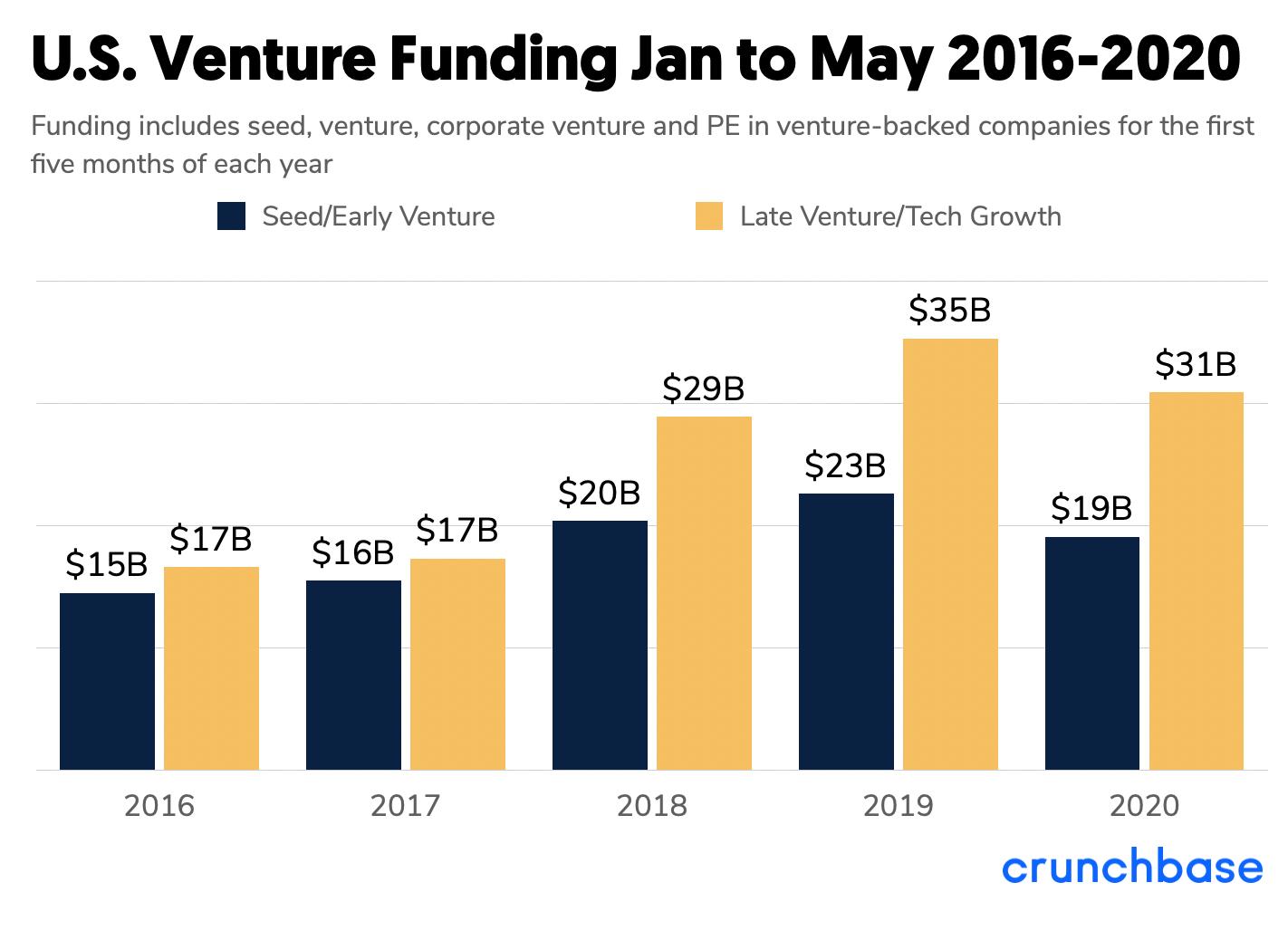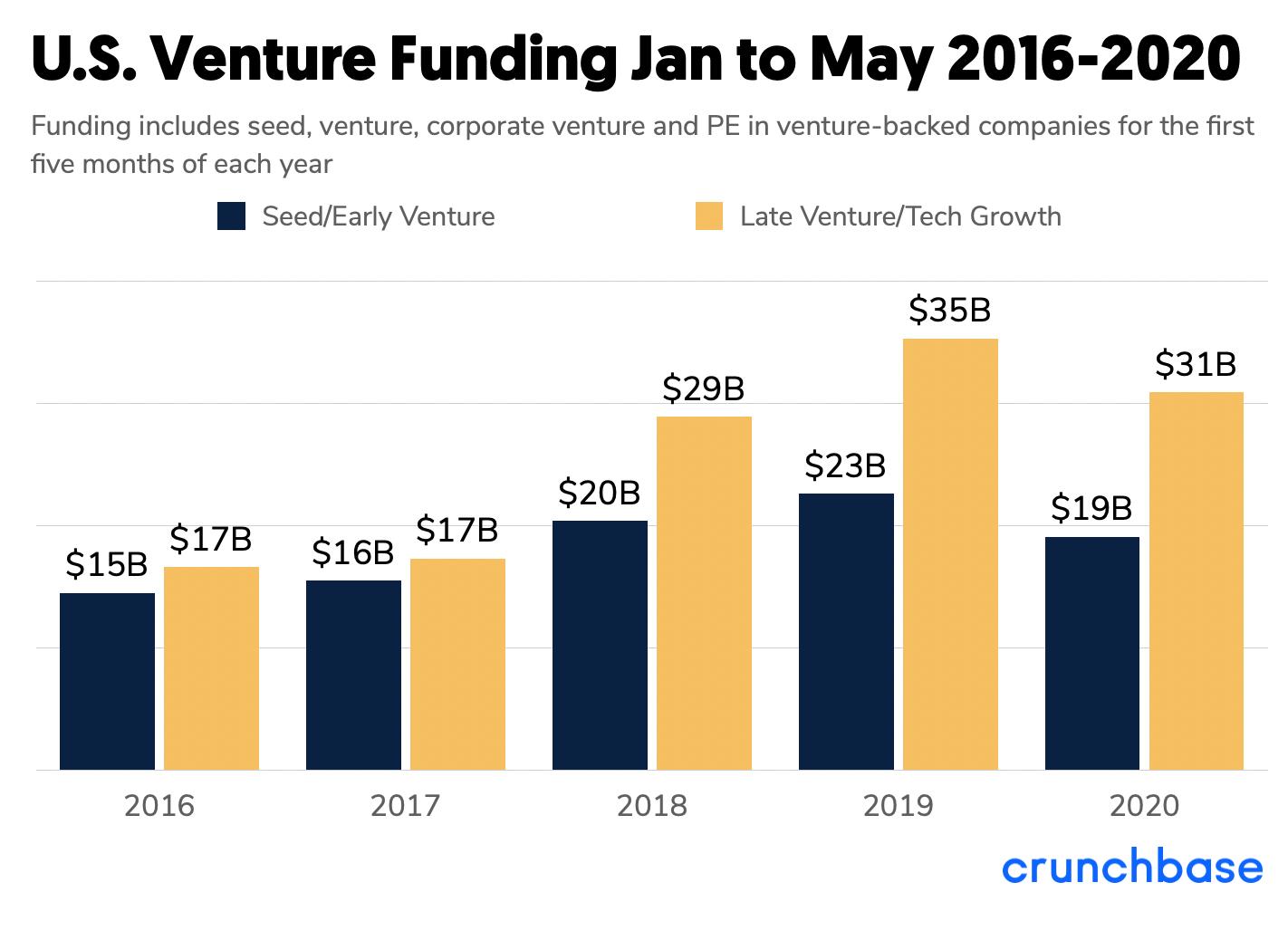 NFX will continue to conduct the VC & Founder Sentiment Survey, an ongoing initiative to track how early-stage Investors and Founders are reacting to the COVID-19 crisis. To stay updated on the results of future surveys, you can enter your email below: